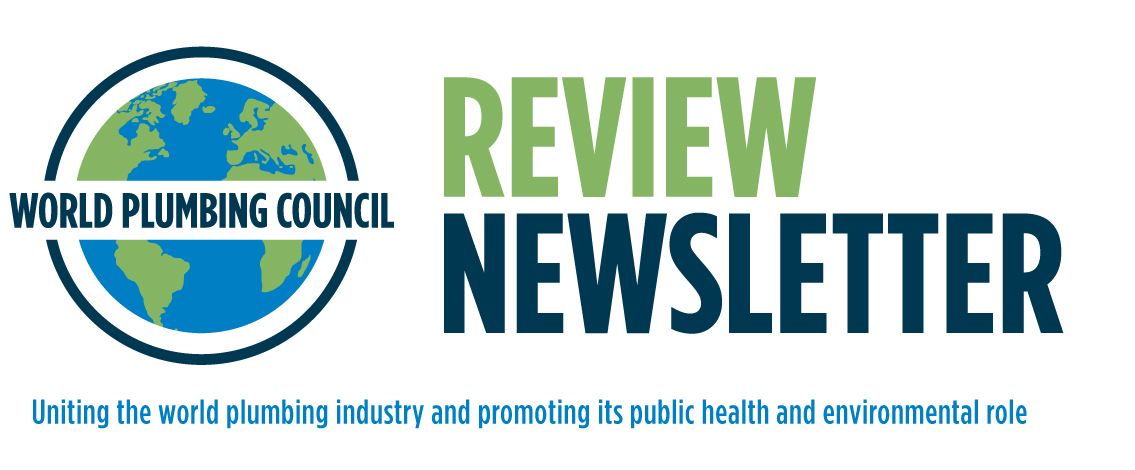 FROM THE CHAIRMAN - THOMAS BIGLEY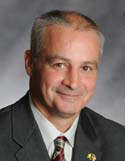 Welcome to the first issue of WPC Review for 2020. It's only February, yet the year may already be infamous due to the coronavirus, which has killed more than 1,115 people and infected more than 45,000 and counting. Hopefully the World Health Organization can gather some of the smartest people in the world and come up with a solution quickly. The big unknown now is how easily the coronavirus can spread and how many cases have not yet been diagnosed. Early reports indicate that faulty plumbing may be the cause of some of the transmissions, a good reminder of the importance of safe and proper sanitation requirements. We hope that this disease can be eradicated as soon as possible.
World Plumbing Day is fast approaching and we are hoping that everyone in the plumbing community will be celebrating this special day. Visit the WPC website for ideas and materials. In our next issue we'd like to share the celebrations from around the globe, so please snap pictures and share them via social media and by submitting them to secretariat@worldplumbing.org.
Membership renewals are due, and notices have been sent. Thank you to all who continue to support this organization. The WPC is always looking for new members in the plumbing community to partner with in hopes of helping those who need clean water and sanitation. In 2020 we will reach out to all corners of the world to those who can bring new innovative ideas to the WPC organization. How can there still be 1 billion people without clean water and adequate sanitation? This needs to be everyone's priority, but we need more partners. If you are not yet a member, please go to our website and click on "Join" to become a proud member of the WPC.
On behalf of the WPC board, I would like to extend my congratulations to the newly formed Plumbers Association of Zambia (PAZA). We extend our well wishes to this organization and the important work it is undertaking.
Thank you to all who contributed to this issue. It is truly interesting to hear and learn about the different happenings and issues from around the world. It's also a testament to the worldwide recognition of the World Plumbing Council as an organization, representing the expertise, knowledge and passion of members around the globe. So please, continue to share!
Until the next issue – regards and well wishes,
Tom Bigley
WPC Chairman
PROGRAM PRESENTATIONS FROM THE 2019 WORLD PLUMBING CONFERENCE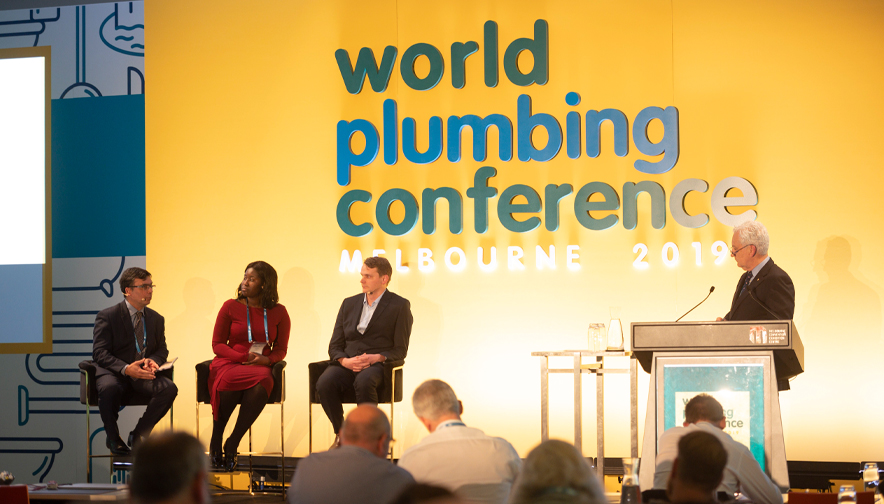 For those who were unable to attend the 12th triennial World Plumbing Conference in Melbourne, Australia, last year, the presentations from the conference are available online.
During a packed three days, the "four pillars of plumbing" were explored: products, participation, protection and practices. The breakout sessions included presentations on Legionella management, women in plumbing, backflow prevention and fire protection.
Be sure to catch up on what you missed. You can access the video footage, along with the PowerPoint presentations, at the link below.
www.worldplumbingconference.com/presentations
WHO PUBLISHES NEW GLOBAL REVIEW OF WASH AND HEALTH – SAFER WATER, BETTER HEALTH


The comprehensive global review presented in Safer Water, Better Health updates the overall disease burden attributable to quantifiable effects of inadequate WASH for 12 major diseases, adverse health outcomes and injuries.
The report also presents WASH interventions that have been shown to improve health and complements them with available cost-effectiveness analyses.
Safer Water, Better Health — Overview
This comprehensive global review highlights the importance of adequate water, sanitation and hygiene (WASH) for human health. Many diseases are caused by pathogens that are ingested with drinking water, which circulate due to improper treatment and disposal of excreta and are propagated by inadequate handwashing and lack of hygiene facilities.
Diarrheal diseases and respiratory infections are the main diseases that follow these pathways. Inadequate management of water resources, such as ponds, standing water in waste or containers and poorly maintained drains, causes diseases that are propagated by vectors such as mosquitoes. Young children are the most vulnerable to inadequate WASH, which is responsible for 13% of all deaths in children under 5 years. This high disease burden could be largely prevented with existing interventions and prevention strategies, which are described in this report.
Download the report at www.who.int/water_sanitation_health/publications/safer-water-better-health/en/
WHO GUIDELINES ON SANITATION AND HEALTH IS NOW AVAILABLE IN FIVE LANGUAGES


WORLD PLUMBING DAY MORE IMPORTANT THAN EVER GIVEN QUEENSLAND DROUGHT CRISIS



Submitted by Master Plumbers' Association of Queensland
World Plumbing Day, celebrated March 11 every year, is an opportunity to recognize the important work that plumbers do to maintain and improve the health and safety of communities all over the world.
More than 300 people will celebrate World Plumbing Day at a breakfast hosted by the Master Plumbers' Association of Queensland (MPAQ) in Brisbane.
MPAQ Executive Director Penny Cornah, said, "This is an important opportunity for the whole community to appreciate the hard work performed by members of our industry.
"Queensland plumbers are experts in their field, who deliver the highest standards in health and safety throughout the world," Cornah said.
Given the ongoing droughts across Queensland, World Plumbing Day is a great time to remind members of the public about the importance of conserving water.
"A great deal of water can be lost to poorly maintained or faulty plumbing fixtures, leaking pipes or fittings," Cornah said.
"A licensed plumber will be able to locate and fix these issues and give homeowners the confidence of knowing that their homes are not wasting water without them knowing," she continued.
Licensed plumbers who have the support of their industry association can be found by visiting www.mpaq.com.au/find-a-plumber.
At the event, MPAQ will announce another Ambassadorship Program for 2020, in which individuals will be elected to help promote apprenticeships and the general trade to students, school-leavers and other career opportunists. There will also be ambassadors appointed who will help deliver a message to plumbing and gas businesses of the importance and advantages of training future apprentices.
"Last year our MPAQ Plumbing Ambassadors met with thousands of people to spread awareness of the trade and consider a plumbing apprenticeship. We're excited to see what 2020 will bring," Cornah said.
The breakfast will be the first event of the year at which MPAQ will be raising money for This Is A Conversation Starter (TIACS), the 2020 event charity chosen by its members.
TIACS, a Brisbane-based foundation created by Ed Ross and Daniel Allen, was founded after Dan lost a close friend to suicide in 2015.
"Suicide and mental health, particularly for young men, is such an important epidemic, so MPAQ want to help raise awareness and get the conversation started to drive a shift in the horrifying statistics," Cornah said.
MPAQ is also excited to announce their coloring competition for MPAQ members, their families, and the general public that is open until March 4. The artwork can be found at www.mpaq.com.au. Prizes and further additional details are being finalized.
Submitted by Master Plumbers' Association of Queensland
Penny Cornah isn't just an active participant in our industry; she is an advocate, an influencer, and a leader; she is a driving force of change. To kick off 2020, Ashleigh Stonehewer investigates what fuels Penny's passion for the industry.
Most of you reading this will already know of Penny Cornah, but for those of you who don't I will attempt an introduction. To introduce Penny as the Executive Director of Master Plumbers' Association of Queensland (MPAQ) would be true, but it would also do a disservice to just how much she does for the plumbing and gas industry. Penny represents our members on a number of industry boards and committees in various roles, which builds her knowledge and networks to help put MPAQ at the forefront. Some of these roles include:
Construction Skills Queensland, Director
QLeave – Portable Long Service Leave Scheme in Qld, Director
Services Trade College, Director
Master Plumbers Australia and New Zealand, Director,  Alternate Director and Secretariat
Service Trades Council, Chair
National Association of Women in Construction (NAWIC) Qld Chapter, Vice President
Having been brought up by parents who have run a family plumbing business all her life, Penny has strong ties to the industry. She has witnessed firsthand the highs and lows that her parents experienced, with her mom running the office and looking after the kids while her dad was on the tools, managing staff, customers, and projects. The struggles that she witnessed from a young age is what makes her so passionate about what she does.
Penny began working at MPAQ in May 2006 as the Events and Communications Coordinator. In this role she was editor of Master Plumber magazine and also introduced the trade shows in 2007. Before becoming Executive Director in 2013, Penny also spent time as the Member Services Manager and was asked to step up as Acting Executive Director for five months in 2012.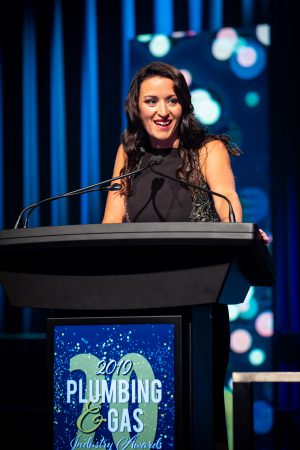 During her seven years as Executive Director, Penny has been influential in championing countless initiatives for the betterment of our industry. She has fought hard to ensure our industry standards are maintained; promoted the vital role the industry plays in maintaining the health and safety of our community; introduced campaigns to encourage the use of licensed plumbers; and welcomed legislative changes that will help subbies get paid for the work they do. This is just a snapshot of the changes and developments Penny has been behind, and the list grows each week as she inspires all of her team to find new ways that the association can try to make a difference.
I often wonder how she does it, with a weekly calendar that is a Tetris game of meetings and two young children to care for and spend time with. But then you see her in action. A car journey is an opportunity to make a phone call, board papers are read on the exercise bike, and emails are sent in the quiet hours when most people are asleep. Penny credits a very supportive husband and family for helping her find a balance, and where she once tried to go to every meeting and event, selectivity and delegation have become key skills that help her make more time for her family.
As a mom, Penny can relate to our members, with many of our smaller members being husband-and-wife teams, where the husband is working on the tools and the wife manages the office, children and everything else. She feels that these women running the business are often underappreciated, even by themselves. They are effectively non-executive directors.
As a female leader in a male-dominated industry, Penny is an advocate for more women choosing a career in the plumbing industry. She believes it is important that women are given the opportunity to network with, learn from, and support each other. Having groups like the Women's Plumbing Alliance to help recognize the work that women do in the industry can only help encourage more females to consider a career in the industry. To quote Penny directly: "We don't have a choice. We need more diversity in our industry so that we can be bigger and better at what we do."
Addressing the need to get more people into the plumbing and gas trades, Penny has been leading the team at MPAQ in educating school students and career seekers about the opportunities available in our industry. This will be the fifth consecutive year that MPAQ has run the plumbing ambassadorship program, which sends both licensed plumbers and apprentices to talk to school students about opportunities in our trade. Securing the future of our industry is a priority for Penny.
Penny has worked hard to get to where she is today, and I have no doubt she will continue to work harder every day, inspiring those around her to work just as hard to make change happen for the betterment of MPAQ members and the industry as a whole.
Written by Ashleigh Stonehewer, Member Services and Communications Coordinator, MPAQ

Submitted by NFIA
As Australia experiences its worst season of bushfire activity on record, the National Fire Industry Association of Australia (NFIAA) would like to take a moment to thank all the volunteer and professional firefighters from across Australia and the world who have worked tirelessly for months. The scale of the crisis is hard to comprehend. The wildfires have so far burned more than 46 million acres, killed at least 34 people, destroyed more than 5,900 buildings including nearly 2,800 homes and have killed an estimated 1 billion animals. Rebuilding the ravaged communities is going to be a mammoth task given the considerable damage to properties and businesses. Economic analysis estimates the direct costs to fire-affected regions from lost tourism, agricultural and retail income already lies between $1.1 billion to $1.9 billion this financial year.
NFIA and its membership are proud of their commitment to social responsibility that generates strong community engagement. Some examples of NFIA's social responsibility include the NFIA Patron's Walk for Charity, which in 2019 alone raised $255,484 from 285 donors, including 23 sponsors that supported 15 different research programs, including PTSD research to support our returned servicepeople. In 2018, NFIA raised tens of thousands of dollars to support drought-affected farmers in QLD and NSW, and already in 2020 NFIA is on track to raise $100,000 for the Australian Red Cross Bushfire Relief Fund. The 2020 NFIA Patrons Walk for Charity, Nov. 5-9, will walk the beautiful Bay of Fires, which stretches for more than 50 kilometers in Northeastern Tasmania. By the end of 2020, NFIA aims to have raised more than $550,000 in three years thanks to the generosity of the fire protection industry.
This year on World Plumbing Day, NFIA host a members' meeting, participating in the Plumbing Industry Climate Action Centre (PICAC) activities and joining with Fire Industry Training in hosting the competitive Apprentice Sprinkler Fitter Skills Competition. The winner of this competition will go on to represent Australia at the United Association International Apprentice Competition in Ann Arbor, Michigan, USA.
IAPMO TO BRIEF CONGRESS ON REPORT ABOUT WATER ACCESS


CLOSING THE WATER ACCESS GAP IN THE UNITED STATES: A NATIONAL ACTION PLAN WILL BE PRESENTED IN CONJUNCTION WITH WORLD PLUMBING DAY, MARCH 11
By Mike Flenniken, IAPMO Staff
Organizations including IAPMO, DigDeep, and the US Water Alliance will mark the 11th annual World Plumbing Day — March 11 — by co-hosting a congressional briefing on the recently released report, Closing the Water Access Gap in the United States: A National Action Plan.
DigDeep and the US Water Alliance, with assistance from IAPMO, produced the report, which found more than 2 million Americans live without running water, indoor plumbing or sanitation service. Since being released in November, the report and its findings have been highlighted by TV and print outlets throughout the United States.
The study recommended a series of remedies, including re-introducing census questions about whether homes have working taps and toilets, as well as changes to how the federal government funds and regulates water systems to support rural and unincorporated areas. There are also several recommendations for the philanthropic and global WASH (water, sanitation, and hygiene) sectors to drive community empowerment, deploy innovative technologies, and apply successful WASH models from abroad here in the United States. The full report is available online at closethewatergap.org.
The event will include representatives from DigDeep, the US Water Alliance and the Rural Water Association, representatives from communities mentioned in the report such as the Navajo Nation and the Deep South, and others coming to present the findings and recommendations to Capitol Hill.
"This is an excellent opportunity to focus attention on the important work that The IAPMO Group and, more broadly, our industry undertakes to ensure access to clean water, safe sanitation and environmentally progressive outcomes that drive everything that we do in protecting public health and safety," IAPMO CEO GP Russ Chaney said.
"Presenting the Water Access Study on World Plumbing Day is the perfect way to highlight the importance of safe water and sanitation," added IAPMO Chief Operating Officer and Executive Vice President Dave Viola, who also serves as Deputy Chair of the WPC Executive Board.
In the weeks leading up to World Plumbing Day, IAPMO representatives will speak at elementary schools using a presentation developed by the World Plumbing Council — which founded World Plumbing Day — to educate children ages 5-10 on the importance of plumbing. Children will be encouraged to participate in the International Water, Sanitation and Hygiene (IWSH) Foundation's international poster competition. The winner's school will receive US$1,000 and the entrant US$100, with US$500/50 going to second place and US$250/25 for third place.
IWSH also offers a lesson plan for schools interested in giving the presentation to their classes. The social studies lesson, which has been tailored for lower and upper grades, is available by contacting Gaby Davis via email at gaby.davis@iapmo.org.
As in years past, individuals and member organizations may get involved by:
Encouraging IAPMO, ASSE and RPA chapters to promote and celebrate the day, posting photos on social media
Distributing press releases, in advance of the day, encouraging others to participate/celebrate
Posting social media updates on activities happening around the globe
Speaking with mayor's offices, cities, state offices, and the federal government about ways in which to recognize World Plumbing Day
LOCAL PROJECT CHALLENGE INITIATIVE HONORS COMMUNITY PLUMBING CHALLENGE AT #WUF10


The Local Project Challenge, a collaboration between academic and social organizations, has honored the International Water, Sanitation and Hygiene Foundation's upcoming Community Plumbing Challenge Indonesia program as a Merit Finalist at the U.N.-Habitat World Urban Forum 10 in Abu Dhabi.
The CPC was among the honorees in the Education category, announced Wednesday as part of the "Accelerating the SDGs through the Local Project Challenge" seminar.
The Local Project Challenge is a partnership between the Center for Sustainable Urban Development at The Earth Institute, Columbia University and the Faculty of Architecture, Federal University, Rio de Janeiro, and builds on the Global Studio and People Building Better Cities programs.
"It was a very strong project in a strong field of projects," said Dr. Anna Rubbo, director of the Local Project Challenge. "It was incredibly clearly presented, it was very clear in the way in which the goals and the achievements were outlined, and I think it was really just a compelling project the way you handle it, the sort of issues that you address and the extraordinary contribution that you make to solving difficult issues."
An international panel of judges from the fields of education, urban planning and architecture reviewed the nearly 50 nominees for Merit Finalist and Honors Awards. Community Plumbing Challenge (Untia Village, Indonesia) was one of three projects recognized with Merit Awards in the Education Category, alongside Participatory Design and Planning in Tubicanga (Rio de Janeiro, Brazil), and Zero Waste – Total Wealth (Delhi, India). The Education Category Honor Award was presented to Design Curricula for a Resilient 21st Century (Dublin, Ireland).
LIGHT: Leadership for Social Empowerment, a project by the International Islamic University Malaysia, won the prestigious People's Choice Award.
The Local Project Challenge feature page for the CPC is available HERE.
75% OF PLUMBERS AT RISK OF LOSING OUT ON WORK DUE TO KNEE PROBLEMS


Submitted by The IPG
Everybody has heard (and seen) the builder's bum, but what about the plumber's knee? Something that is rarely spoken about yet is impacting the health of more than 28,000 people in the UK.
At the end of 2018, a survey revealed that nearly 75% of working plumbers experience problems with their knees, yet only 41% have discussed the issue with their general practitioner.
The study conducted by The IPG — a leading membership group for plumbing, heating and bathroom specialists — also discovered that 57% of plumbers surveyed felt that they would need to undergo knee-replacement surgery in the future due to the hardships of the profession. 59% also felt that they would be forced to retire early because of the injuries they pick up in their work.
On average, a UK plumber works 47 hours a week, with around half of that time spent on their knees. This can have a detrimental effect, especially if no protective workwear is worn. However, even with kneepads 77% specified that they still experience issues.
Those who have been working for more than 30 years were the ones who had the worst knee issues, with 68% stating they have had physio, keyhole surgery or other operations on their knees. However, it's not just plumbing veterans who are experiencing problems.
Case Study #1
In 2018/19, Andy Hope was a 31-year-old plumber running his own business, A.S Hope. He had been working as a plumber for just 12 years, yet he had to pay a visit to his local hospital due to nerve damage in one of his knees. He was advised to take over a week off work, which cost the company around £1,500 - £2,000.
Andy said, "It was very painful, I didn't realize that the line of work I did could have such an effect on my physical health. "However, I still had clients that needed my services and I still had bills that needed to be paid — even just a week off work unpaid could lead to a tight month. I can't imagine what would happen if my injury had been more serious and I had been written off work for longer, which is something I imagine happens to many of my fellow plumbers across the country."
Recently, Andy decided to change his career direction and now teaches plumbing at his local College.
Case Study #2
Dan Francis, a 34-year-old bathroom and kitchen installation technician, works for a local employer in West Sussex.  His job incorporates plumbing and tiling, among many other things, and he had also been working for just 12 years when he developed bursitis in one of his knees. This condition is caused by bony joints having regular contact with hard surfaces. He had this for eight months before one Friday morning his knee was completely inflamed, causing him to be unable to walk without severe pain. That weekend he slept excessively having come down with a fever.
When Dan visited a doctor's surgery, the GP confirmed it was one of the worst cases of bursitis he had ever seen. Dan was prescribed high doses of antibiotics and was advised that if there were any signs of further health deterioration that he should go to hospital, as there was a huge risk of sepsis.
Dan said, "The pain was excruciating. I couldn't put any weight on my affected leg and no number of painkillers were helping. One day the bursitis burst and left a massive gaping cavity in my knee."
He was advised to take three weeks off work; however, conscious of taking too much time off he went back after two even though the wound wasn't healed fully.
"In hindsight it may have been better if I took the full three weeks off as it did affect the work I was doing," he said. "However, I could only receive statutory sick pay, meaning I was already losing out on my wages. I felt like I had no choice but to go back early."
It took another six weeks until the wound eventually healed.
Nike Lovell, Head of Marketing at The IPG, said, "This is a serious issue that still needs to be addressed. We would like to urge all plumbers and installers to ensure they are using specialist protection whilst on the job, from apprentice level all the way up to those who have been working in the trade for decades.
"It is also essential that if any plumber or installer starts to have any trouble with their knees that they consult a GP straight away in order to discover any possible problems early on to avoid more serious issues."
About The IPG
The IPG is a leading membership group specializing in providing its membership of independent plumbing, heating and bathroom specialists with access to improved purchasing terms from manufacturers and distributors, alongside marketing and business services.

They believe that the independent should have a voice and a better chance to compete in the market given all the challenges facing them today. They do this through improving the position of their members by using the strength, knowledge, skills and resources available with the group.
The IPG was founded in 2013 and is based in Littlehampton, West Sussex. The group has already surpassed more than 200 trading locations nationwide and works with many successful industry suppliers.
NEW PLUMBERS ASSOCIATION TO LAUNCH IN ZAMBIA


WPC member Moses Chongo Mutumpa, Founder and President of the newly formed Plumbers Association of Zambia (PAZA), is pleased to announce that the association will officially be launching its organization Feb. 28 at an event at the Church House in Lusaka.
The minister of Water and Development, the minister of Community Development, the minister of Local Government, and the mayor of the city have all been invited to attend, as well as all plumbing manufactures and suppliers.
"It will be a great day because this is when the plumbing industry in Zambia will be lifted and the people will be exposed to the importance of the industry," Mutumpa said.
Look for photos and videos of the event to be shared in the next issue of WPC Review.
DATES FOR DIARY


Sydney Build 2020
March 19-20
ICC Sydney, Australia
www.sydneybuildexpo.com

ISH India
May 7-9
Bombay Exhibition Centre (BEC), Mumbai, India
ish-india.in.messefrankfurt.com/mumbai/en.html

Emerging Water Technology Symposium
May 12-13
San Antonio, Texas, USA
ewts.org

Kitchen & Bath China
June 2-5
Shanghai New International Expo Centre(SNIEC), Shanghai, China
kitchenbathchina.co

International Ceramic & Sanitary Ware Exhibition
June 18-20
Cairo International Convention, Egypt
www.ics-inegypt.com/landingpage/index.php/ics-ceramic-sanitary

IAPMO's 91st annual Education and Business Conference
Sept. 13-17
Charlotte, North Carolina, USA
www.iapmo.org

Kitchen & Bathroom Indonesia
Sept. 23-26
Jakarta International Expo, Jakarta, Indonesia
kitchenbathroomindonesia.com

2020 ASSE International Annual Meeting
Oct. 19-22
San Diego, California, USA
www.asse-plumbing.org/asse/am20

Montreal Fall Home Expo
Oct. 22-25
Olympic Stadium, Montreal, Canada
expohabitationautomne.ca/en

World Health Summit 2020
Oct. 25-27
Berlin, Germany
www.worldhealthsummit.org

Contact secretariat@worldplumbing.org to provide an event report or request listing of an upcoming event.





World Plumbing Council
secretariat@worldplumbing.org

C/O PICAC
6/306 Albert St
Brunswick, VIC 3056
Australia