FROM THE CHAIRMAN - SHAYNE LA COMBRE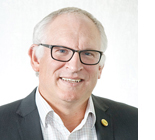 It has been a very exciting time for the World Plumbing Council (WPC) recently.
The WPC General Meeting and Four Pillars of Plumbing (Products) forum was held Thursday 17 May in Ontario, California. It followed the highly successful Emerging Water Technology Symposium and I would like to congratulate IAPMO, ASPE, PMI and AWE for putting together an excellent Symposium. 
There were over 50 attendees who attended and participated in the General Meeting and Four Pillars of Plumbing forum from a broad range of associations and companies and I would like to thank you all. In a very exciting first for the WPC, there were also more than 200 participants who viewed the meeting online via the WPC's inaugural YouTube livestream. The recordings are available on the channel and I strongly encourage you to subscribe to the WPC YouTube Channel so that you can keep up to date with when new meetings are broadcast. For further information on the livestream videos and access to the individual Four Pillars of Plumbing (Products) presentations, see the overview article in the Newsletter below.
It was with great pleasure that I received notification that the WPC's application to become a partner organisation with Sanitation and Water for All (SWA) was accepted. SWA is a multi-stakeholder partnership established in 2009. The partnership's Role and Purpose is to lead, galvanize and facilitate international efforts, aligning with and promoting national and regional processes aimed at ensuring availability and sustainable management of sanitation, water and hygiene for all. The WPC looks forward to contributing to the SWA partnership and the goal of sanitation, water and hygiene for all, always and everywhere. For more information, see the SWA website and follow their social media pages.
The first of the 2017 scholarship recipients, Shay Shanahan, has recently returned to Ireland from his trip to Japan. Shay is a Plumbing Teacher with the City of Dublin Education and Training and extremely passionate about education and training within the plumbing industry. A synopsis of Shay's journey to and within Japan follows below. The full report will be published on the WPC website later in the year. Application forms for 2018 scholarships (to be undertaken during 2019) will soon be available. Keep an eye on the WPC website and make sure that you let your network know about this fantastic opportunity.
The next major event on the calendar for the WPC is the General Meeting to be held in Mumbai, India on Thursday 25 October 2018, prior to the Indian Plumbing Association's 25th Indian Plumbing Conference. The Indian Plumbing Association (IPA) have decided to utilise the Four Pillars of Plumbing as the theme for their Silver Jubilee event and will be exploring the pillars within a regional context. This event along with many others are listed on the Events page of the WPC website and as always, we hope to see as many WPC members and supporters at these events as possible.
It is with great pleasure that I can report that preparations are well and truly underway for the launch of the 12th triennial World Plumbing Conference – Melbourne, Australia. A very exciting programme along with a range of additional activities are being planned, so ensure that you block out 11 – 13 September 2019 in your calendar now.
WPC GENERAL MEETING AND FOUR PILLARS OF PLUMBING (PRODUCTS) FORUM – May 2018 Report


The WPC held its first General Meeting for 2018 followed by the Four Pillars of Plumbing (Products) Forum on Thursday, 17 May 2018 at the DoubleTree by Hilton Hotel in Ontario, California. More than 50 attendees from the international plumbing industry took part and contributed to the discussion. 
All the presentations were very high quality and contributed greatly to the growing knowledge base of the Four Pillars of Plumbing. Two livestream videos are on the WPC YouTube Channel showing the complete General Meeting and the complete Four Pillars of Plumbing (Products) Forum.
Additionally, all the presentations including the audio presentation are available on the WPC website under Publications, or simply click on the links below.

Plumbing Product Certification – An overview | Dave Viola, The IAPMO Group
Think Swiss | Hans-Peter Kaufmann, suissetec
Water Efficiency Labelling and Standards (WELS) and regulation of plumbing products in Australia | Dr Carol Grossman, Water Efficiency Labelling Scheme (WELS)
New Zealand | Martin Sawyers, Plumbers, Gasfitters and Drainlayers Registration Board
India | BSA Narayan, Indian Plumbing Association
Plumbing Products Conformity Assessment in Indonesia | Shirley Dewi, IAPMO
Mexico | Jose Madrigal, IAPMO
United States and Canada | Lee Mercer, IAPMO
Thank you again to all who presented, attended or attended online!
The next WPC General Meeting will be held Thursday, 25 October in Mumbai, India. Contact secretariat@worldplumbing.org for more details.
WPC MEMBERS – Parlez Vous Francais? ¿Hablas Español? 한국어를할수있어요?


Translators required!
Being an international organisation, from time to time the WPC receives enquiries in languages other than English. While online translation tools are becoming more and more sophisticated every day, they are still not quite 100% - and aren't very helpful in formulating adequate responses.
We would like to know which of our members speak which languages, and would be willing to help with occasional translation and also with the translation of some WPC promotional materials going forward. If interested, please email secretariat@worldplumbing.org to find out more. All languages welcome!
COMMUNITY PLUMBING CHALLENGE 2018 ANNOUNCED


The next Community Plumbing Challenge (CPC) will be held 22-26 October 2018 and hosted by the St. Bonaventure Indian Mission and School in Thoreau, a small town in Northwestern New Mexico, USA.
This Navajo Nation CPC will provide households in the Baca-Prewitt area of the reservation with access to water and improved sanitation. A multi-disciplined team of skilled tradespeople will execute plumbing and construction projects to improve living conditions in approximately 10 households nominated by DigDeep. Inside homes, a range of bathroom and kitchen renovations will be carried out, including the installation of new basins, taps, toilets, water tanks, water pumps, and hot-and cold-water pipework. Meanwhile, efforts outdoors will address the installation of, and connection to, new wastewater systems.
For further information about the CPC visit: https://commplumbing.org/
WPC SCHOLARSHIP REPORT – Plumbing in Japan


Report by: Shay Shanahan, 2017 WPC Education and Training Scholarship Recipient
Dia duit, beannachtaí ó Éirinn. Hello, greetings from Ireland!
My name is Shay Shanahan. I am 33 years old and from Dublin, Ireland and I was awarded the World Plumbing Councils Education and Training Scholarship in 2017, which I recently undertook.
A quick overview of my background. I started working as an apprentice plumber in 2004, qualifying in 2008. I have completed courses in solar hot water, gas, oil, rainwater harvesting, heat pumps, advanced welding plus many more. Three years ago, I started a BSc in Education and Training at Dublin City University. Teaching the next generation of plumbers is what I have real passion for. My future goal is to complete a MSc in Management and Leadership in Education.
For my Scholarship, I wanted to choose a country that was suitable in meeting the program objectives, while promoting and assisting the World Plumbing Council and myself going forward. The country I chose to go to was Japan, a country that so far has been unvisited by any WPC Scholarship recipients.
Japan has a whole host of different plumbing techniques, innovations, training systems and educational practices. The Japanese and Irish plumbing systems may have shared similar origins, but they have evolved into very different paradigms, which reflect the diverse cultural influences that have permeated through the centuries.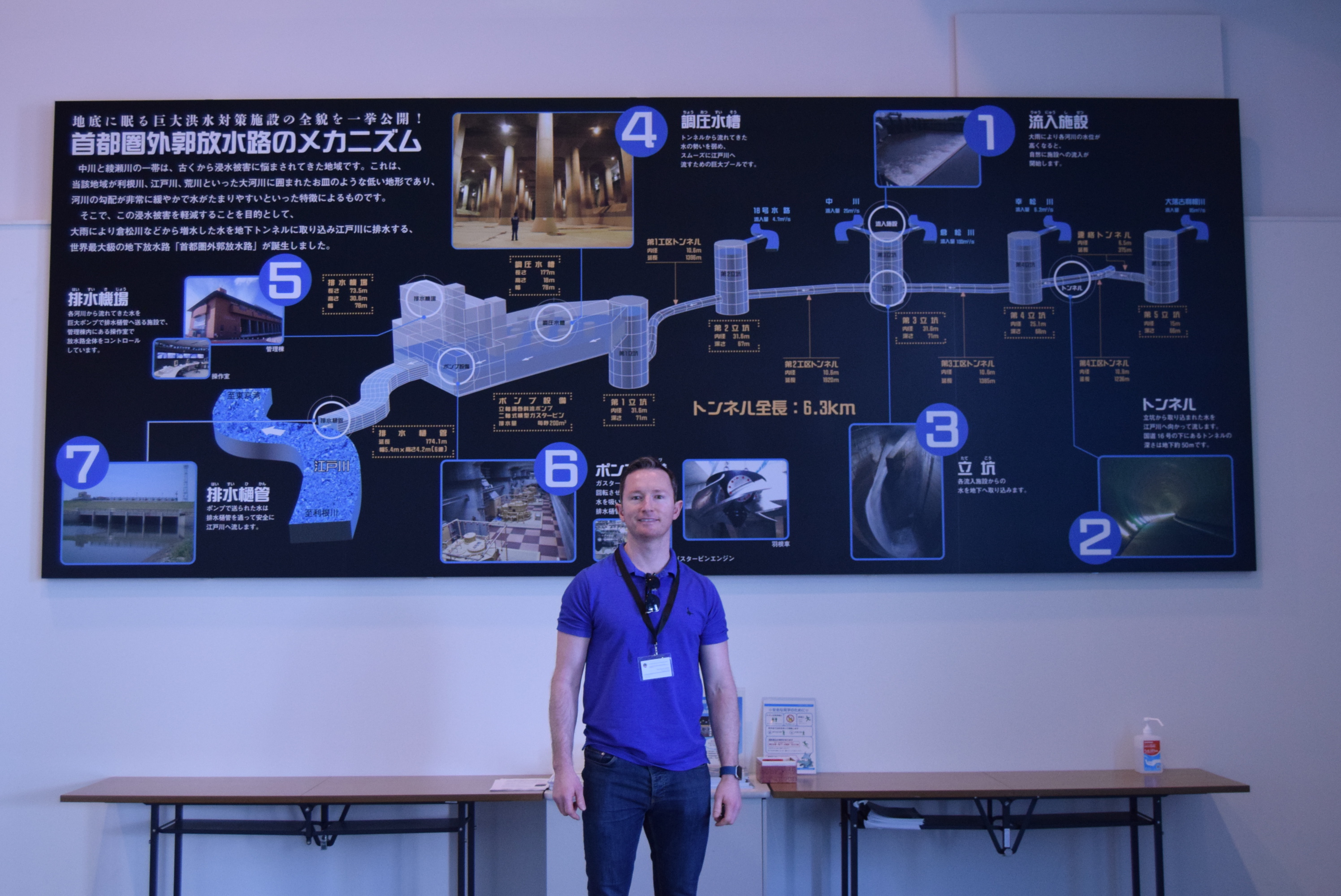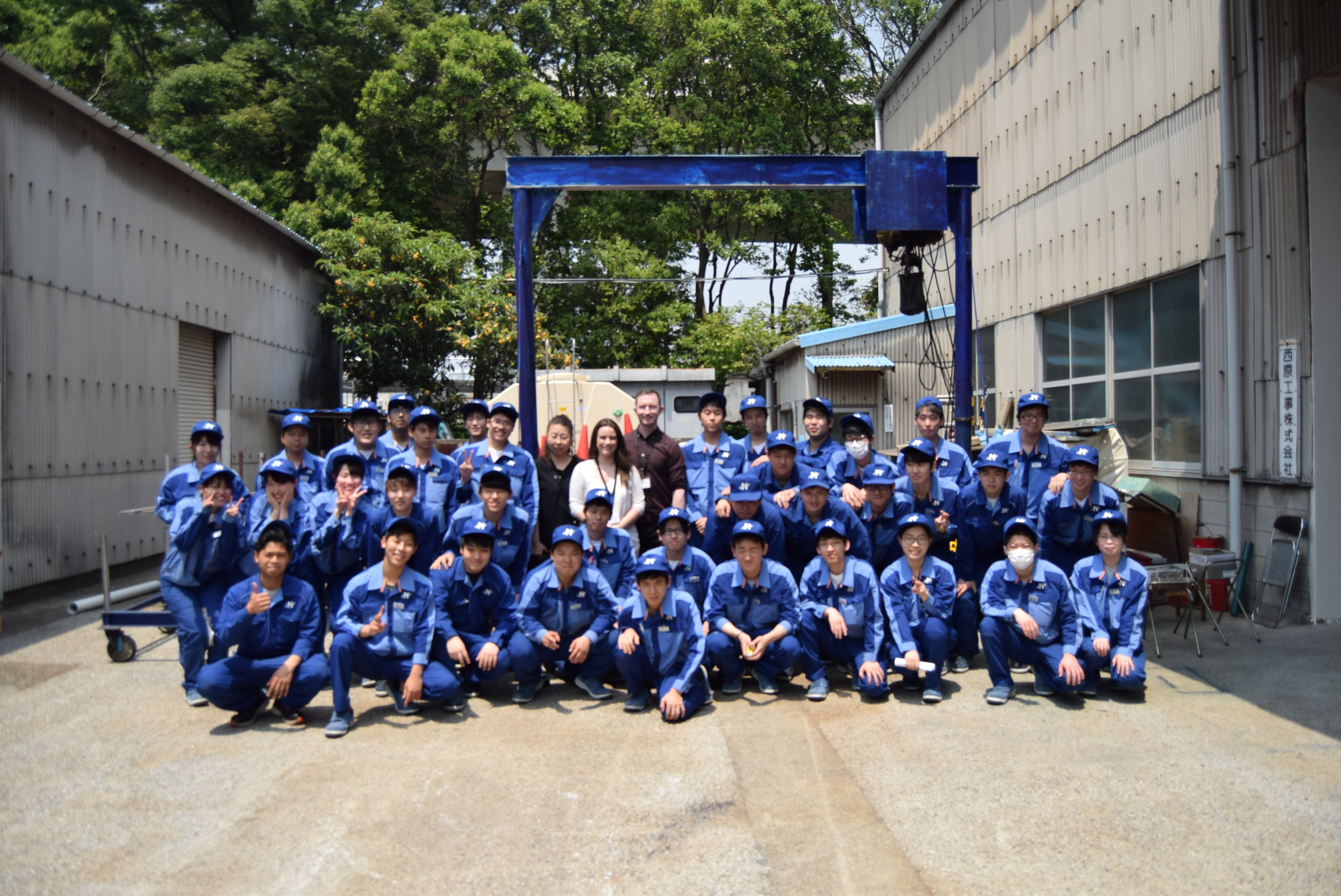 During my trip to Japan I visited Tokyo, Osaka and Kyoto and the generosity and hospitality I received was overwhelming. I visited manufacturing facilities, an Industry Vocational High School, Google's new 35 storey offices, several plumbing companies, the Tokyo flood defence system, plus I spent a day in the life of Kyoto's number one plumber.
My comparative study has offered me a way of seeing things differently which is a catalyst for learning. Although this study is qualitative and not suitable for making wider generalizations it is empirical nonetheless. The study provided data from observations and from experiences with others in the field, which will enhance my own teaching practice. In addition, the WPC Scholarship provided an opportunity for me to network and meet other plumbers and professionals in the industry.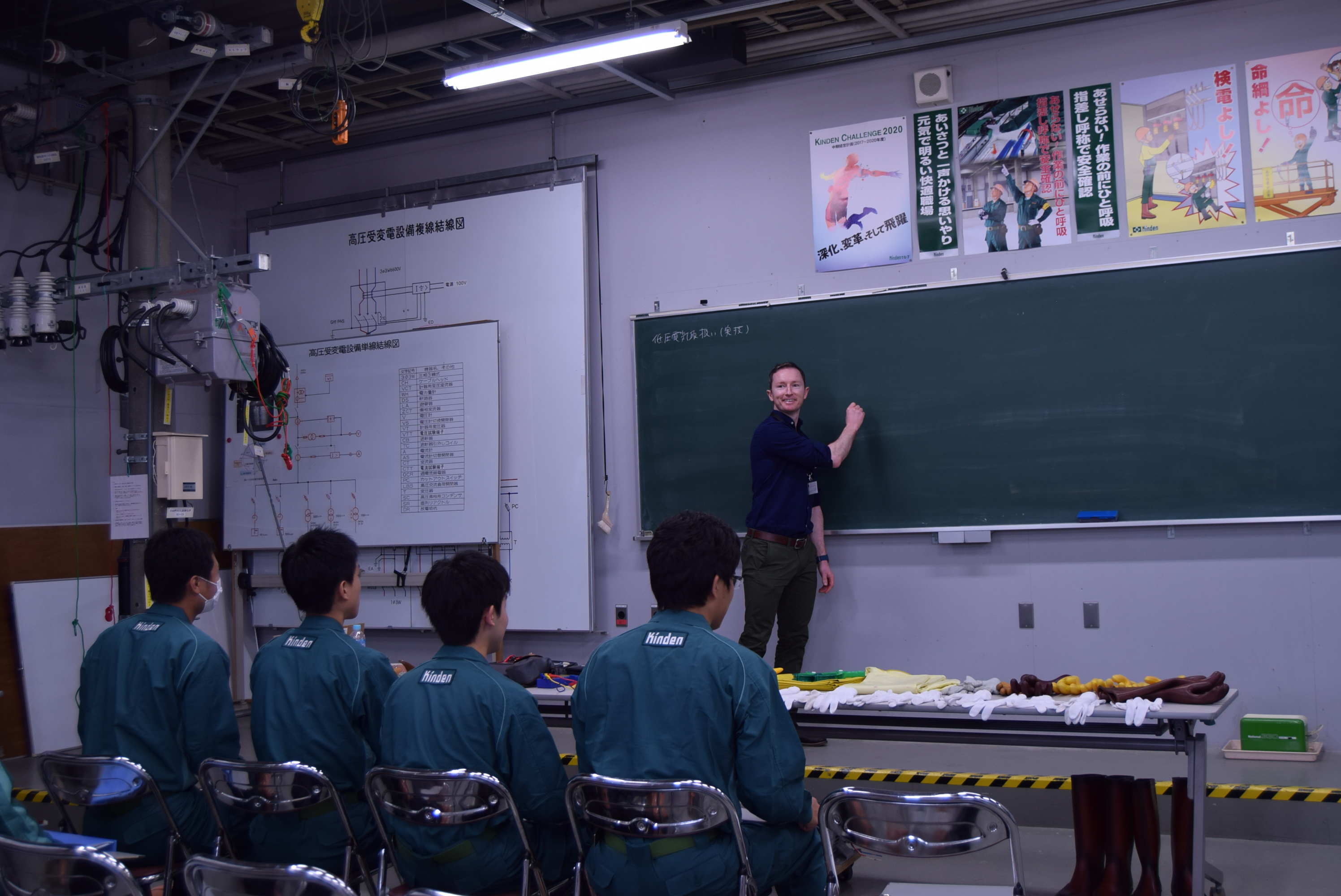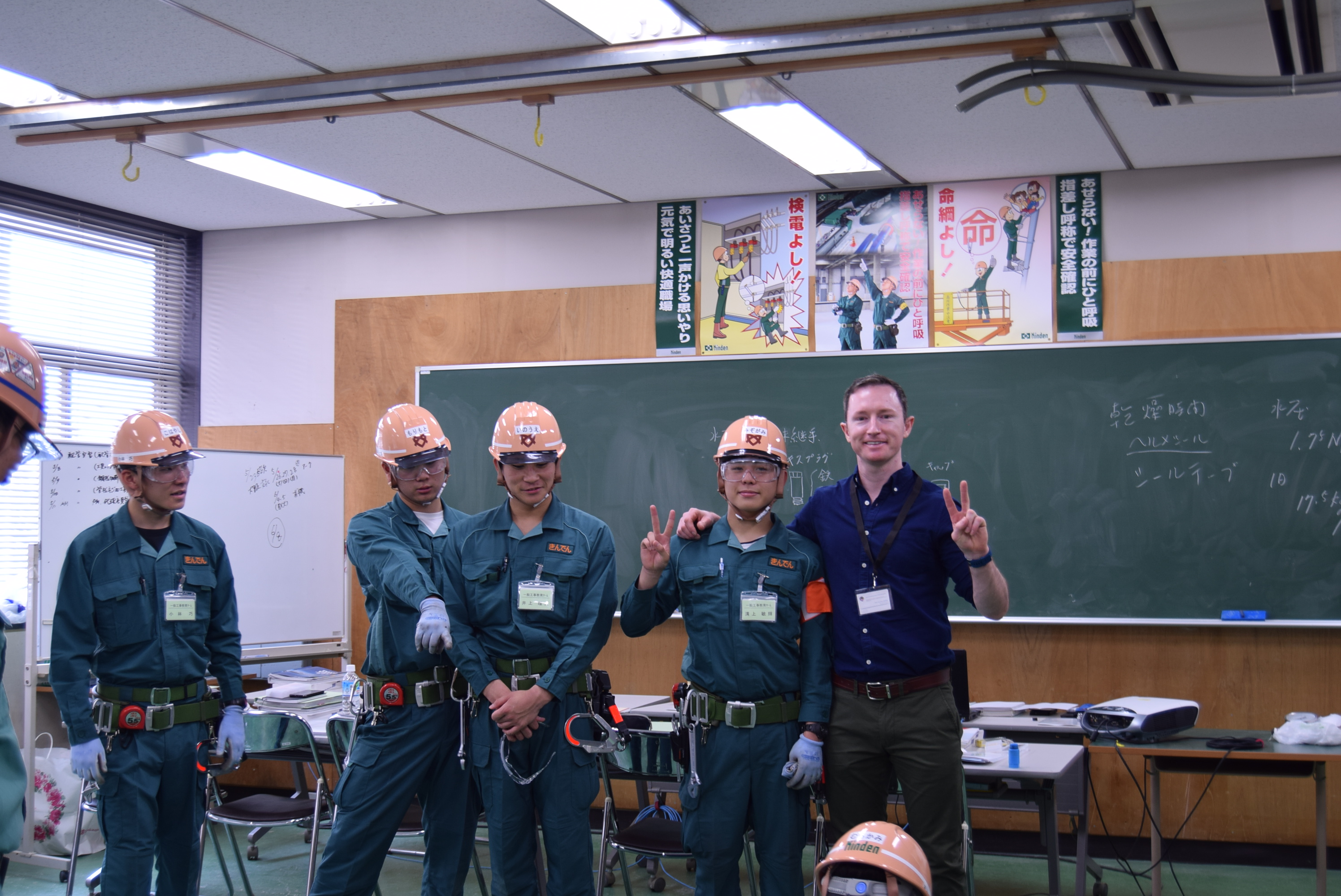 Just before I flew to Japan, I secured a role teaching plumbing apprentices at the City of Dublin Education Training Board and I look forward to sharing what I learned in Japan with my students.
The WPC  Scholarship program has provided me with a once in a lifetime experience, one which I will never forget.                  
Ga raibh mile maith agat / Thank you / ありがとうございました
Jean Claude Twagirimana an Instructor of Plumbing with Musanze Polytechnic in Rwanda was awarded one of two WPC scholarships for developing and least developed countries in 2017. He will be travelling to the US in August to attend the annual Instructor Training Program held by The United Association (UA) in Ann Arbor, Michigan. We wish him the best of luck!

Oresanya Adeyemi 'Yemi' Shakiru, Head of Department - Plumbing at Universal Learn Direct Academia in Lagos, Nigeria was also awarded the WPC scholarships for developing and least developed countries in 2017. Yemi is awaiting the results of his Visa application to Canada. He plans to travel to Toronto in September and will be hosted by the UA Local 46 and take part in a range of apprentice and post-journey training programs. We wish Yemi the best of luck also!
The WPC would like to sincerely thank the United Association for sponsoring the WPC Scholarship for developing and least developed countries.

2018 Scholarships – Applications now open!
The Scholarship forms are now available on the WPC website for download. Applications are open until 22 September 2018. Spread the word far and wide, this is a fantastic opportunity for Industry participants who are passionate about training and education!

Join the Scholarships selection committee in 2018!
The WPC is looking for volunteers to join the WPC Scholarships selection committee.  The only criteria is that you/your organisation must be a current WPC member and you can read and evaluate the applications in the comfort of your own home.

Previous selection committee members agree that it is a very rewarding experience – so contact us today to become a part of the selection committee in 2018!
PHILIPPINES: Boracay, a Paradise or a Cesspool?


Article by: Allan S. Dumalay, Individual Member, World Plumbing Council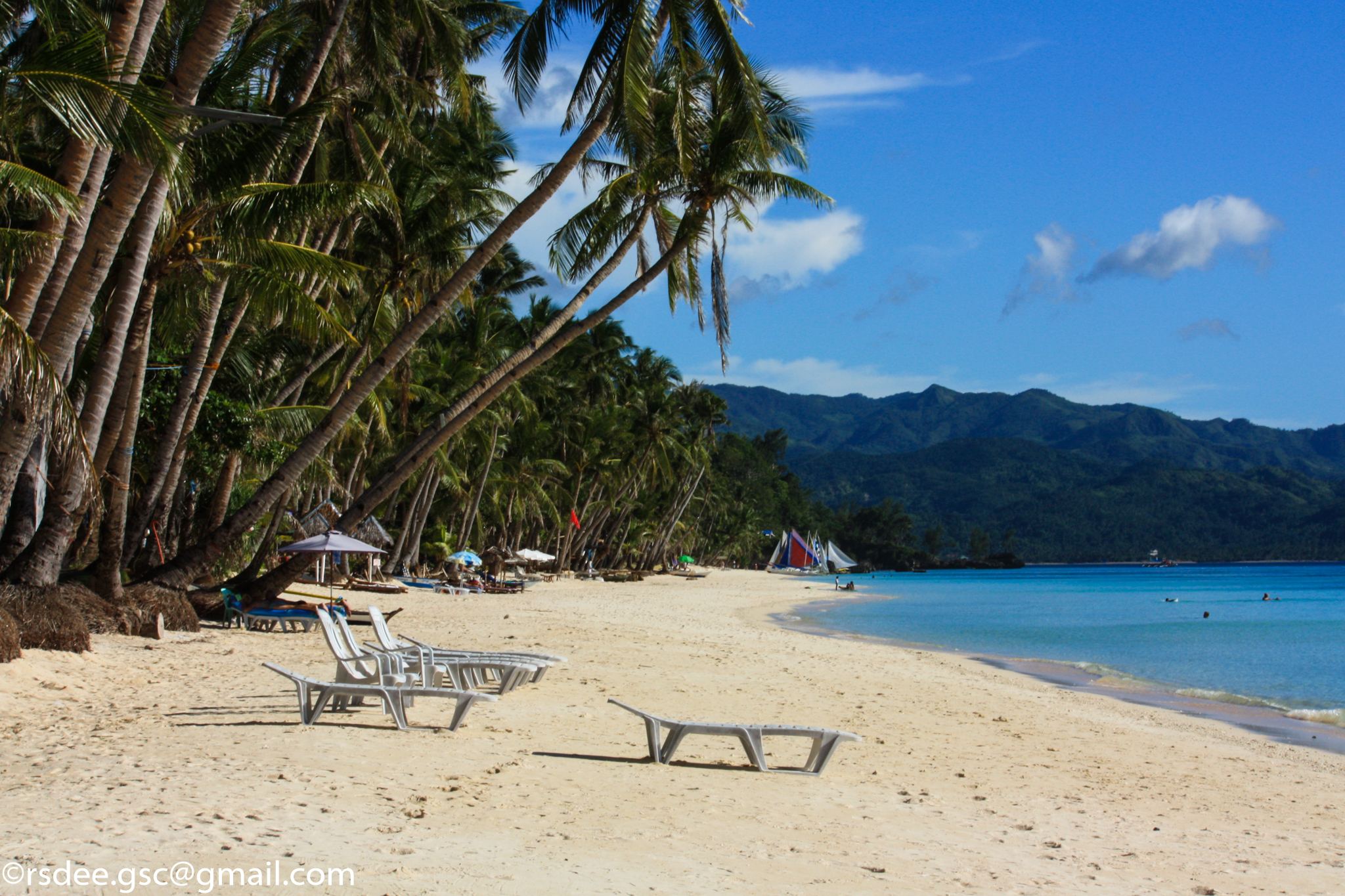 "Cesspool" is known for plumbers as an underground space for temporary storage of liquid waste and sewage. The term is also used to refer to a disgusting or corrupt place as defined in the dictionary.
Boracay Island is located off the northwest of Panay Island in the Western Visayas, Region VI of the Philippines. The nearest airport is just on the adjacent island, town of Caticlan. The total land area is roughly ten (10) square kilometers with a total recorded population of combined residents, workers, and tourists approximately 90,000.
An architect friend of mine once described Boracay as a paradise we only see in the movies in the olden times. He told that a pioneer family hired him to plan and build a resort facility in the island. Upon approaching the island, one will be greeted by mesmerizing scenes: a lush green forest, pearl-white beaches with crystal clear water and endearing and friendly natives frolicking the shorelines. Want to come to shore dry? You'll have to ride on a muscled man's back. In the nighttime you'll be in a dream, consciously seeing only a glare of flame from afar and be greeted by all the stars in the night sky.  That's how he described Boracay, a recollection of how it was in the 80's.
I first stepped on the island in 2008, attending a Master Plumbers convention. Stories told to me about Boracay and the description in the article featured in the 80's magazine has long been gone. The port already welcomes tourists' first step on the island in a coat and tie and leather shoes. No more natives to greet you with their huge smiles but a bunch of transport operators contracting for a ride to your hotel. On your way to the island, you'll see a lively commerce and towering reinforced concrete buildings along the road. Dipping on the beach gives you a chill while stepping on slippery algae. At times, you can spot an area with this green vegetation. The local government and folks describe it as normal or natural the whole year round upon boom of resort establishments.
It has been two months since the island was ordered closed on April 26, 2018 for rehabilitation and resolution of environmental issues. I heard, watched, and read tri-media reports and articles of Boracay's establishments building code, clean water act, environmental law violations. There were personnel who used mine scanners locating sewer lines directly discharging into the shorelines. Storm drainages are contaminated with sewerages, silted, unmaintained.
What have the plumbers done? The building officials? It was already a disastrous route when the emergency buzzer was pressed, too late for the brake to be stepped on. A scientist commented that it will take thirty years of closure for Boracay to regain its original state as in the 70's.
As a technical person and a plumbing system designer, I have recalled the plan and specifications I designed, prepared, signed and sealed for a hotel resort complex in the island. Have all its features conformed to good plumbing?
Black water lines discharging into a three-chambers holding tank, the influent to be taken cared of by the Sanitary Engineer's Sewage treatment plant and ensure that the effluent discharging into the body of water was safe. Grey water lines discharging into a holding tank for processing and recycling for re-use into landscape gardening and toilets and urinals flushing. Rainwater harvesting was also employed to reinforce water requirements.
The eight pipes system named – black water, grey water, ventilations, storm water, air-conditioning drains, potable water, non-potable water, and hot water were the sort of pipes installed in a building that ensures appropriate function and good plumbing installation. They were all present.
The problem mainly falls on the issue of water discharges after the primary sewage treatment or septic tank. In the current Philippine scenario, the delineation of plumbing and sanitary professional responsibilities was the building line. This means that plumbing stuff was being handled inside the building and it should tap into the sanitary sewage treatment plant outside the building or to the central sewage system available on the road utilities.
This shouldn't be a blaming game, but the reality is clear and present. About fifty percent of resort business owners or the contractors want to save money and do not provide a sewage facility, nor do they subscribe to the central utility. Building officials who approved the occupancy permits are blind, deaf, and numb: not seeing non-compliance of plans and building/ environmental regulations; not listening to people's complaints, not feeling the itchiness on beach waters or they really do not dip on beaches knowing the dangers of viruses and bacteria as a result of their negligence.
I can vividly remember a Japanese video clip portraying in my mind, one with a little boy unwrapping a candy, almost throwing the wrapper into the drainage-way but stopped by a brother and directed to a waste can. I can imagine each Japanese having that concern and raising their people as disciplined and environmentally concerned. As was the Japanese' attitude during their attendance to the recent FIFA World Cup where, after that the Samurai Blue swept Colombia 2-1 on their opening game, the Japanese, meticulously armed with trash bags  also swept their part of the stadium, tidying it up after their win. Now, that is Attitude.
What about our attitude? Our manners? Our mindset? Filipinos are known for the expression "Bahala na" (Come what may), "May bukas pa" (There's still tomorrow) and many other hackneyed beliefs. But can we change this? Is there hope for the Filipinos?
The present environmental dilemma Boracay is currently facing cannot be answered by a prayer, nor can it be resolved by a high technology plumbing system, but by action - strict code compliance, and a change of attitude.
While we have a president armed with a political will to change the country for the better, it is the WILL to strive and to present to the world a good system – plumbing or political; and to keep its name as one of the most beautiful leisure and holiday destinations in the world.
UNITED KINGDOM: Independent Review Falls Short of CIPHE's Hopes for Industry


Article submitted by: Kevin Wellman, Director, World Plumbing Council and CEO, CIPHE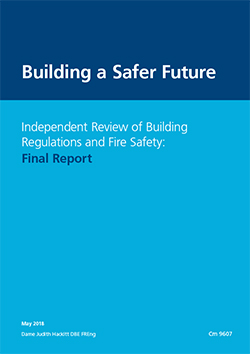 With the Independent Review of Building Regulations and Fire Safety published on Thursday 17 May, The Chartered Institute of Plumbing and Heating Engineering (CIPHE) has voiced its concern that some of the recommendations have not gone far enough to protect public safety and health, or raise competency levels within the construction industry.
The CIPHE contributed to the report through its relationship with the Construction Industry Council (CIC) and the Royal Academy of Engineering (RAEng). The body has advocated the need for the use of residential fire sprinkler systems and the related need for professional training - in their installation and servicing - for the last 20 years.
Kevin Wellman, CEO of the CIPHE said, "As a body, we welcomed the findings presented in Dame Hackitt's interim report and had hoped the final review would push further. While we support the need for robust regulatory change and the establishment of accountability throughout the build and everyday use of high rise buildings, the review has not gone far enough to immediately address the issues of competency, formal accreditation and regulation of those involved in the building and maintenance industries."
"It looks, once again, like a missed opportunity when recommendations are restricted to only residential buildings above 10 storeys. Many of the regulatory failings apply equally to thousands more buildings both in size and in purpose. It is equally disappointing that once again there has been no recommendation for the wholesale adoption, including retrofit in existing buildings, of residential sprinkler systems."
"Moves to create dutyholder roles and view high rise buildings in a more holistic manner are to be commended, but we are equally concerned about the implementation of enforcement of any new regulations. The review itself found that formal enforcement of those contravening Regulations has fallen by 75% in the last 10 years. A robust system cannot be put in place if enforcement, continued scrutiny and penalties for those seeking to break the rules are not an essential part of it."
Mr Wellman continued, "Whilst Dame Hackitt's report has recognised the role to be played by professional bodies in providing CPD for their respective industries, this does not address matters of competence when minimum skill levels and a statutory license to practice them are not enforced. Nor is it likely to address the millions of individuals who do not belong to a professional body. In order to comply with the new proposed code of Building Standards, approval should only be given to those belonging to Professional Engineering Institutes or similar likeminded industry organisations, that insist on regular, accredited CPD for their members. The CIPHE will continue to collaborate with partners from across the building services industry in order to deliver better protection for the safety and health of the public in future. We continue to urge the Government and regulatory bodies to take decisive action beyond those recommended in this report."
AUSTRALIA: Fire Protection Under Threat


Article written by: Greg Smith, Education and Training Director, NFIA
The National Fire Industry Association (NFIA) is an Australia-wide community of commercial fire protection contractors, their staff, suppliers and industry stakeholders representing a wide and varied membership from the smallest sub-contractor through to large Australia-wide design, install and service businesses. Our members work at the frontline of fire protection in Australia with an estimated 80 per cent of the fire protection work undertaken in Australia completed by members of NFIA.

The first response to a fire in a building is a properly installed and working fire protection system. 

We only have to reflect on the Grenfell tragedy in London, tragic fires in America, Dubai and Russia and other places around the world to understand the benefit of having the right fire protection system in place. Even in Australia the near-miss of fire tragedy at La Crosse apartments proved that a properly installed, maintained and working fire protection system saves lives and property.  Australia's level and quality of fire protection has grown off the back of fires such as at the Kew Gardens aged care facility in Victoria, the Childers backpacker hostel fire in Queensland and more recently the Bankstown fire in Sydney. Yet, still not everyone seems to understand the importance of the right people with the right qualifications doing the critical jobs of designing, installing, testing and maintaining those systems.

Australia already has a number of high quality, credible fire protection training packages and qualifications which are generally recognised around the country.  Unfortunately, it is then left to each State and Territory to individually set their own fire protection regulations including who can do fire protection work and what qualifications they must hold. Some jurisdictions are more advanced than others in their fire protection regulatory framework and requirements. Through 2017 and 2018 there has been substantial, proposed changes to the national fire protection training packages, especially in relation to the Inspect and Test of Fire Protection. These proposals for changes to qualifications are not supported by the NFIA or the people who do this work and who know it best. NFIA's concern is that the proposed changes could put at risk even our existing quality of fire protection by opening the door to a watering-down of the fire protection trades and replacing genuine, authentic fire protection trades qualifications with non-trade "qualifications" and 'skill sets'. Our greatest fear is that the Australian community will be less safe from the risk of fire.

NFIA together with our Plumbing Industry Climate Action Centre colleagues has been leading the call to abandon the misguided proposals of water-down out qualifications and training packages. Industry from across Australia – contractors, tradespeople, apprentices, suppliers and other stakeholders - have repeatedly shown their support for quality fire protection and it only being delivered by well-trained professional fire protection tradespeople. When a series of public consultation workshops were held across Australia in February and March, the fire protection industry turned out in huge numbers to express genuine concern at the direction of fire protection training. This was supported by a strong industry led online survey response.
NFIA & the Plumbing & Pipe Trades Employee Union (PPTEU) have worked collaboratively in attempting to create an alternative pathway for reviewing the national fire protection training packages. On the 2nd and 3rd June 2018, the NFIA and PPTEU were joined by Master Plumbers, Air Conditioning and Mechanical Contractors Association, Facilities Management Australia, the Electrical Trade Union and the Australian Manufacturing Workers Union to meet with other invited organisations at a special fire protection working group meeting facilitated by the Australian Government's appointed training package secretariat.  After two days of intense discussion and deliberation, NFIA is pleased that our key issues are now being addressed through the formation of a new working group.
This outcome and ongoing work is not possible without the support, resolve and commitment of our industry. NFIA and partners will continue to ensure that the working group remains committed to the principles of transparency, equal representation and open discussion.
Water, Water ... Is It Everywhere?


Article submitted by: Richard Soper, Director of Development, CIPHE

Richard Soper, Director of Development at the CIPHE, reports on the Worshipful Company of Plumbers' (WCP) 34th annual lecture and the lessons we can all stand to learn from speaker, Professor Mala Rao.
In her talk, 'Good morning, do you wish to see a doctor or a plumber?' Professor Mala Rao, senior clinical fellow at Imperial College London, and trustee forWaterAid UK, made the point that climate change is going to have an impact on the abundance of water currently available in this country. By 2080, it is projected that there will be half as much rainfall as there is now in summer months.
Conversely, flooding caused by too much water also causes problems in the UK. Having too much or too little water at any given time puts pressure on communities and our water infrastructure, so what's the solution?
Professor Rao confirms that while the UK isn't at the stage of Cape Town where 'day zero', the date the taps may run dry and residents begin queuing for water, seems to be imminent, it isn't completely unheard of. In fact, a long list of cities, including London, could join Cape Town if action isn't taken.
The water problem isn't limited to quantity, but also quality. The World Plumbing Council reports that, thanks to the UK's ageing plumbing infrastructure, exposure to toxins such as lead and asbestos, water borne diseases like Legionella, extreme weather events causing erosion/debris in reservoirs and new risks from plastics contaminating supplies, means that water sanitation and hygiene is also a problem we face.
It is everyone's responsibility, business and opportunity to unite to make a difference. Having enough clean water is essential to good health and leads to the question 'do you wish to see a doctor or a plumber? 'The answer to it according to the World Health Organisation (WHO) is that "plumbers are the most important frontline health workers around the globe:'
The CIPHE agrees with Professor Rao, and wants to work with members and the public to put water efficiency and safety first. We are promoting the importance of safe water via our consumer compliance health check and by working with apprenticeship providers to include more support for training and leadership in the industry. Now, we need our members to start thinking more about water and how we can conserve the UK's supply.
My challenge to you is to make one change to how you use water, and to start talking more to your customers about the benefits of water-efficient products. This will result in reduced energy and water bills and mean that this precious resource isn't wasted.
DATES FOR DIARY


Trades Industry Conference, 6-7 September, Brisbane Australia
Held over two days at the Brisbane Convention and Exhibition Centre, the program is uniquely tailored to suit the specific areas of the industry most applicable to you. Exhibitors will be made up of industry suppliers, manufacturers and service providers with the latest technologies and trends available for you to touch, see and experience. Keep pace with others in your trade, advance your skills and then accelerate to be a leader in your field by learning to navigate changing trends, through the Trades Industry Conference!
ASPE Convention and Expo, 28 September – 3 October 2018, Atlanta, Georgia
The American Society of Plumbing Engineers (ASPE) Convention & Expo is dedicated to quality education, connections and experiences for those skilled in the design, specification and inspection of plumbing systems.
IAPMO 89th Annual Education and Business Conference, 30 September – 4 October 2018, Philadelphia, Pennsylvania
Please join us in the City of Brotherly Love, home of the Super Bowl champion Eagles, where we will continue to provide excellent educational opportunities, opportunities to network with other industry professionals, and build lifelong friendships.
CONNECT 2018 10-12 October, 2018, Albuquerque, New Mexico
From business strategies that keep you grounded to new technologies and workforce ideas that let your dreams fly, CONNECT 2018 gives p-h-c contractors and technicians a unique 360-degree view of the best paths for success.
2018 ASSE International Annual Meeting, 15-18 October, 2018, Ft. Lauderdale, Florida
The ASSE International Annual Meeting is where the magic happens. It's four days of valuable information, input, education, networking, idea sharing, advice, and camaraderie that can only be experienced through attending.
ASSE's programs are developed through true industry consensus. This means that experts around the country – from all segments of varying industries – gather to determine performance requirements, testing criteria, and guidelines for products, and for professionals who work with these products.
Plastic Pipes Inside Buildings 2018, 16-18 October 2018, Cologne Germany
Keynote presentations from Past Executive Board director Henry Hung and WPC Scholarship recipient Dr Simon Reddy. WPC Member organisation CIPHE is supporting the conference and has kindly negotiated discounts for WPC Members. Full WPC members get a 50% discount off registration fees (plus tax) and WPC Affiliate members can enjoy a 15% discount. Please contact the secretariat for discount codes.

World Plumbing Council General Meeting, 25 October 2018, Mumbai India
The World Plumbing Council will hold a General Meeting in Mumbai India from 1.00pm to 5.00pm on 25 October 2018. All WPC Members and observers are welcome. Please register your interest with the secretariat: secretariat@worldplumbing.org
Indian Plumbing Conference, 26–27 October 2018, Mumbai India
The Indian Plumbing Association, with support from the World Plumbing Council, will hold a two day Indian Plumbing Conference with a Four Pillars of Plumbing theme at the Nehru Science Centre during 26 and 27 October 2018 in Mumbai. The Mumbai conference will have four streams covering all four 'Pillars' - Participation, Practices, Products and Protection. More than 1,000 participants and large number of exhibitors are expected. The IPA will arrange accommodation packages and a partner program.
World Plumbing Council 12th Triennial World Plumbing Conference, 11-13 September 2019, Melbourne Australia
This three day conference will be based on the WPC's Four Pillars of Plumbing program. Register your interest now!
ISH Frankfurt, 11-15 March 2019, Frankfurt Germany
The next ISH, the world's leading trade fair for the combination of water and energy, will be held from 11 to 15 March 2019. ISH will begin on Monday, instead of Tuesday as in the past. The fair will be open to private visitors on the last day, Friday.

Contact secretariat@worldplumbing.org to provide an event report or request listing of an upcoming event.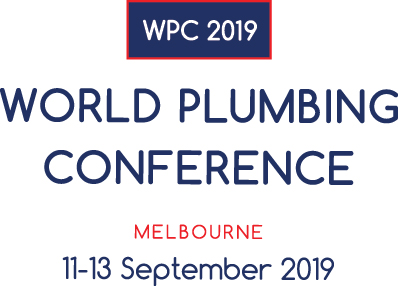 World Plumbing Council
secretariat@worldplumbing.org

C/O PICAC
6/306 Albert St
Brunswick, VIC 3056
Australia