NITC participates with WPC in support of 2016 – 2019 Objectives and beyond
Lorena Moran, National Inspection, Testing and Certification
California, USA
National Inspection Testing & Certification (NITC) is a Full Member Organization partner of the World Plumbing Council. As a third-party test administrator, NITC supports the WPC's objective to create a global network by offering individuals in the international plumbing community, at all levels of participation and interest, a recognized measure of knowledge, skills, and ability through third-party assessment.
To read the full article click here (PDF)
IAPMO, Industry Owe a Great Deal to George Bliss
By Russ Chaney
IAPMO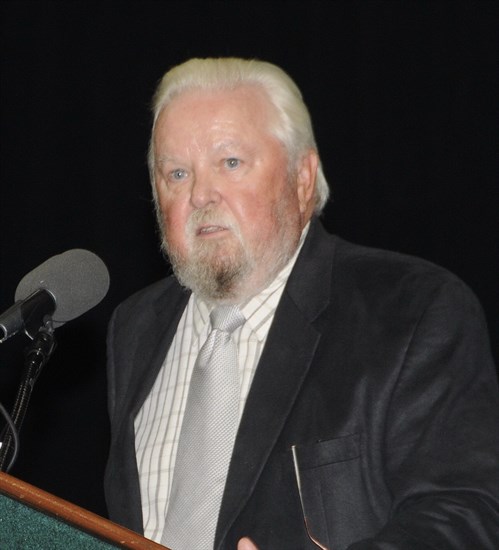 George H Bliss III
It is with great sadness that I inform you of the passing of retired UA Director of Training George H. Bliss, III, on April 16. George was my friend, my mentor, in many ways a father figure, and truly an inspirational influence on my life and career.
George was initiated into Plumbers Local 5 in Washington, D.C., on Dec. 14, 1955, and retired April 1, 2005. He dedicated his entire professional career to education and training, beginning as an instructor with Local 5. He became assistant director of Training for the UA in 1973, and in 1997 he was named Director. He also served as chairman of the Building and Construction Trades Department (now North America's Building Trades Unions-NABTU) Apprenticeship and Training Committee. In 2005, he was appointed Chairman of the World Plumbing Council and served for three years.

To read Russ's full eulogy for George Bliss click here (PDF)
IAPMO Oceana Moves Into State-of-the-Art New Research Center
IAPMO R&T Oceana recently moved operations in Victoria, Australia, to a brand-new, state-of-the-art facility that will house its research center, product testing laboratory and administrative offices.
The building in Narre Warren, which IAPMO R&T Oceana will share with the Plumbing Industry Climate Action Centre (PICAC), is expected to be the first education and research facility in the state of Victoria to be accredited to the Australian government's net zero building standard.
Geothermal heating and cooling, as well as a solar photovoltaic system, will generate enough energy to power the building.
The ground source heat pump system, which will heat and cool the building, consists of 220 wells and integrates thermal heat loops within the structural screw piles for geothermal heat exchange. The facility is the first in Australia to utilize building foundation screw piling to source geothermal energy for its heating and cooling requirements. A photovoltaic array consisting of 770 panels will produce up to 275 kilowatts of electricity, and the energy-efficient design maximizes northern exposure. An insulated wall design will achieve an R-value that exceeds National Construction Code requirements and assists in maintaining thermal comfort.
"Our new six-star energy-rated facility at Narre Warren with the purposely built and technologically advanced gas laboratory gives IAPMO an opportunity to raise the bar and offer our clients a faster and more efficient path to market in both WaterMark and GasMark certification," IAPMO Oceana Managing Director Paul Bonsak said. "The joint venture between the Plumbing Industry Climate Action Centre and IAPMO brings together technology and training in our industry. We at IAPMO are very excited by the opportunity to work in and take advantage of such a world-class facility."
The campus also has a 120-seat general auditorium, 12 training rooms, confined spaces and roof access training.
Accredited by the Joint Accreditation System of Australia and New Zealand (JAS-ANZ), IAPMO R&T Oceana operates an effective quality system in accordance with ISO/IEC Guide 65 General Requirements for Bodies Operating Product Certification Systems. IAPMO R&T Oceana certifies plumbing and drainage products to use the WaterMark™ symbol and strongly supports the federal government's introduction of the Water Efficiency Labeling Scheme (WELS), an important initiative affecting manufacturers of plumbing products, sanitary ware and white goods. IAPMO offers gas certification, GasMark™, and National Association of Testing Authorities, Australian (NATA)-accredited laboratory testing services to Australia Gas Certification requirements. IAPMO has developed and offers its  own OceanaMark™ standards.
CPC NAVAJO MOUNTAIN DELIVERS WATER AND SANITATION TO SERIES OF HOMES


The International Water, Sanitation and Hygiene Foundation's (IWSH) latest Community Plumbing Challenge (CPC) concluded in June, with a team of volunteer tradespeople from all over the United States and Australia converging on a remote mountainous region on the Arizona-Utah border to bring clean, running water and safe wastewater disposal to a series of homes on a Navajo reservation.
Presented in collaboration with the award-winning DigDeep Navajo Water Project, CPC Navajo Mountain facilitated the work of volunteers who connected a water supply for each house from tanks through a pump and wastewater system, and installed a gas tankless hot water system in each house. A bathroom was designed and installed in 83-year-old Betty Benally's house, and Lillie Manygoats, 84, had her 20-year-old home's bathroom and kitchen connected to a water and plumbing system for the first time. A septic tank was installed and a leach field was dug at each of their homes.
Lillie Benally, her husband, and two children live with her disabled mother, Betty, for whom Lillie serves as caregiver. Before the CPC, helping bathe her mother involved building a fire to heat the water, bringing in a little tub, and then having to take everything out when it was over. The new bathroom includes a bathtub with nearby grab handle and plenty of space for both of them.
"It's going to be much easier here, where the water just drains and you don't have to worry about taking it out, and just have the water running instead of having to bring the water in," Benally said. "I think that's a lot less stress just for me to get her ready for the day. So it's going to be much easier."
Among the volunteers was United Association Local 469 (Phoenix) member Gary Nez, who grew up under similar circumstances on a nearby Navajo reservation.
"I grew up without running water and electricity, but when you see a family like this with young kids around, they get to see the water come through the faucet, and I'm waiting for that," he said shortly before completion. "To have the opportunity to volunteer and contribute back to my people like this, and to be accountable for all the things that I've installed, it's a blessing."
The event benefited from the support of such prominent organizations as LIXIL, Ferguson, Milwaukee Tool, WinSupply, Reliance Worldwide Corporation (RWC), and the Piping Industry Progress & Education (P.I.P.E.) Trust Fund/NITC. Additionally, four United Association of Journeymen and Apprentices of the United States, Canada (UA) chapters — Local 78 in Los Angeles; Local 400 in Kaukauna, Wisconsin; Local 412 in New Mexico and El Paso, Texas; and Local 469 in Phoenix — and Healthabitat sent members and/or made financial contributions.
"It is a privilege to once again work among the Navajo people," said Dan Daniels, chairman of the IWSH Board of Trustees. "The goal and mission of IWSH is to provide access to water and sanitation to those who need it most. Regardless of whether that's around the world or in our own backyard, we are going to do our very best to ensure people have access to this fundamental human right. Industry, from skilled trades to manufacturers, brings incredible value and has an important role to play in finding sustainable solutions."
Companies or organizations wishing to support future editions of the international CPC program are encouraged to get in touch via info@iwsh.org.