Submitted by Master Plumbers, plumber.com.au
Information is critical in the fight against COVID-19, and wastewater is one of the key sources used to identify the presence of the virus in our communities.
A critical component in the fight against COVID-19 is establishing where transmission of the virus occurs. Since the start of the pandemic in early 2020, the public naming of exposure sites by health authorities, and the requirement for people who were at the same sites during the same time to monitor for symptoms or get tested themselves, has been an ongoing part of the public health response.
Wastewater testing has been another crucial way governments and health departments can identify where COVID-19 may be present in the community to help to stop the spread.
That's why used water from toilets, sinks, bathrooms and dishwashers is being analyzed and tested for fragments of SARS-CoV-2, the virus that causes COVID-19.
Fragments of the virus can enter the wastewater system through people who have, or recently had, COVID-19. People shed the virus through used tissues, off their hands and skin or in stools, and this shedding can continue for weeks after a person is infectious.
"The COVID-19 virus, SARS-Cov-2, can enter wastewater infrastructure through any of those means; however, it is likely to enter wastewater principally from fecal and respiratory shedding. Shed virus is then detected by analyzing the wastewater using analytical methods that are specific for SARS-CoV-2," said Dr. Nick Crosbie, Recycled Water and IWM research manager at Melbourne Water.
"Wastewater monitoring is equivalent to obtaining and analyzing a large community-based composite sample of feces, saliva, vomit, sputum, urine, shed skin and other material shed during personal cleansing, washing, bathing, and excreting."
In Victoria, wastewater samples are taken from more than 120 sites including the large Melbourne Eastern and Western wastewater treatment plants, regional wastewater treatment plants and more than 70 locations throughout the metropolitan sewerage system.
Crosbie describes the Department of Health's surveillance as dynamic, "meaning that it is adjusted to meet changing needs; for example, to facilitate surge testing during outbreaks.
"Samples are obtained by Australian Laboratory Services by 'grab sampling', auto-sampling, and by the deployment of so-called 'passive samplers', which accumulate the SARS-CoV-2 virus in the period of their deployment. In total, between a few hundred to more than 1,000 samples are collected and processed in a seven-day period.
"The samples are analyzed by Australian Laboratory Services, with Monash University undertaking analysis of the passive samplers. Presumptive detections are confirmed by analysis performed at the Walter and Eliza Hall Institute of Medical Research."
While wastewater testing has been of public prominence during the pandemic, it is regularly undertaken around the world to monitor poliovirus, norovirus and adenovirus. Crosbie has been personally involved in the work for about five years.
"Melbourne Water has been involved in providing wastewater samples for the national polio surveillance program since 2014, and we have also provided wastewater samples for Norovirus surveillance, drug surveillance, and for the Global Sewage Surveillance Project initiated in 2016," he said.
Crosbie said the public identification of locations in which viral fragments are identified in wastewater – announced by the Department of Health on a regular basis, including the sending of text messages to people in affected postcodes – allows health authorities to target their responses.
"Information can be used by health departments to further focus their investigations, and to encourage an increase in local clinical testing rates. In Melbourne's recent outbreak (May/ June 2021), wastewater surveillance has facilitated the identification of four new cases," he said.
The role the plumbing industry plays in effective wastewater testing is clear.
The provision of safe and effective plumbing and sanitation shows how the plumbing industry contributes to strong public health, Master Plumbers CEO Peter Daly said. "Plumbers play a vital role in developing, maintaining and promoting public health among the community.
Plumbers prevent against disease and illness stemming from poor plumbing and sanitation, and against the dangers of unsafe gas appliances, some of which can be deadly," he said.
In 2018, Master Plumbers published the report "A stronger plumbing industry safeguarding our community: Plumbing industry priorities," which highlighted the valuable role plumbers play in public health and safety.
This includes the prevention of Legionnaires' Disease caused by cooling towers and the increasing use of warm water systems in buildings, as well as the servicing and maintenance of gas appliances to eliminate the risk of carbon monoxide (CO) poisoning.
"Master Plumbers continues to advocate for strong public health and safety awareness program on the risks posed by asbestos, legionella, lead and carbon monoxide," Daly said.
"Our day-to-day work in plumbing and sanitation also supports the overall wastewater testing process to play a big role in the COVID-19 response,"he added.
Dr Crosbie agreed.
"Victoria's COVID-19 wastewater surveillance program is a huge team effort between people working in the plumbing industry, water industry, and the laboratory and health sectors," he said.
"More generally, the safe operation of our water and wastewater infrastructure ensures that the community do not suffer from significant health effects from water and wastewater-borne diseases."
BPEC CONTRIBUTES TO WATER PROJECT FOR MALAWI MATERNITY CLINIC


Submitted by BPEC Charity
The BPEC Charity has helped fund DATUM Foundation's installation of a new clean water supply to the Chikwina village maternity clinic in northern Malawi.
The impact is huge. The clinic now has access to fresh water from a fully functioning tap, enabling staff to clean equipment, wash laundry, prevent infection, and give new mothers and babies the benefit of clean water for drinking and washing. Prior to this, when water wasn't readily available, it had to be drawn from a borehole a 15-minute walk away. 
"BPEC is delighted to have been able to invest in such a worthwhile cause, which is already having a major impact on the Chikwina community," said Neil Collishaw, CEO at BPEC. "This is exactly the type of charitable initiative that sets BPEC apart from other organizations."
Work on the water system started in June 2021 and included:
Piped water supply from two sources
Reservoir tank – 2000 liters
Electric pump to lift the water
Foundations and steel water tower
Header tank – 2000 liters
Pipe work to link into existing supply system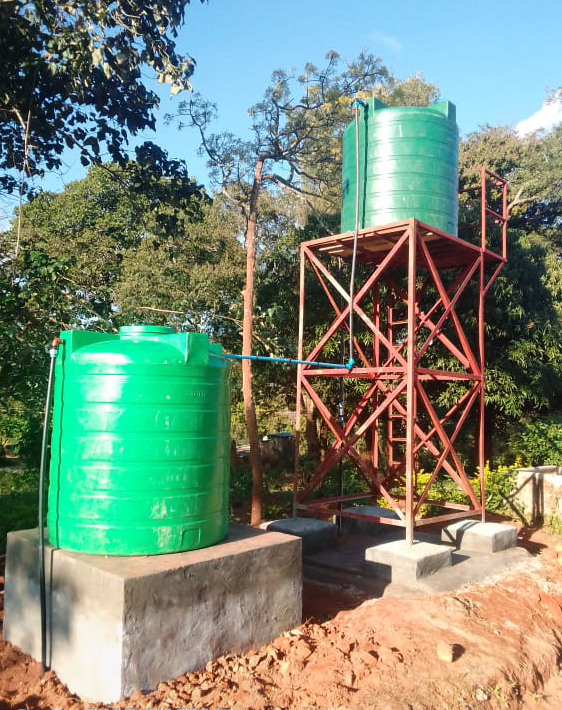 Now that the water system has been installed, the clinic provides a well-equipped and safe environment for mothers and their babies – playing an important role in helping to reduce mother and infant mortality in the region.
"We know that access to clean water can literally save lives and made providing water and sanitation to the Chikwina clinic a priority," said Dean Buchanan, trustee at DATUM. "We were delighted to receive a life award grant of £1500 from the BPEC Charity towards the cost and can't thank them enough."
Globally, 2.2 billion people lack access to clean drinking water. The result is that approximately 297,000 children under 5 die every year from diarrheal diseases due to poor sanitation and unsafe drinking water.
In 2019 DATUM, an international development charity working with communities across Africa and Asia, refurbished the existing Chikwina maternity clinic that had been left derelict for five years. This included the construction of a brand-new waiting house for expectant mothers to stay in for two weeks prior to their expected delivery date, as many have to give birth at home or walk several miles to the clinic – but COVID-19 disrupted completion of the venture, including the water supply.

As DATUM advocates improving the skills and well-being of local communities, a local maintenance worker shadowed the skilled tradespeople to learn how to install the water system, understand the mechanism and how to maintain it going forwards.
Background
Founded in 2009, the DATUM Foundation has worked across Asia and Africa with local communities, empowering them to gain life skills, education, health and nutrition. It helps people on their own terms to lift themselves out of poverty, and to live healthy and productive lives. For more information, go to https://datumfoundation.org.uk
BPEC is an industry-leading specialized provider of qualifications, assessments, training courses and learning materials. It is a unique organization led by employers for the benefit of the plumbing and heating industry, and all surplus funds generated by its activities are re-invested by The BPEC Charity. The BPEC life award is available to support projects that use plumbing knowledge and skills to improve the lives of others in the UK and abroad, and where possible transfer the skills and knowledge to others in the process.
More information on BPEC at www.bpec.org.uk