NOVEMBER 2023 | Chairman's Message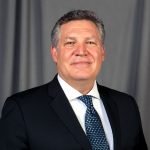 I am grateful for the opportunity to serve as chair of the World Plumbing Council. Over the years, I have learned a tremendous amount from my predecessors: Tom Bigley, Shayne La Combre, Russ Chaney, and several others. Like them, I was drawn to the WPC to help further its mission to connect the global plumbing industry; support better design and governance of plumbing industries worldwide; improve the image of our industry; promote workforce development; and, of course, to recruit diversity and next-generation leaders into all that we do.
We just completed an incredibly successful World Plumbing Conference in Shanghai, hosted by WPC Executive Board member Yongxin Qin and the China Construction Metal Association. Hosting the very first hybrid conference after a one-year delay was not an easy task! Ms. Lily Kai and Mr. Qin were gracious hosts to the nearly 2,000 guests who participated both in person and online from 12 nations. Thank you both for everything you and your organization did to welcome everyone to Shanghai and provide an incredible program!
The WPC leadership will meet early in the first quarter of 2024 to discuss our strategy for the next three years. I look forward to reporting the results of our discussion with you all. Until then, I wish you all happy holidays and much success in the New Year!
WPC Chair
Dave Viola
WPC CONFERENCE WRAPS UP IN SHANGHAI

The curtains have fallen on the 2023 World Plumbing Conference in Shanghai, a remarkable event that left attendees and participants with a wealth of knowledge, fresh perspectives and newfound connections. Nearly 2,000 people representing a dozen nations were in attendance, either in person or virtually.
Attendees had the opportunity to immerse themselves in presentations, panel discussions and workshops, delving into the latest research, trends and best practices. Whether it was a deep dive into cutting-edge technology or a conversation about the future of the industry, there were ample opportunities to absorb valuable information and experiences.
The conference also featured an exhibition of the latest products, services and technologies in the industry. From innovative startups to industry giants, the showcase was a testament to the ever-evolving landscape of technology and the exciting developments in the plumbing industry.
Dave Viola, CEO of the IAPMO Group of the United States, was elected to a three-year term as chair of WPC Executive Board.
Viola, who previously served on the WPC Executive Board as deputy chair, carries nearly 30 years of senior management experience within the plumbing and mechanical industry. He joined IAPMO in 2007 and was promoted to CEO in 2020.
Viola holds a degree in mechanical engineering from Northern Illinois University and has served in such industry capacities as chair of the American Society of Mechanical Engineers A112 Committee on Plumbing, Board of Directors of the American Society of Mechanical Engineers Standardization and Testing, founding director of the Alliance for Water Efficiency, the World Health Organization (WHO) Advisory Committee on Water Quality, and the American National Standards Institute (ANSI) Accredited Certification Committee.
"I'm honored and excited to be called to work continuing the legacy of progress established by my predecessors on behalf of the international plumbing community," Viola said. "Advancing vital goals in workforce development, workplace diversity, spotlighting of skills and generally showcasing the awesome benefits of plumbing to humankind will be a priority for the entirety of my term."
Joining Viola on the WPC Executive Board are Deputy Chair Kevin Wellman of England, Secretary/Treasurer Shayne La Combre of Australia, and Directors Tom Bigley (United States), Alberto Fossa (Brazil), Paddy Kavanagh (Ireland), BSA Narayan (India), Yongxin Qin (China), and Jean Claude Twagirimana (Rwanda).
"I want to recognize and thank Tom Bigley for his tremendous WPC leadership the past four years and congratulate Kevin Wellman on his election as deputy chair, with whom I look forward to working closely and productively as we steward the organization forward."
Peter Jackson from New Zealand retired from the board. The WPC extends its heartfelt appreciation for his dedicated years of service.
The conference was a resounding success thanks to the dedication of the organizers.
"I offer immense respect and gratitude to conference hosts Yongxin Qin and Lily Li Kai from China for their expert handling of all the behind the scenes work necessary to make the event successful while seamlessly balancing in-person and virtual attendance," Viola said.
The next WPC conference will be held in Birmingham, England, in June 2026.
Presentations:
Atmospheric Drainage System of Sanitary, Oil and Gas, and Industrial Process Plants | AHMAD A. ALMULLA, Chairman, Plumbing & Utilities Standard Committee
Control of Plumbing Materials in Hong Kong | Terry KUNG, Senior Mechanical Engineer/Material Control and Testing
Water Supply and Drainage Equipment Technology | DICKROSE MASALAMANI, JD WATERS PTE LTD (Executive Director)
Energy Management in the Sanitation sector: A case study of Sewage Treatment in Brazil | Alberto J. Fossa, Abrinstal – Brazil
Plumbing Aspects of Health Care Facilities in the Philippines | Dr Bonifacio B. Magtibay, Technical Officer, Environmental/Occupational Health WHO-Philippines
Plumbing Materials | M. Gumbs
Products in Plumbing Systems: Features, Quality and Their 'Out-of-the-box' Uses | Abbas Lehry, Managing Director – Lehry Group of Companies
Role of ISO 30500: Integrated Toilet and Treatment Products | Sun Gil Kim – ISO PC 305 Chair
Water and Energy Saving Features in Highrise Building Plumbing Systems | Ir Ben K.C. YUEN 袁啟志工程師, Honorary Technical Advisor of CIPHE-HKB, WSP (Asia) Ltd (Technical Director)
Conference Photos
Photos from the event have been posted to the WPC Flickr page
DEVELOPING A RENEWABLE GAS INDUSTRY – OPPORTUNITIES AND CHALLENGES

Submitted by the Plumbing Industry Climate Action Centre (PICAC)
As members and supporters of the World Plumbing Council appreciate very well, the climate is changing – rapidly. Weather patterns that have been predictable for centuries are being flipped on their head. We are regularly witnessing rainfall events causing floods of a biblical scale. We have seen wildfires decimate towns and ecosystems, and communities in Europe and the US have endured periods of prolonged, extreme, life-threatening heat. In Victoria, Australia, in September this year some regional communities endured a bushfire and a flood in the same week. Homes that were saved from the flames on Monday were inundated with stinking floodwater by Thursday.
It is not a surprise then that governments around the world are seeking to address what we know to be one of the main causes of climate change – carbon emissions. Energy production from fossil fuels (coal and gas) is a primary source of emissions, and economies in Europe, Asia, North and South America, and Africa are setting or have set targets to reduce emissions.  Decarbonizing energy production and use is a key way to meet those targets.
To that end, electrification of domestic and commercial buildings is the popular go-to option for policy makers and governments, including in Australia. However, as a strategy moving forward, full electrification has its limits. The energy required for an all-electric approach must come from somewhere, and in many cases, including in Australia, it is still coming from brown coal-fired generation.  Until that changes, and renewable production provides the power to an all-electric economy, it is hard to see how this is taking us forward. Increased demand for electricity also means more infrastructure (poles and wires) is required, driving up costs for consumers. Other consumers might be left with no energy options at all due to financial hardship or a power grid failure. This can be deadly.
All this infrastructure is expensive financially for taxpayers, but also has political and social costs attached. When, for example, people object to a substation being erected in their community or a farmer to a network being run across his paddocks, governments face tough choices. The targets are ambitious, but political reality means progress can be painfully slow.
These are some of the reasons why electrification needs to be supported by other low-emission fuel sources, like green hydrogen. Green or renewable hydrogen is produced from renewable electricity, with one pathway being through a process called electrolysis that separates hydrogen (in its gaseous form) from water.  Renewable hydrogen is a zero-emissions fuel source, producing only water and no emissions when created or combusted. Alternative forms of hydrogen (such as blue and grey hydrogen) are not renewable, as they are produced from fossil fuels (typically using fossil gas or coal). Blue hydrogen involves carbon capture and storage of the resultant emissions, whereas grey hydrogen does not (releasing emissions into the atmosphere).
Over recent years, as renewable hydrogen has become a proven technology, the potential for its application has expanded significantly. A key part of the hydrogen transition journey is to demonstrate the role of hydrogen for homes, businesses, and industry. The logical steps are to start with renewable gas blends in networks, then to demonstrate 100 percent renewable gas in dedicated towns or regions and ultimately to convert all existing networks to 100 percent renewable gas.
The Australian Hydrogen Centre (AHC) has assessed the feasibility of blending renewable hydrogen into gas distribution networks in the near term and transition to 100 percent hydrogen networks over the long term. They conclude, after comprehensive analysis, that it is technically and economically feasible to use existing gas infrastructure for scaled hydrogen distribution.
The next step is to develop a renewable hydrogen industry. The Plumbing and Fire Protection Industry in Victoria was greatly encouraged by a recent initiative of the Victorian government to consult with stakeholders on exactly what that looks like.
Developing an industry from the ground up is not straightforward. There is a range of important issues to consider:
Transportation – a key question when developing a renewable gas industry is how the gas moves from the point of production to the point of consumption. Some cities and regions, like Victoria, have very sophisticated pipeline infrastructure due to a long and extensive use of natural gas. If – and the AHC work would suggest it will – that pipework proves suitable and can be utilized to store and move renewable hydrogen, then that is a potential development advantage. If not through piped infrastructure or produced on site, then renewable gas needs to be transported in tanks and on trucks, in the same way as LPG is moved around. This process would of course produce emissions, and the net emissions reduction value of the hydrogen would need to be determined once those transport emissions are factored in, raising questions about the environmental and economic value of the exercise.
Training – a further key development question is whether we have the skills in the economy to make a renewable hydrogen industry a reality. The answer is yes, we do. Plumbers and gasfitters are the natural trade occupation to carry out the installation and ongoing maintenance of hydrogen systems. Hydrogen skills are an adjunct to those existing competency-based skill sets, rather than the creation of an entirely new skill set or trade. In Australia and elsewhere, gasfitting is a key component of the plumbing apprenticeship and if hydrogen is incorporated into the energy mix, plumbers' gasfitting training can easily be modified to ensure the ongoing safe operation of the gas networks and facilities powered by hydrogen gas, as well as the safe maintenance of household gas appliances.
Safe products – another issue is ensuring hydrogen-using products can be produced at scale and are safe. That relies on high-quality research and testing. For this, industry needs access to fully equipped testing and training centers. This will assist product manufacturers with research, development and testing to get their appliances "renewable gas ready," then take the next step and assess compliance with the relevant standards. If these testing facilities are connected to industry training programs students can then upskill on the new technology before it is rolled out in the market, ensuring plumbers and gasfitters are ready to help enable the transition.
These are just some of the issues involved in developing a renewable hydrogen industry. It is challenging, but the industry in Australia is confident that by continuing to work productively with governments, especially in this development phase, renewable hydrogen can become a key part of the energy mix in Australia, and potentially many other economies.
INDUSTRY'S BEST SHINE IN QUEENSLAND PLUMBING AND GAS AWARDS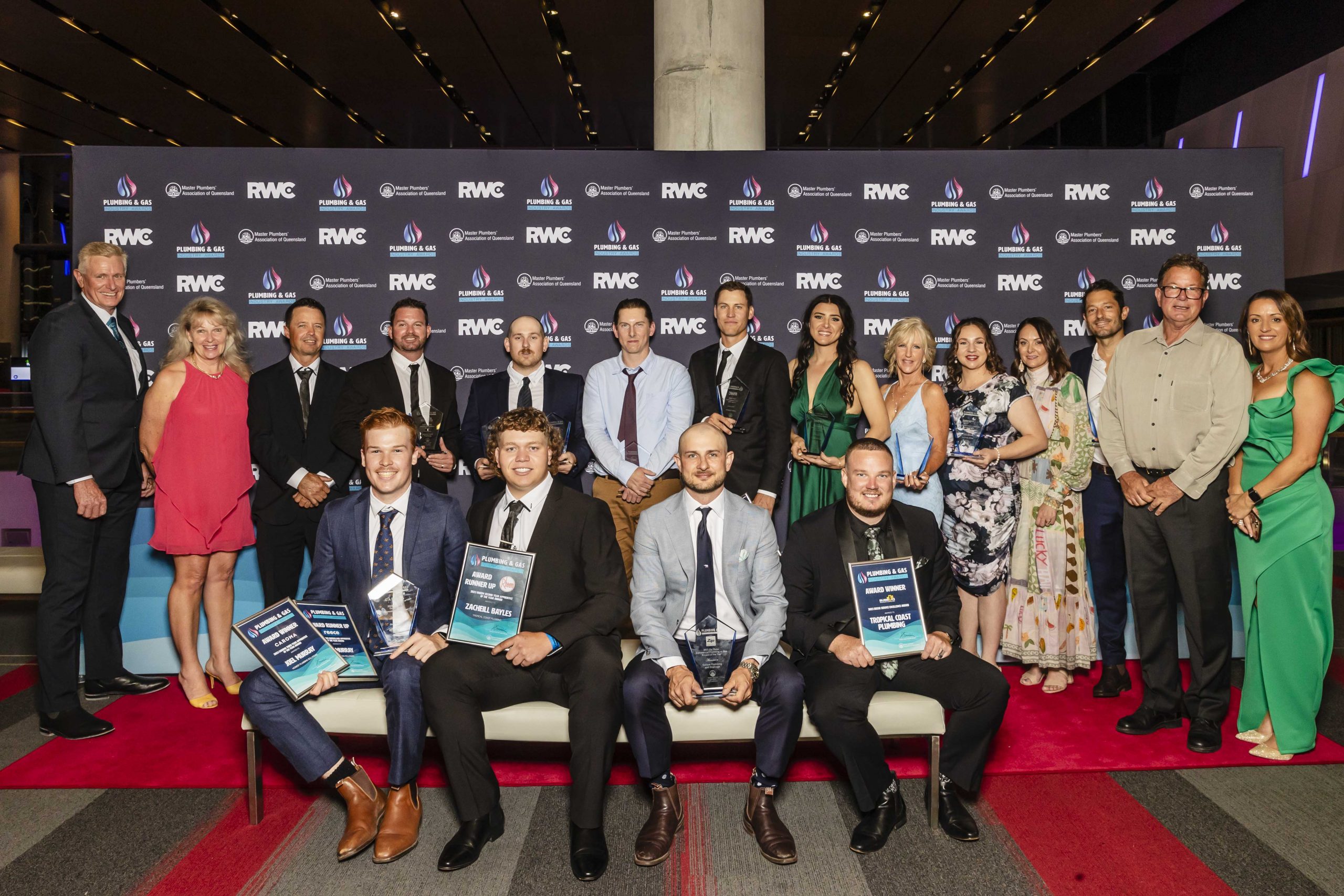 Submitted by the Master Plumbers' Association of Queensland
Master Plumbers' Association of Queensland celebrated the best of the plumbing and gas industry at the 2023 Plumbing and Gas Industry Awards on Oct. 6. This year, Queensland-based businesses and individuals exemplified unparalleled passion, unrelenting resilience, groundbreaking innovation, inspiring leadership, and new standards of excellence as winners were recognized in each of the 16 award categories throughout the evening.
Presented by Master Plumbers' Association of Queensland (MPAQ) in partnership with Event Partner Reliance Worldwide Corporation (RWC), the presentation dinner was held at the Brisbane Convention and Exhibition Centre (BCEC). More than 650 industry professionals, local dignitaries, business owners, and esteemed guests were in attendance for a spectacular night of celebrations and networking.
Legendary host and sportscaster Ben Dobbin led the festivities this year, setting up the stage for some inspiring words from the Hon. Mick de Brenni MP, Minister for Energy, Renewables and Hydrogen and Minister for Public Works and Procurement, and the Hon. Di Farmer, Minister for Employment and Small Business, Minister for Training and Skills Development and Minister for Youth Justice.
Showcasing a bright future for the industry were the five apprentices who took home the apprentice awards. Exhibiting a solid grasp of technical knowledge and highlighting their dedication to their craft, these apprentices hold incredible promise in shaping the industry: Cody Heyer of S&C Plumbing Services, School Based Apprentice of the Year; Caleb Anderson of Shaw's Plumbing & Gas, Rheem Second Year Apprentice of the Year; Joel Murray of Honest Plumbing Solutions, Caroma Third Year Apprentice of the Year; Nicholas Anderson of Evermore Plumbing & Gas, Construction Skills Queensland Merv Harris Memorial Bursary Award; and Jack Keogh of Axis Plumbing QLD, winning both The Service Trades College Australia Fourth Year Apprentice of the Year and Reece Queensland Apprentice of the Year.
Not to be left behind are the women whose contributions to the industry are unmatched, both off and on the tools. Kirsty Train from Grace Gas Fitting, Plumbing and Home Maintenance in Toowoomba took home one of the biggest and most sought-after awards of the night – the Department of Energy and Public Works Tradesperson of the Year. In her 16-year tenure in the industry, she has carved a remarkable path, underscored by a steadfast commitment to technical proficiency and strong support for mental health and safety. Nicole Vermaak of Ryano's Plumbing and Gas Fitting Pty Ltd also shone bright during the night as she won the Simpro Women in Plumbing and Gas Award. Her adaptability in the face of change has furnished her with the crucial attributes to emerge as a trailblazer in the plumbing and gas sector. Representing regional Queensland and the women off the tools, Lucinda Giles from James Giles Plumbing Pty Ltd took home the Austbrokers Comsure Andrea Vogler Women in Business Award for her pioneering, impactful business initiatives and dedication to championing a team environment steeped in nurturing and unwavering support.
John Franklin from Franklin Plumbing and Gas lit up the stage when he emerged victorious in the coveted RWC Businessperson of the Year award. At the helm of his plumbing and gas business on the Gold Coast, he embodies the essence of an industry luminary who recognizes the necessity of adapting to dynamic business landscapes.
A first in Plumbing and Gas Industry Awards history, the MPAQ President's Award was given to John Salmon of Salmon Plumbing Services. His exemplary contribution as a member of the MPAQ Council and his passion for growing his business and craft speaks volumes of the mark he has left in the industry.
Tropical Coast Plumbing took to the stage for the BUSSQ Service Excellence Award to receive recognition for their best practices and sterling achievements. With an unwavering commitment to cutting-edge technology, Tropical Coast Plumbing delivered top-notch customer service, fostered personal growth among their staff, and contributed passionately to local communities.
Four notable projects in plumbing and gas were recognized throughout the night, highlighting the standards of excellence set by Queensland businesses. Calibre Plumbing and Drainage brought home the Zip Water Commercial Plumbing or Gas Project of the Year for the Club House Refurbishment of Indooroopilly Golf Club. Revamping the plumbing, drainage, and fire services of Indooroopilly Golf Club's main clubhouse marked the most substantial renovation since the clubhouse's original construction in the 1980s. LPW Plumbing and Gas Solutions won the Plumbing Plus Domestic Plumbing or Gas Project of the Year for their exceptional venture with the installation and commissioning of the plumbing, drainage, and gas fitting of Palm Avenue, a three-level residential masterpiece in Ascot. Tru-Flow Services PTY LTD and BRW Hydraulics were awarded the AHSCA Queensland Hydraulic Consultancy Design of the Year for a landmark collaboration that realised You Foodz. A facility previously unconstructed in Australia, this pioneering project tackled hydraulic design, commission, and installation challenges that brought to life a groundbreaking design. MM Kembla Outstanding Copper Plumbing & Gas Project of the Year went to Beavis & Bartels for their outstanding work with the Logan Hospital. Throughout their commissioning and installation of a comprehensive hydraulic and gas package, they were able to ensure minimal disruption and risk to the hospital's staff and patients and kept the hospital fully operational throughout the upgrade.
"The Plumbing and Gas Industry Awards presentation dinner stands as the pinnacle event within our field, where we gather to honor the outstanding achievements of individuals and organizations who excel in the plumbing and gas industry. Every nominee, especially our esteemed finalists and winners, should take immense pride in the exceptional levels of professionalism they consistently exhibit," said Penny Cornah, MPAQ's executive director.
She added: "We extend our deepest gratitude to all our partners, whose steadfast support has been instrumental in our journey. Events like these don't just give credit and recognition, but also hope to inspire the larger industry and the next generation of plumbers and gasfitters to consistently embody excellence and innovation. We aim to celebrate the best so we can keep growing and moving forward as an industry."
Capping the night was entertainment from the Hamilton Band and an after party with more drinks and bites at Rydges Soleil Poor Bar.
GULF COAST PHCC'S JOSH HOLLUB WITH MODERN PLUMBING WINS PRESTIGIOUS AWARD
Submitted by Gulf Coast PHCC
Josh Hollub, a fourth-generation master plumber and member of the Gulf Coast PHCC, has been named the 2023 IAPMO Industry Person of the Year.
Hollub has dedicated his life to his family's plumbing business, Modern Plumbing of Pasadena, Texas, which was established in 1956 and is still thriving thanks to his commitment to the craft and the family legacy.
A commercial and industrial supervisor for more than a dozen years, he serves in three distinct levels of the Plumbing, Heating & Cooling Contractors Association:
Incoming president of the Gulf Coast Chapter
Gulf Coast chapter representative at the Texas Board
Government Relations committee member and PAC subcommittee chairman on the PHCC National Board
Hollub provided strong advocacy and clarity to Texas state legislators earlier this year during debate over the house bill that would have mandated replacement of the Uniform Plumbing Code. He applauded legislators for ensuring that jurisdictions in Texas can continue to make informed decisions that best suit their local plumbing needs rather than being forced to adopt one plumbing code.
IAPMO said he was presented the award to honor his love of family, his respect and admiration for the generations who came before him, his advocacy for strong codes and standards, and his inspiring optimism about the direction of the industry.
SKILLPLUMB UK CHAMPION WINS BRONZE MEDAL AT EUROSKILLS EVENT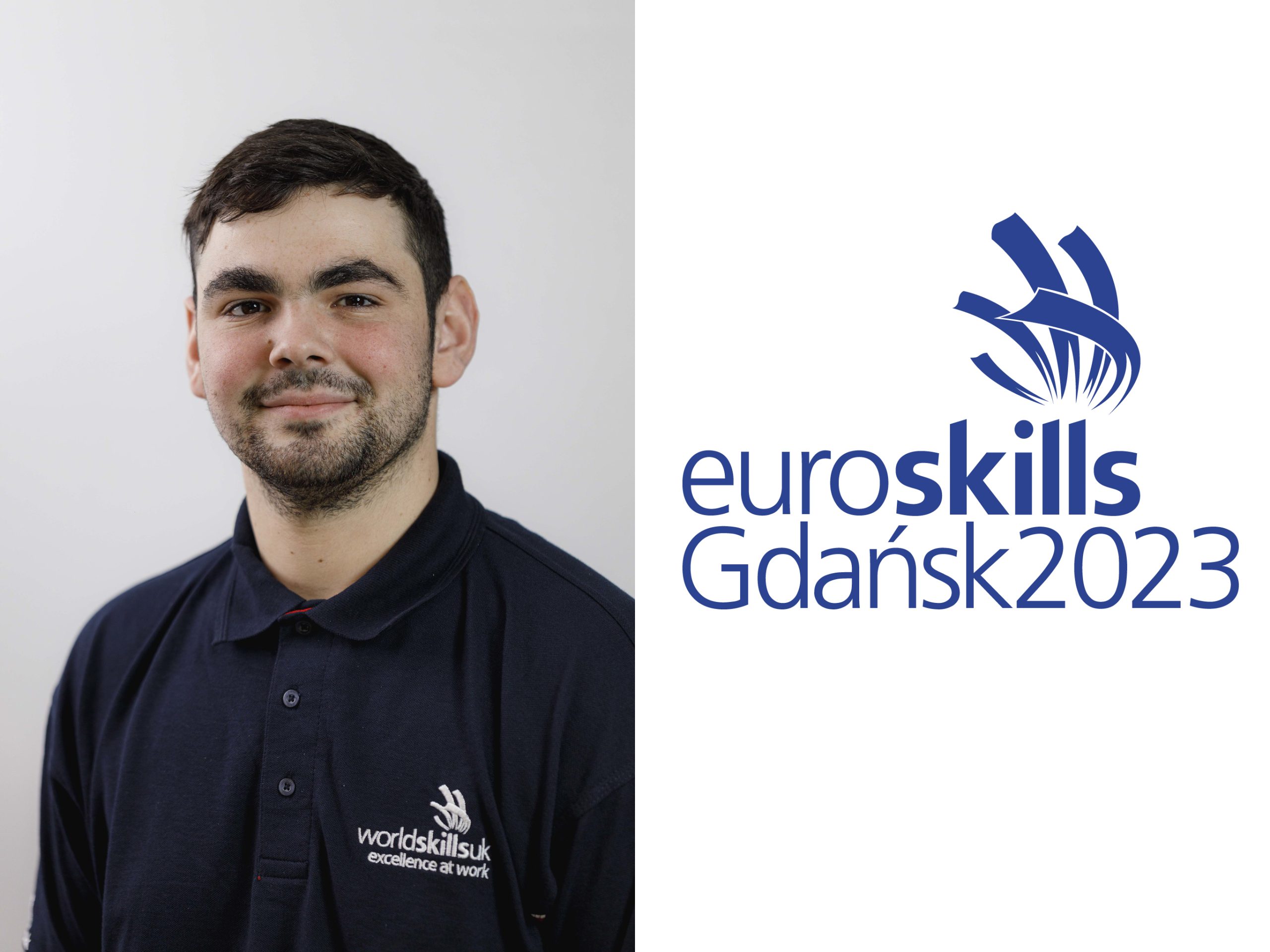 SkillPLUMB 2022 UK Champion Ruben Duggan triumphed at Europe's largest skills competition, EuroSkills, in Gdańsk in September by becoming a bronze medalist for Plumbing and Heating.
Ruben, 21, from Blackwood in South Wales, works for Powerserv Ltd and studied at Coleg Y Cymoedd. He was selected to join Team UK, an elite team of apprentices and young professionals that amassed a total of nine medals at the "Skills Olympics."
After his selection to Team UK, he trained intensively with WorldSkills Training Manager Ronnie Ferris to develop his skills further and perfect his techniques to compete against plumbers from all over Europe.
"BPEC is delighted and proud of Ruben's fantastic achievement," BPEC CEO Neil Collishaw said. "He worked hard to prepare for the competition and winning a bronze medal is a wonderful accolade. Ruben is a fantastic young ambassador for the plumbing and heating industry."
Comprising three days of the most intensive competition, EuroSkills is the biggest vocational education and skills excellence event in Europe and provides an unparalleled opportunity for gifted young people to hone their skills and climb the ladder of opportunity toward a better and brighter future.
The competition in Gdansk, Poland, this year welcomed 600 skilled young professionals under the age of 25 from 32 countries to participate in competitions and demonstrations in 43 different skills and trades. About 100,000 visitors from across Poland and abroad also attended.
Visit the BPEC website for information on the SkillPLUMB competition. https://bpec.org.uk/the-bpec-charity/activities/skillplumb/
HELP THE WORLD PLUMBING COUNCIL GROW
Do you know of an organization or individual interested in joining the WPC?  Share this link (https://www.worldplumbing.org/shop/) so they can join and become part of our global plumbing community!
Aqua-Therm | Praha 2024
5-8 March 2024
Prague (CZ)
aquatherm-praha.com
Emerging Water Technologies Symposium
May 14 – 15, 2024
Scottsdale, AZ
www.ewts.org
95th Annual IAPMO Conference
September 22 – 26, 2024
Las Vegas, NV
www.iapmo.org