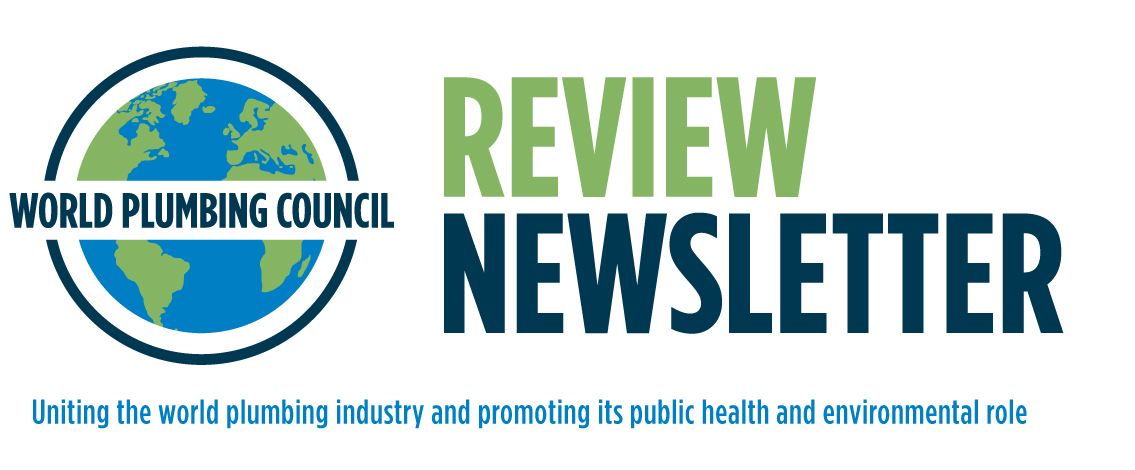 FROM THE CHAIRMAN - THOMAS BIGLEY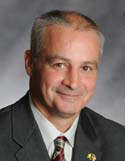 As the coronavirus spreads across the United States and the world, the health and economic impact will have repercussions for years and maybe decades to come.
                     
World Plumbing Day has come and gone, but this year may have had more significance than ever before because of COVID-19. As the world responds to this pandemic, one of the simplest yet most effective ways we can combat the spread of this horrific disease is by stressing the importance of hand washing.
                     
Here in the United States, where we are confined to our homes, I feel like a surgeon preparing for surgery every time I wash my hands. With the frequency of this task, we are using more water than ever before in the residential systems, which is causing many plumbing service calls.
                    
With basic necessities like toilet paper being hoarded by the panic-buying public, leading to post-apocalyptic empty shelves, Americans are forced to use other methods that are taxing our plumbing infrastructure. Sanitary sewers, septic tanks, sewage pumping stations and sewage treatment plants are experiencing breakdowns that are putting our plumbers at risk when working on them.
                     
The adage "The Plumber Protects the Health of the Nation" is truer today than when it was first coined many years ago. With our plumbing systems being tested to their maximum working potential and the shortage of clean drinking water, it is vitally important that they don't fail us now. The public needs to be assured that we can provide clean, safe drinking water and proper sanitation.
                      
There are still many unknowns about how long the virus lives in and on objects or how exactly it transmits from one another. We must practice proper safety precautions when working on live sanitary systems and when exposing others when working on them.
                       
Another problem foreseen is the growth of legionella in our water systems because of stagnate water in shuttered buildings due to businesses shutting down. We are working with our building owners and the people who maintain them to assure that this does not happen. Proper testing of the water before our workforce returns to work is essential so that a different problem doesn't begin.
                     
President Trump and many governors have identified plumbing as an essential occupation that is critical to the nation's well-being. Many construction jobs have been shut down due to workers not being able to physically distance themselves from one another. Many of our service plumbers are working overtime because of the need for drain cleaning. 
                     
I thought I'd never say it, but thank God we have the internet. With social distancing causing many of us to self-quarantine to our homes, the internet allows us to teleconference and communicate face to face with loved ones.
                      
If anything good comes from the virus, it is that we are communicating with our family and friends more than ever, which obviously is a good thing. I hope that everyone stays safe and that a cure is not far away. 
Tom Bigley
WPC Chairman
UNDERSTANDING CORONAVIRUS EXPOSURE FOR PLUMBING PROFESSIONALS


Peter DeMarco, Executive Vice President of Advocacy and Research – The IAPMO Group, Published March 11, 2020

In 2019, the World Health Organization (WHO) started monitoring the outbreak of a new coronavirus, which ultimately was named COVID-19. The virus was first identified in Wuhan, China. This paper is intended to provide practical guidance for plumbing professionals who work on sanitary waste and sewer systems on how to protect themselves, their loved ones and their coworkers during the current pandemic.

Coronaviruses are so named because, when viewed under a microscope, they have protrusions that resemble a crown. They belong to a family of viruses common in both humans and many animal species. In rare occurrences, animal coronaviruses can mutate to the point where they are able to also infect humans, which is likely what occurred in China late last year. The potential for viruses that cross over from animals to humans to develop into an epidemic, happens when the virus can then be transmitted between humans. The COVID-19 virus is highly transmissible between humans and can cause respiratory illness and even death.

As of this writing on March 11, World Plumbing Day, the WHO has announced the outbreak qualifies as a pandemic, having spread on all inhabited continents. The worldwide number of humans diagnosed with COVID-19 has surpassed 120,000, with more than 4,300 deaths (see chart below). These numbers are predicted to grow. Unfortunately, there's much we still don't know about the virus, including important details about its transmissibility, how long it can survive on various surfaces or in water, and the range of illness severity among various population groups. It is known that the elderly and those who are immuno-compromised with pre-existing medical conditions are the most vulnerable for poor medical outcomes, which is consistent with other pathogen-based diseases, including influenza. However, contrary to some misinformation that's currently available, the coronavirus is in fact considerably more dangerous than the current annual influenza virus.

Read more:
www.worldplumbing.org/understanding-coronavirus-exposure-for-plumbing-professionals/
THE IPG MEMBERS SUPPORTING THEIR COMMUNITIES - COVID 19


Submitted by Nike Lovell, The IPG, March 20, 2020
Leaders Must Acknowledge Essential Role of Plumbers in Fight Against COVID-19
The world has rapidly changed over the past three months. When we heard Big Ben chime and celebrated the arrival of 2020, who could have predicted that by early spring we would see the UK in lockdown, along with the rest of the world. Confined to our homes, we have been setting up home offices and schooling, and will be keeping our distance from work colleagues, friends and family for the foreseeable future. No small business could predict or plan for this unprecedented event; however, The IPG members are quickly adapting to this unusual environment and we'd like to share some of their stories with you.
Paton of Walton in Walton-on-Thames remains open for business 8:30 a.m.-3.30 pm weekdays, 8.30 a.m.-1.30 p.m. on Saturdays, while helping their local community. They are ensuring that local families are keeping their critical home facilities working. Paton's have considerately adapted their services to deliver to their customers' doorstep if required. Recently, they helped a local family who were in isolation. They desperately needed a part for their heating system which had broken, meaning their house was cold and they had no hot water. Paton of Walton were able to get the emergency part and deliver to the family, following all government guidelines. The company are also committed to keeping their staff safe during the pandemic, requesting that customers call first and then collect the goods from their doorstep at an agreed time.
WMI Simpsons Ltd, Barnet currently open from 6 a.m.-5:30 p.m., are the self-proclaimed fourth emergency service in their area. Their business is being reactive and remains busy; they are fortunate as one of their specialisms is heating and boiler spares, and it is essential that homes are heated along with water. Local emergency installers are still working hard to ensure that their customers' vital services are maintained, and they require parts.
As the events of the past couple of weeks unfolded, WMI Simpsons advised their staff that they could go home if they wanted to, but all staff volunteered to stay and continue to work and support the business. The safety of their staff is WMI Simpsons' priority during this health emergency, so they devised a safe method of serving customers described as a chain gang, ensuring that all staff and customers are keeping to the 2-metre distance rule. A gazebo has been set up at the front of the store as a temporary trade counter, so no customer enters the store. There is a sanitising area where every customer is required to wash their hands before being served, and all staff are wearing gloves. Each member of staff is given a specific task: someone picks from the warehouse, another member takes it to the temporary trade counter and then someone serves the customers. Every customer, including members of the public, are being given trade prices. All payment transactions are made by card.
Golita Supplies, Blackburn, are currently keeping to their normal trading hours for emergencies but are reviewing daily. Business is slowing and they think that this is due to jobs finishing and work sites closing. They are analysing stock each day and engaging with their customers to try and understand why customers are coming to the store. If business continues to slow, they will reduce their opening hours to five to six hours per day; this information will be available on The IPG website. Like other IPG members, staff are wearing gloves and masks, they have an hourly cleaning rota to clean the trade counter, hand sanitizers are always available and social distancing rules have been implemented within the store.
Gill's Plumbing and Heating, Welwyn Garden City, are adapting to new customer requirements. Local installers are still out and about supporting their customers with emergencies, so it is important that their trade counter remains open and continues to support their community; however, they have closed the showroom. Skeleton staff are in place wearing protective gloves, only one person is allowed at the counter at any one time, and they are also only accepting cashless payments. For their account customers, they are offering a pick-and-pack service, which they will leave outside of the customer's home. Local households require water softener and salt, and currently Gill's are delivering to the doorsteps of those customers who are self-isolating and are vulnerable, demonstrating the importance of our independent merchants all over the country. Somewhere not far from you is a similar independent, who needs your support now and, in the future, more than ever.
While many of our IPG member stores continue to remain open for business, footfall has understandably dropped, and several installations have been postponed for the protection of public health. As this national emergency unfolds, our members will continue to face challenges and may have to temporarily close due to staff shortages or government instruction over the coming weeks.
COVID-19 is an unexpected challenge for every single business in 2020. While some of the government initiatives put in place by the Treasury will undoubtedly help independent merchants, it may not help their immediate cash flow, as they are waiting for the process to be put in place. It has never been so important to support your independent merchant, who is in the heart of your community. Many of them have been a part of it for decades.
Please note that member opening times are current as of the time the press release was issued, though they are subject to change throughout the COVID-19 pandemic.
MPAQ CALLS ON GOVERNMENT LEADERS AND HEALTH PROFESSIONALS TO ACKNOWLEDGE THAT LICENSED PLUMBING AND DRAINAGE CONTRACTORS PROVIDE AN ESSENTIAL SERVICE IN THE FIGHT AGAINST COVID-19


Submitted by Master Plumbers' Association of Queensland

Penny Cornah, Executive Director of MPAQ, is adamant that licensed plumbing and drainage contractors provide an essential service that some people take for granted.

"Plumbers protect the health and safety of the community, providing clean drinking water and the removal of sewage and other wastewater. Without plumbers, we would always live with the risk of widespread waterborne diseases," Ms. Cornah said.

"Plumbers are licensed and trained professionals, and Queensland would have a permanent and potentially catastrophic public health problem without them."

According to the World Health Organization (WHO), the provision of safe water, sanitation and hygienic conditions is essential to protecting human health during all infectious disease outbreaks, including the COVID-19 outbreak. Ensuring good and consistently applied water, sanitation and hygiene (WASH) and waste management practices in communities, homes, schools, marketplaces and health care facilities will further help to prevent human-to-human transmission of the COVID-19 virus.

Ms. Cornah added that the work of plumbers goes beyond the provision of plumbing systems; they must manage the risks associated with plumbing installations and ensure that they don't have to put their own health at risk when they protect the public.

"Due to current shortages, and to continue providing their vital services, the government must take steps to ensure that plumbers have access to all the protective personal equipment (PPE) they need, including facemasks, goggles, protective suits and gloves.

"Policy makers must get the message out that the current emphasis on enhanced personal hygiene means professional plumbers are more essential than ever."

Licensed plumbers who have the support of their industry association may be found by visiting www.mpaq.com.au/find-a-plumber.
PUBLIC WARNED TO AVOID SCAMS BY UNLICENSED PERSONS DUE TO COVID-19


Submitted by Master Plumbers' Association of Queensland
Property owners are being warned not to fall into the trap of using unlicensed persons to conduct plumbing work during the global COVID-19 crisis.
Plumbing, drainage and gasfitting work is essential to ensuring the health and safety of our community, and this is particularly important given the health pandemic that we are facing. Master Plumbers' Association of Queensland (MPAQ), the peak industry body representing the plumbing industry, is raising awareness of opportunistic, unlicensed scammers who are completing plumbing work illegally.
Plumbing, drainage and gas trades are administered by a strict licensing and legislative regime, which also ensure tradespeople hold the relative insurances that are required of them. This is to ensure the safety and protection of the community through the provision of clean drinking water, sanitation, and gas.
MPAQ's Executive Director, Penny Cornah, said "We understand that COVID-19 has left many people in Queensland in a financially vulnerable position, and we want to try to help protect Queenslanders from those who seek to take advantage at this time."
"When trying to keep renovation or building costs to the absolute minimum, DIY or handyman work tends to look like a better option over hiring a licensed plumber or gasfitter, but by going down this route you are putting your family's health at risk, as well as facing possible legal and financial implications," she said.
Homeowners should ask their plumber and/or gasfitter to provide their license prior to engaging in any plumbing, drainage or gasfitting work.
"If they cannot produce their license or evidence of their license number, do not engage them for any work," Ms Cornah said.
"The easiest way to ensure your plumbing work is completed safely and complies with the industry standard is to find a licensed plumber using the Find a Master Plumber database."
MPAQ members are appropriately licensed and abide by a code of conduct that helps to ensure consumers have that extra level of protection. They are also being provided with support and resources from their industry association to ensure they provide their customers with quality and safe services to limit the spread of COVID-19.
To find a licensed plumber, visit www.mpaq.com.au/find-a-plumber.
PUBLIC WARNED TO NOT INSTALL DIY HOSES OR BIDETS


Submitted by Master Plumbers' Association of Queensland
Consumers are being warned not to install DIY hoses and bidets during the global COVID-19 crisis, after an article titled, "Australian Ingenuity Saves the Day Again" was published in the Sunday Mail on 5 April highlighting a DIY toilet conversion.
The article states, "with all the toilet nonsense going on at the moment, my partner attached a simple hose to our toilet (in flow) tap, so we now hose rather than wipe – a bit like a bidet."
Master Plumbers' Association of Queensland (MPAQ), the peak industry body representing the plumbing industry, warns Queenslanders that this type of installation is illegal and could put the health and safety of your family at risk. Plumbing, drainage and gas work is not DIY.
MPAQ has advised the Queensland Building and Construction Commission (QBCC), the regulator for plumbing and drainage work in Queensland, about this matter and it has been referred to the nonconforming building products team to review.
Plumbing, drainage and gasfitting work is essential to ensuring the health and safety of our community, and this is particularly important given the viral pandemic that we are facing.
MPAQ's President, Kent Vickers, said, "We understand that consumers might have more time to do work at home at the moment, but plumbing or gas work cannot be one of those tasks. It must be completed by licensed plumbers and gasfitters."
"Plumbing, drainage and gas trades are administered by a strict licensing and legislative regime for a reason, as water and waste are directly linked to the health and safety of the community," he said. "This is why it is imperative that persons hold the relative licenses and insurances, to ensure the safety and protection of the community through the provision of clean drinking water, sanitation, and gas."
"Additionally, homeowners should ask their plumber and/or gasfitter to provide their license prior to engaging in any plumbing, drainage or gasfitting work."
MPAQ members are appropriately licensed and abide by a code of conduct that helps ensure consumers have that extra level of protection. They are also being provided with support and resources from their industry association to ensure they provide their customers with quality and safe services to limit the spread of COVID-19.
To find a licensed plumber, visit www.mpaq.com.au/find-a-plumber.
PHILIPPINES: PLUMBING AMID COVID-19


Article contributed by Allan S. Dumalay, NAMPAP, Inc.
PHILIPPINES is categorized as a developing country – a poor agricultural country that is seeking to become more advanced economically and socially.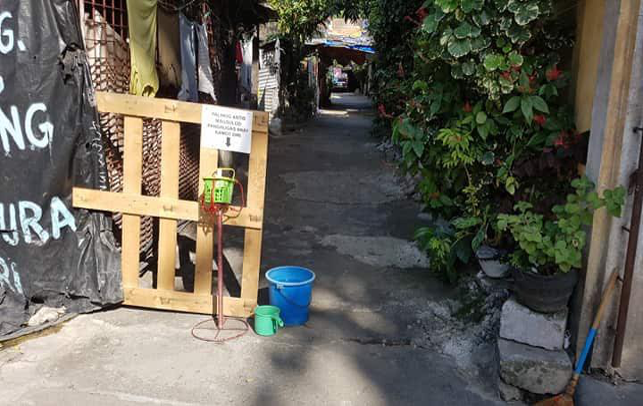 Each community "purok" entrance were provided with improvised washing station - soap, pail, and dipper for basic hygiene. A not so reliable system but trust and care for everyone is the fundamental of a Filipino culture.
The potable water supply distribution system is categorized into three levels. Highly urbanized cities are on Level III – "running water point" houses connected to water districts or accredited concessionaires. Most of the rural areas are still on Level II – a system serving an average of four to six households. Non-community dwellings within a 250-meter radius that have a stand-alone water supply serving 15 or more households are referred to a system called Level I.
Level I and II water supply systems are said to be rarely controlled by the government sanitary or health inspection and recording; waters are untested and unmonitored for potability. The community locals may have developed an immunity with the common pathogens and thus seldom are reported being sick. However, in my personal experience, when my city-raised young niece Raine Cassandra drank from a common well in a suburb during a relative visit, she suffered severe diarrhea thereafter.
The COVID-19 outbreak is an international health emergency, and the devastation it has caused is dominating headlines around the world.
Philippines has suffered through such a pandemic before: In the 19th century, the cholera outbreak was so feared that it was said that people are falling like broomsticks in the wind. It was the first time in recorded history that major cities and municipalities were locked down for quarantine.
Unfortunately, despite modern medical equipment, technologies, pharmaceuticals and knowledge,  some front-line medical workers and professionals were also affected and succumbed with their patients. It is such a tragedy that medical specialists, the most noble among professionals, are gone in an instant with this unlikely global event. The health authority has called for social distancing, proper personal protective gear and proper sanitation and hygiene in order to avoid transmission and contamination. Isolation of detected cases before a proper medication or immunization is discovered, tested, and made available for prescription is also ordered.
| | |
| --- | --- |
| | |
| In the midst of Covid-19 scare, today (March 17, 2020) a WASH facility at Lumbangan Elementary School, Zamboanga, Philippines, observing proper handwashing – sanitation and hygiene! | At the entrance of a Public Market, hand washing station was installed to comply with protocol for the communities for a proper sanitation and hygiene, as COVID-19 spread fear, lingering the entire country. |
Some rural areas, however, had no access to running water and devised a solution to address the basic sanitation need. The local news announced makeshift hand-washing stations were provided for each community clusters, but they were not in a condition that was suitable for proper hygiene.
As the World Plumbing Council and the International Water, Sanitation and Hygiene Foundation (IWSH) have posted, "Handwashing is key to preventing the spread of COVID-19. But two (2) in five (5) health care facilities globally do not have soap and water or hand sanitizer at points of care."
In the midst of virus scare, the concerned private entities, rotarians, and local government units throughout the country are bravely and speedily installing and turning over much-needed hand-washing facilities to the required stations in anticipation of government lock-down notices. Kudos to these ladies and gentlemen doing "service above self" and "good to the world."
Behind those rainwater harvesting down spouts, well and pump, water tank, gate valves, pipelines, lavatories, faucets, and drains, plumbers — which the WHO has declared to be among the most important frontline health workers – the trustworthy installers and handymen of such facilities are recognized, appreciated, rewarded, and humbly bracing for the next actions.
With the expected highly contagious and lethal pathogens in the plumbing workers environment in a case when "called for," a "Level C" state-of-the-art personal protective equipment/gears will be adopted. Though it is difficult donning, moving, and doffing; the workers' health and safety was of priority. The Philippine Government, Filipino People, and the Master Plumber CARES!
PORTABLE WASH BASIN FOR FIGHT AGAINST COVID- 19


Submitted by Chaitanya Patil – Pratham Plumbing Program Alumni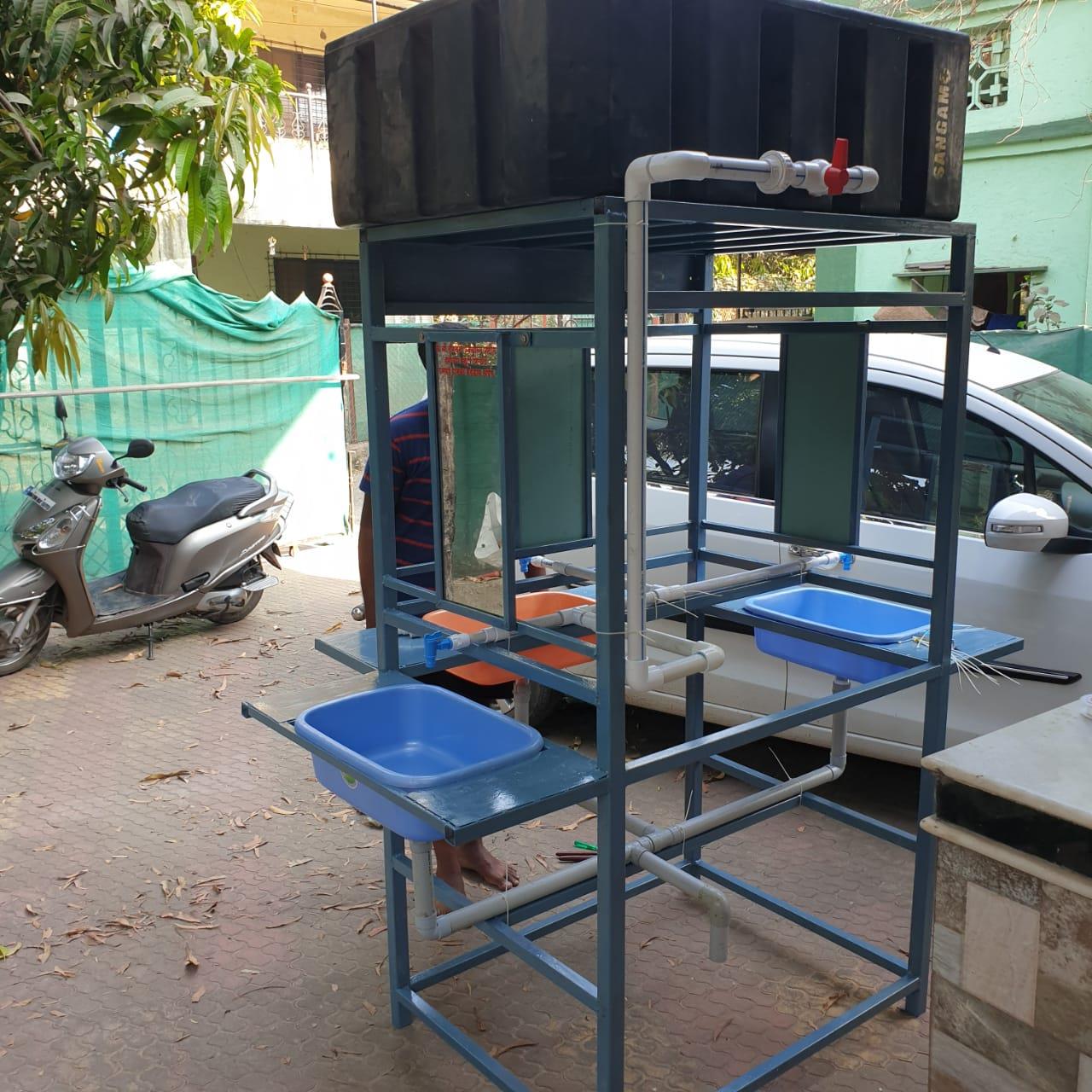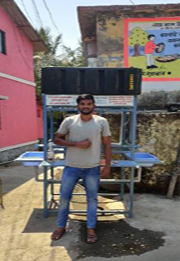 Chaitanya Patil, resident of Alibaug, Raigad, Maharashtra, has taken a step forward to support the community for the fight against COVID-19. Considering the anniversary of his beloved grandmother's death, Patil and his family decided to build and donate a portable wash basin for the community/village. With the motivation behind this to stop the spread of the Coronavirus in their village, he thought that the preventive measure to fight against the disease is to wash hands properly. So, he and his family members took a stance to keep this portable wash basin at the main entrance of their village and asked the villagers and visitors to wash their hands properly before entering the village. He got this idea from his working location.
Patil, an alumnus of VOLTAS supported Pratham Plumbing Training Center – Panvel, Batch No. 21, has successfully completed his training as a general plumber. Following his training, he has been placed at Della Adventure & Resorts, Lonavala, as an assistant plumber (Salary PM In hand Rs. 9,200/- with Accommodation, TA, ESIC, PF & Mediclaim). While working at the resort, he came across the highly advanced portable wash basin, which was being used at various events in the resort. From there he started thinking of making a similar sort of low-cost wash basin and presenting it for the welfare of the community.
COVID-19 EXPERIENCES IN THE UK


Submitted on March 25, by Kevin Wellman, Chief Executive Officer
The Chartered Institute of Plumbing and Heating Engineering
The difficulties created as a result of the coronavirus are worsening every day. It is predicted that the peak for new cases of the virus could subside in two to three weeks' time, but to achieve this the public must adhere strictly to government guidelines on social distancing. Having introduced a lockdown across the UK there are still many people who are flouting this request and are still meeting in groups. There has been confusion within the construction industry due to mixed messages from ministers. The prime minister is constantly asking non-"key workers" to refrain from work but to stay at home. Financial support packages have been put in place for employees to cover up to 80% of their salaries, but we are awaiting an announcement (due tomorrow) about support for self-employed installers. Some 85% of those involved in the plumbing and heating industry are self-employed or running businesses of up to five employees.
One of the effects of this crisis is that many people panicked and were buying in bulk essential items, including toilet roll. The shortage led to the public to use wet wipes, newspaper and other items deemed unfit for sewers/drainage systems. Not surprisingly, this has resulted in drainage systems/sewers to become blocked creating sanitation/public health issues!
Plumbing and heating installers, despite the work they do as custodians of public health, are not recognised as key workers, and I have made numerous representations to government about this. Coordinated through the Construction Industry Council, the following list for those likely to be involved in critical work within the construction industry has been submitted to government:
All general building control work for nationally important buildings/facilities (e.g., NHS estate, GPs, etc.)

Unsafe buildings/dangerous structures – district surveyors need powers to instruct emergency work to be done to make them safe if any occur – and a hastily abandoned site might just lead to a dangerous structure occurring

Structural inspections for subsidence/movement to determine risk

Structural and roofing problems, loose tiles/chimney stacks, weathering

Bridge inspection and maintenance

Dam inspection and maintenance

Maintaining key national infrastructure: power stations and grid, motorways, railways, utilities, etc.

Drainage works/maintenance, etc. – important to avoid any increased public health problems in this respect

Fire safety inspections

Requirement for maintenance of fire protection systems and equipment to meet fire safety legislation – even if buildings are not occupied

Waking Watch staff

Ongoing need for fire risk assessments, both to meet legislation and new circumstances in buildings

Remedial work required to remove unsafe ACM cladding, etc.

Glazing replacement

Locksmithing/lock replacement

Gas safety work/suspected gas leaks

Electrical safety work/electrical failures

Flood remediation (especially to homes hit by recent floods)

Plumbing and heating failures, including loss of heating/condensate problems/hot water services

Emergency Leaking/flooding

Health risks associated with blocked drainage/sewerage systems

Water companies – remedial/emergency work to buildings and assets that are crucial to the supply of clean water

New or business/safety critical maintenance work on establishments which are involved in supply chain of vital NHS equipment (e.g., where manufacturers are building units to make ventilators),

Factories that are making anything required to combat the virus (e.g., a new hand sanitizer factory is under construction);

Food supply chain – essential new builds or maintenance on existing buildings

Extra warehouse space for food distribution by online platforms (to cope with massively increased demand)

New or business/safety critical maintenance work on establishments which are involved in supply of medicines

Essential maintenance on morgues, funeral parlors, and crematoriums

Installation/maintenance technicians providing services to key sectors – health, power, etc.

Emergency callouts, safety checks and essential work in care homes?

Ongoing supervision and security measures

Sites where anti-terrorism considerations need to take precedence over other concerns (e.g., Palace of Westminster)

Urgent works on emergency service properties other than health (e.g., police, fire)

Unsafe infrastructure – if a lorry strikes a bridge during the shutdown, for example, then work may be needed to make safe the affected structure.

Major road or highway that impacts on road safety and could cause delays to crucial freight / emergency services if not carried out

Roundabout and road upgrade schemes that are already underway and have traffic management on – these could cause significant disruption if they then have to be restarted when local businesses return to work – opportunity to get some of the work that causes congestion done now (safely)

Highway drainage schemes – keeping roads open to hauliers and freight

Maintenance work to the local and strategic road networks, carried out using surface treatments, should be considered critical to the upkeep of UK vital infrastructure, in order to keep supply chains moving — there is only a relatively short window (March – September) to get maintenance done or it will have a detrimental affect later in the year

Essential road works relating to resurfacing caused by road traffic accidents and/or highway fires

Some of the work is done by a transient workforce so accommodation (e.g., hotels) is required

Security (for the public) of unattended sites is a concern

Highway structure inspections as essential maintenance work picks up

Repair and maintenance of telecommunications, energy waste and water (and maybe transport; though lockdown will see significant reduction) – these are vital to work from home

Small, domestic extensions and refurbishments (a large quantity of construction work). Leaving them unfinished may not achieve much in terms of virus transmission, and may discourage people returning to their properties if they have vacated them

R&D facilities, where related to vaccine development or virus treatment

Work on factories that make materials that are vital to all elements on this list
I am very concerned that the safety, health and welfare of the public, especially the vulnerable, will be compromised if plumbing engineers are not allowed to attend to their emergencies in the coming weeks. Moreover, once the UK begins its recovery I fear that, as a consequence of many businesses closing, we will end up with a greater shortage of skilled installers and designers than we have now.
The last thing I want to do is force people into work, but at the same time if they feel fit and able to attend to the urgent needs from the public they should be allowed to do so. I also recognize that the UK government, and indeed those across the world, have an enormous global challenge to attend to.
There is no doubt that this experience will be a game changer, which could lead to more people working from home in the future with meetings, conferences and training events carried out remotely/electronically.
WHO, WITH UNICEF AND INTERNATIONAL FEDERATION OF THE RED CROSS, RECOMMENDS MEMBER STATES PROVIDE ACCESS TO HAND HYGIENE IN PUBLIC PLACES TO STOP THE SPREAD OF COVID-19


Hand hygiene is extremely important to prevent the spread of the COVID-19 virus. It also interrupts transmission of other viruses and bacteria causing common colds, flu and pneumonia, thus reducing the general burden of disease. The WHO DG announced yesterday "….we recommend handwashing and physical distancing, but we also recognize this can be a practical challenge for those who lack access to clean water, or who live in cramped conditions. Together with Unicef and the International Federation of the Red Cross, we've published new guidance for improving access to handwashing. The guidance recommends that countries set up handwashing stations at the entrance to public buildings, offices, bus stops and train stations."  

The guidance recommends that Member States improve hand hygiene practices widely to help prevent the transmission of the COVID-19 virus by:

1. Providing universal access to public hand hygiene stations and making their use obligatory on entering and leaving any public or private commercial building and any public transport facility
2. Improving access to hand hygiene facilities and practices in health care facilities. 

Read the full recommendations here and the DG's media briefing here. 

Further resources and technical guidance for WASH and COVID-19

WHO: www.who.int/emergencies/diseases/novel-coronavirus-2019/technical-guidance/infection-prevention-and-control
UNICEF: www.unicef.org/coronavirus/covid-19-resources-practitioners

WORLD PLUMBING DAY CELEBRATIONS FROM AROUND THE GLOBE


Celebrations for World Plumbing Day 2020 were subdued in many parts of the world due to the outbreak of COVID-19. The global pandemic affected celebrations differently, with those countries first hit by the virus cancelling all celebrations. Those countries that were just beginning to be impacted scaled back many of their events, while those countries were the virus had not yet been detected continued as planned. Whether it was celebrated at home under quarantine, or openly among others, it was a good reminder to all of the importance of proper hygiene and sanitation, especially given the global pandemic.
Below are submissions from around the globe, categorized by country. If you would like to add your celebration, please email secretariat@worldplumbing.org.
More images and videos can be found on the WPC website: www.worldplumbing.org/activities/wpd-activities-2020/
---
The Master Plumbers and Gasfitters Association of Western Australia
The Master Plumbers and Gasfitters Association of Western Australia celebrated World Plumbing Day 2020 with a week-long campaign on leading commercial radio stations in Perth and regional towns throughout Western Australia.
The campaign, which created greater public awareness of the importance of plumbing and qualified plumbers, included two interviews with the Association's President and Chief Executive, live reads by radio announcers and paid advertising.
There was additional promotion on a radio station in one of Western Australia's major regional towns.
MPGA President Matt Johnson WPD Interview
MASTER PLUMBERS WA – Murray Thomas – 6PR Simon Beaumont – 11.3.20
---
Celebrating World Plumbing Day 11 March, Every Year, Everywhere – MPAQ

On Wednesday, 11 March, MPAQ once again celebrated World Plumbing Day by hosting the industry's biggest breakfast at the Brisbane Convention and Exhibition Centre. With over 300 attendees from the plumbing and gas industry, it was humbling to see the support and appreciation that individuals have for their industry.
There were a number of government representatives in attendance, with special guests including the Honourable Mick de Brenni, Minister for Housing and Public Works, Digital Technology and Sport, and Brett Bassett, Commissioner of the Queensland Building and Construction Commission.
Guest speaker – Michael Crossland
The event's guest speaker was Michael Crossland, an extraordinary man who has defied the odds of life-threatening cancer to build a life of exceptional achievements. An accomplished businessman and an elite sportsman, his life is a remarkable success. Despite spending nearly a quarter of his life in hospital, Michael has forged a highly successful career in the corporate world, represented Australia in his chosen sport and featured regularly across all forms of media. He also runs a school and orphanage in Haiti and has been presented with the Australia Day Ambassador role for eight consecutive years.
Safe to say there wasn't a dry eye in the room when Michael was talking!
This is a Conversation Starter (TIACS)
The MPAQ team sold raffle tickets throughout the breakfast for the 2020 MPAQ Events Charity Partner, This is a Conversation Starter (TIACS). Thank you to everyone who donated — over $4,000 was raised from your contributions! A special thank-you to TIACS founders Ed Ross and Daniel Allen, who were in attendance.
Visit the Events page on the MPAQ website (www.mpaq.com.au) for more information about TIACS or how to donate.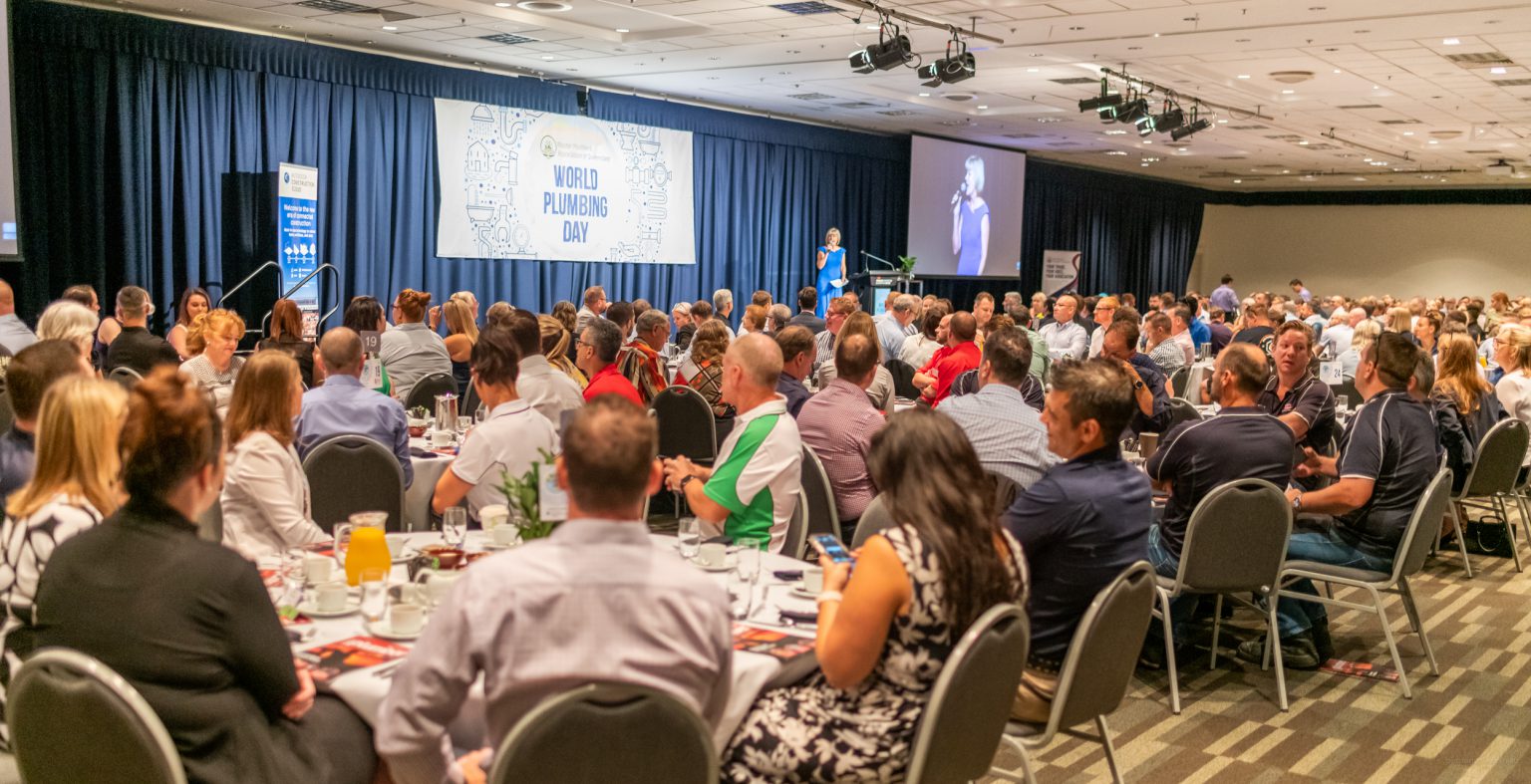 ---
Abdoul Matinou held an event at a plumbing training school to discuss the issues facing the industry. Additionally, he visited a primary school to inaugurate the implementation of a nice hand washing and safe drinking water place for the children of the school.
Additionally, he also conducted an interview with www.bf1tv.com about World Plumbing Day.
---
Kimo Home submitted images and video from celebrations in Ghana.

---
Picture from the World Plumbing Day event at The/Nudge Gurukul, one of IAPMO India's training partners. The new batch of students coming from underprivileged backgrounds started their House Maintenance Training (Plumbing and electrical skills mainly) during this week. The students gathered around in the morning for a familiarization session and group activity (making posters) followed by Swathi Saralaya, Project Manager, IAPMO India, talking to everyone on the importance of plumbing, it's scope and career advancements.
---
Indian Plumbing Association Celebrations
Submitted By: B S A Narayan, IPA National Vice President, Director, World Plumbing Council
Rahul Dhadphale, IPA National Joint Secretary, Convener, WPD
Note: Due to COVID -19 various IPA Chapter activities that were planned for WPD celebration got suspended due to social reasons.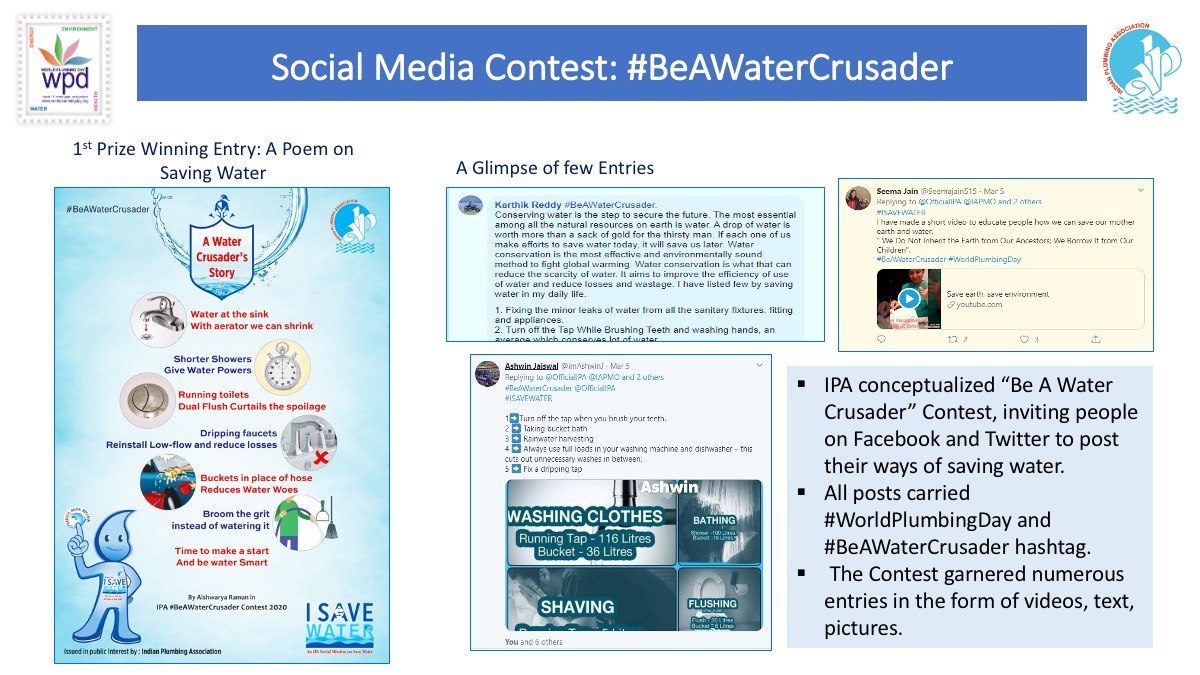 ---
What India's Skilling Ecosystem got up-to on World Plumbing Day!
Submitted by Mr Vinay Gupta, Vice-Chairman, Indian Plumbing Skills Council (vg@ipssc.in)
Dear Readers,
Do you know when was the first sewage disposal and drainage system introduced? It was way back in 1700 BC. Okay, let me ask another question! Any idea about the first man in the world to receive a patent for a flushing toilet? It was Scotsman Alexander who received the first patent for flushing toilets in the year 1775. Enough of Trivia, for now, let me just come back to the point.
As per the World Health Organization, poor sanitation is believed to be the main cause of approximately 4,32,000 deaths every year. I'm sure you'll all agree that's too much! Gradually, we all have realized that sanitation is an important factor in maintaining the health of a Nation. Our Hon'ble Prime Minister Sh. Narendra Modi realized this as well and that's why the Swachh Bharat Mission was launched in 2014 on a large scale across India. However, people all over the world still lack awareness about Plumbing and its effects on health and hygiene. And that is why the World Plumbing Council observed World Plumbing Day on 11th March 2010 for the first time. WPC has always been working with its member countries and its partnership bodies like WHO all year round to promote the benefits of safe plumbing, but in 2010 it was decided to launch the concept of embedding a single day on the world's calendar, dedicated to plumbing.

---
This year the Professional Plumbing and Pipefitters Association of Nigeria used the occasion of World Plumbing Day to emphasize the importance of greater involvement of women in the plumbing trade. As homeowners and homemakers our women can help promote the health benefits of quality plumbing.
Adeyemi Oresanya, a self-plumber and chartered project manager of UNIVERSAL LEARN DIRECT ACADEMIA (ULDA) NIGERIA celebrated World Plumbing Day with the plumbing students of the training school.
A keynote address was given on the importance of plumbing and global health. Examples were given on how to limit the spread of COVID 19 through basic hygiene.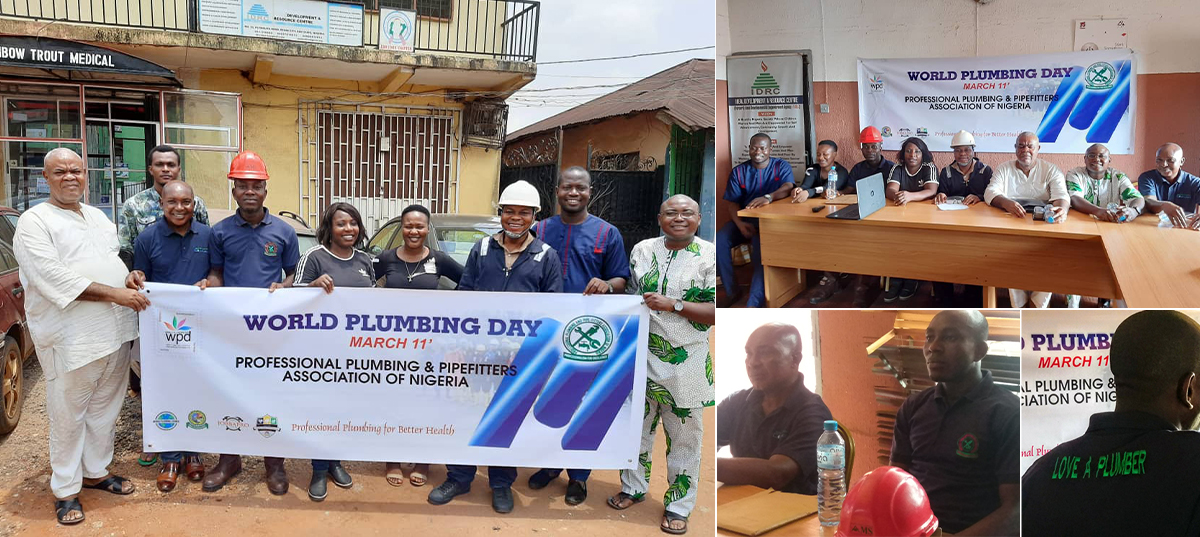 ---
The Rwanda Plumbers Organization (RPO) celebrated World Plumbing Day by providing equipment to the Huye Integrated Polytechnic Regional College (IPRC) Plumbing Workshop. The RPO hopes to encourage students and staff to think of innovative plumbing facilities that save water and promote hygiene and sanitation. The recently formed RPO has quickly become a beacon of the important work plumbers do in protecting public health.
---
In Diepsloot, South Africa, plumbers fixed toilets in Diepsloot Extension 1 in collaboration with IOPSA and Plumblink, a South African national plumbing merchant/supplier. This was a direct follow-up from previous Community Plumbing Challenge partnerships and the recent #GivingTuesday #AdoptAToilet fundraising effort.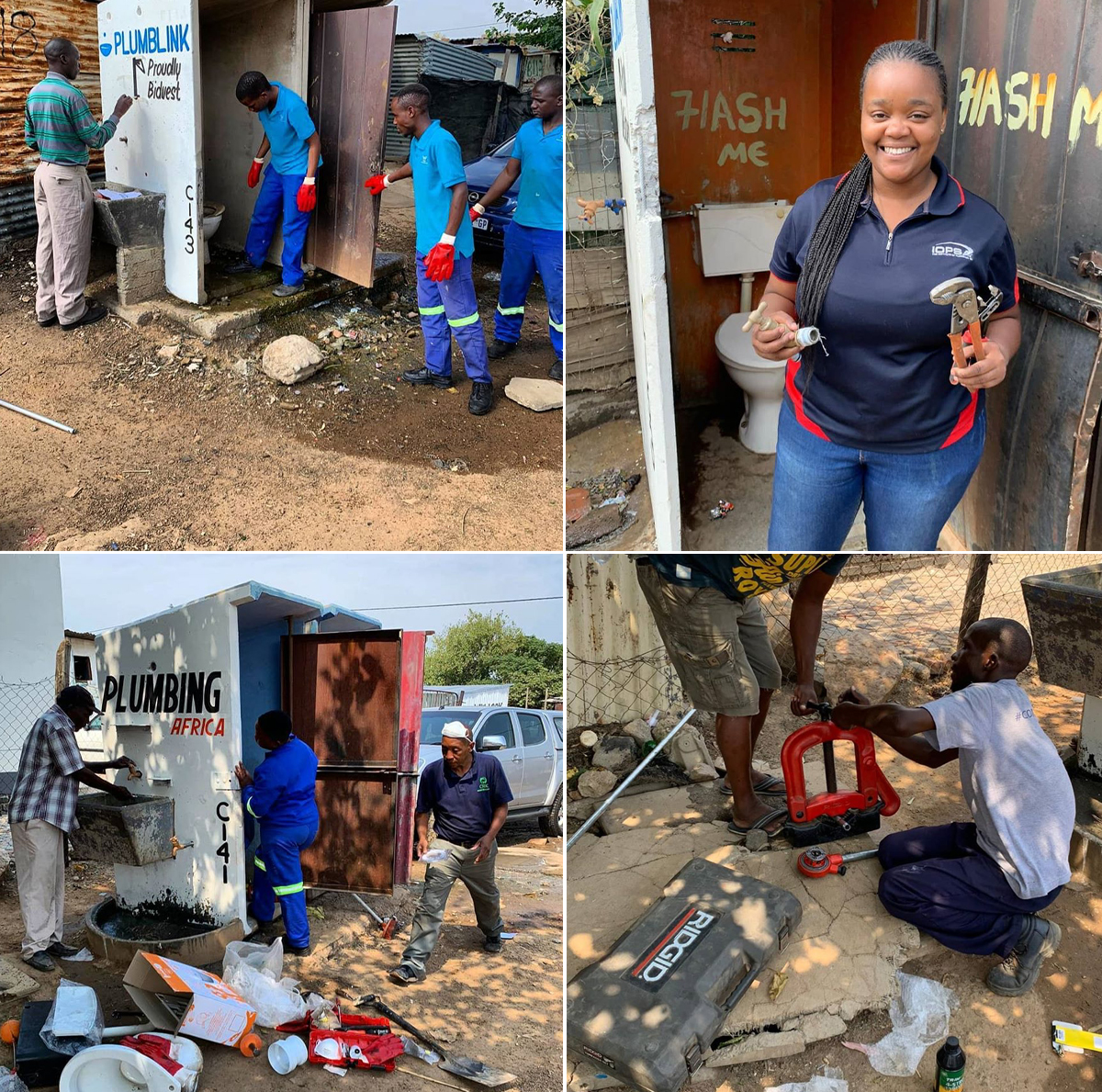 ---
IAPMO Co-Hosts Congressional Briefing About Water Access Study on World Plumbing Day
IAPMO, DigDeep, the US Water Alliance and the Rural Community Assistance Partnership (RCAP) today marked the 11th annual World Plumbing Day by co-hosting a congressional briefing on the recently released report, "Closing the Water Access Gap in the United States: A National Action Plan."
DigDeep and the US Water Alliance, with assistance from IAPMO, produced the report, which found more than 2 million Americans live without running water, indoor plumbing or sanitation service. TV and print outlets throughout the United States have highlighted the report and its findings since its November release.
The event included representatives from DigDeep, the US Water Alliance and RCAP, representatives from communities mentioned in the report such as the Navajo Nation and the Deep South, and others who came to present the findings and recommendations to Capitol Hill.
Read more: www.iapmo.org/group/update/2020_wpd_congressional_breifing
---
On March 6, ASPE Houston Chapter and Gulf Coast PHCC members partnered to visit with fifth-grade math students at Pearland ISD Middle School and introduce them to plumbing.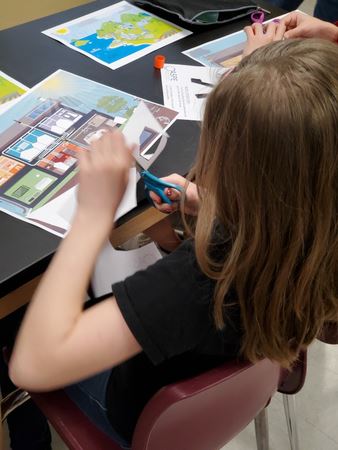 The ASPE and PHCC Intro to Plumbing student presentation was very successful. The teacher raved about this great program. He was even asking questions about how certain plumbing systems worked. Since these were fifth-grade classes, the class went over how evaporation works and the teacher thought that the evaporation diagram we used, and how we described that this involved plumbing, worked better than what they are teaching. The kids were very interested in the information we provided and enjoyed the interaction.
After introductions, Dave Clark used a projector to display a sink riser and went through where water comes from, what shut-off valves are and how they are used, what the p-trap is for, and where the waste goes once it goes down the drain. This led into Mark Park's presentation displaying the evaporation diagram, how the buildings receive water and where wastewater goes after leaving the buildings.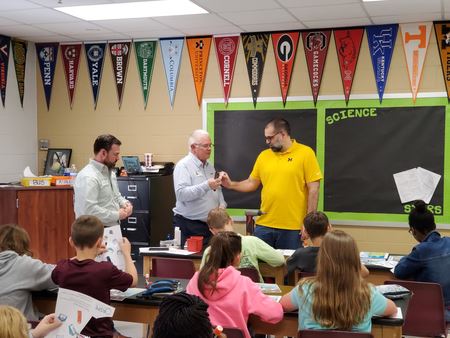 ---
Plumbers Association of Zambia Celebrates World Plumbing Day
For the first time in the history of Zambia, Plumbers Association of Zambia (PAZA) and plumbers in Zambia joined the globe to commemorate World Plumbing Day. Being a newly formed Association, March 11, was like a dream and many people were surprised to hear about World Plumbing Day because the common celebrations in Zambia are World Water Day and World Toilet Day. On this day, the association had two activities:
YOUTH SKILLS PRESENTATION: Youths who are in the plumbing industry joined the groups from other professions to showcase their skills organized by the labor union in Zambia. Our presentation was given by Plumbers Association of Zambia Skills Field Coordinator Mr. Titus F. Hantumbu and Ms. Caroline Chengo, the female instructor in Plumbing and Sheet metal. Hantumbu explained the importance of the plumbing industry and how it benefits the community in terms of safety, health, and safe water and sanitation. Chengo encouraged her fellow women and young women to join the plumbing industry, saying it is not a time to allow only men to venture in these hands-on activities, but a time to be gender equal. She further said women can change the world if also involved in what traditionally have been men's activities.
She said young women can particularly benefit from being a skilled plumber, and having a skill as a woman will reduce gender-based violence, early marriages and early pregnancies.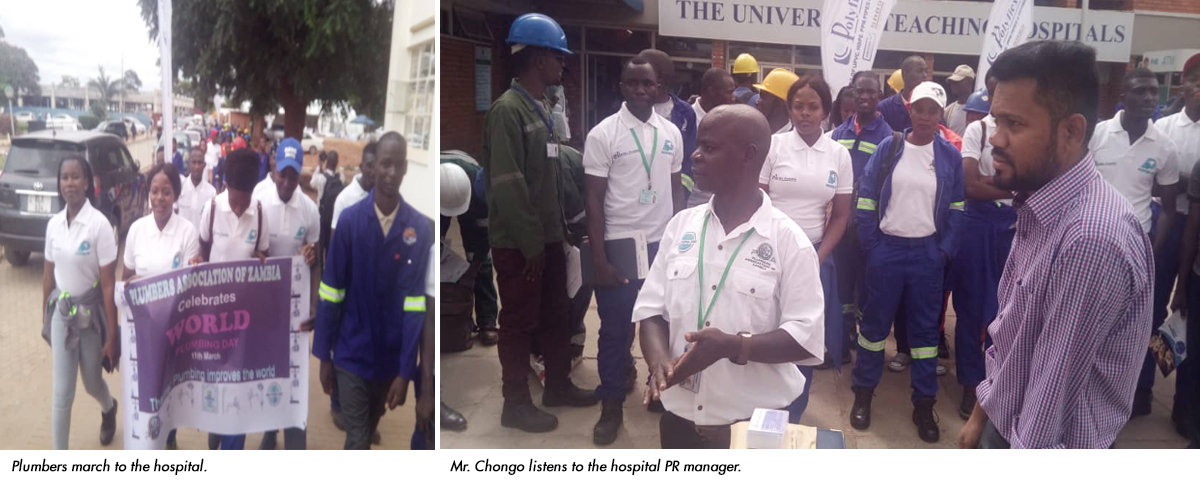 PLUMBERS ASSOCIATION OF ZAMBIA-PAZA


THE PLUMBERS ASSOCIATION OF ZAMBIA was founded Aug.16, 2019, and was registered Feb. 14, 2020. On Feb. 28, 2020, the association was officially launched by the Ministry of Water Development, Sanitation and Environmental Protection.
MISSION STATEMENT
To provide quality service, professional and other services support that addresses modern challenges in the plumbing Industry.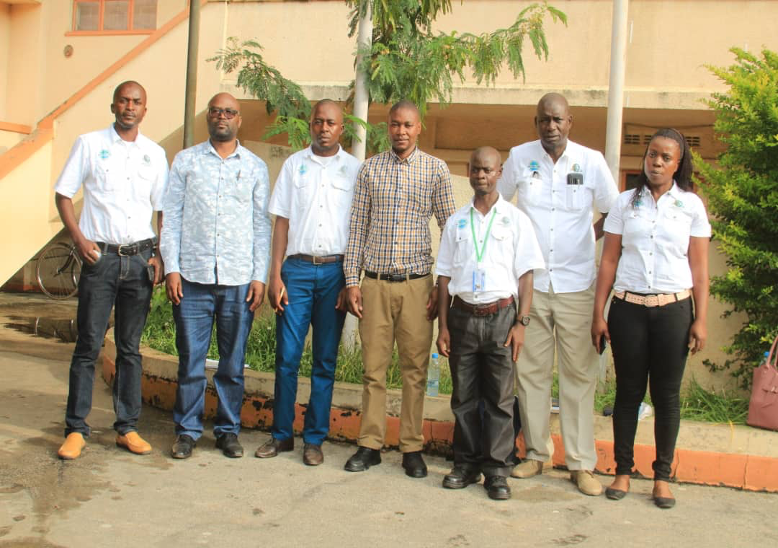 VISION
To be a national and regional organizationthat provides quality services toward sustainability and excellence in the plumbing and water sanitation industry.

The association is run by a combination of experienced local experts in plumbing, water, pipefitting and mechanical fitting. The association aims to bridge the plumbing standard gap between the Zambian plumbers and the community in terms of water and sanitation, plumbing technology and environmental health and safety as espoused by Millennium Development Goal No. 7, which aims to ensure environmental sustainability by 2030.
The Plumbers Association of Zambia is a member of the World Plumbing Council (WPC), an international organization that aims to achieve the best possible plumbing for the world through growth and development of the world's plumbing industries. PAZA became a WPC member on March 11, 2020, joining people around the globe to commemorate World Plumbing Day (WPD), which the WPC initiated as a means of highlighting the important role plumbing plays in the health, safety and sustainability of our community.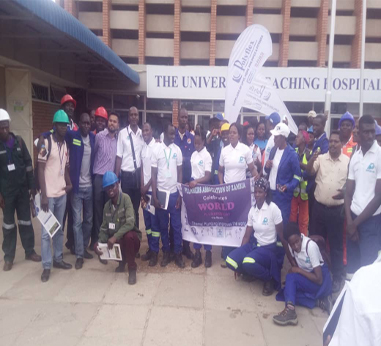 On this day, the Plumbers Association of Zambia visited the largest health institution in Zambia, the University Teaching Hospital, where we identified a number of issues related to plumbing appliances and fittings that are not in a good state, but we contributed to the cooperative social responsibility by volunteering our services to make the environment conducive.

The association is open and ready to partner and work with various stakeholders in the water sector, health and safety, manufacturers, training providers, local authority and other organizations to ensure that the community has access to safe water and sanitation, and to provide quality products like water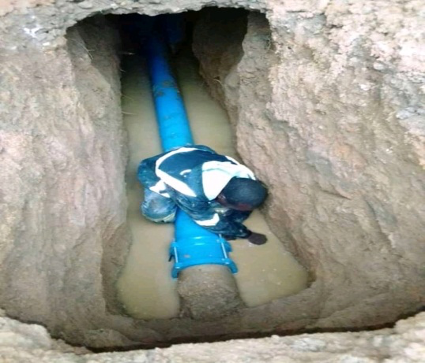 pipes, faucets and other fittings used in plumbing to supply clean and safe water.
On March 22, still the association joined the world to commemorate World Water Day (WWD), which was initiated by the UN, with the " Water and Climate." The association was born and is starting to grow at a time when a community needs clean, safe water.

For the community to acquire safe water, a plumber is needed lay quality pipes, install good water storage tanks, and to treat water for good consumption to avoid risks. The Plumbers Association of Zambia, by using and supporting the 2020 World Water Day theme, particularly during the COVID-19 pandemic, is encouraging and sending messages to the public to regularly wash hands, clean and drain wastewater in their bathrooms to avoid chances of SARS, to clean plumbing sanitary appliances and to repair leaking pipes and valves. The association also reminds the public of the importance of water as the most fundamental need for human beings, living things and nature.
''DROP OF WATER IS EQUIVALENT TO A DOLLAR''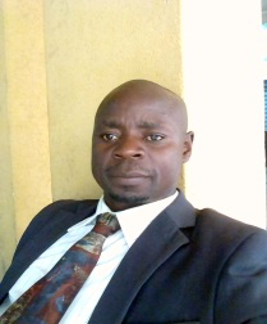 PLUMBERS ASSOCIATION OF ZAMBIA CEO.
THE IPG SUPPORTING SUPPLIERS WITH A GREEN MISSION


Submitted by Nike Lovell, The IPG, 9th of March 2020
Every British business will be under increasing pressure over the next decade to take measures to meet the government's zero-emissions target in 2050, with the aim to slow down and reverse the effects of climate change. The IPG and its members will be staying alert and moving swiftly to ensure they are able to offer products which will meet the requirements of the installer and their clients, particularly in respect of heating our homes efficiently in the years ahead.
Earlier this year, energy regulator Ofgem stated gas boilers will have to be ditched from all homes or upgraded by 2050 to meet government plans to cut the amount of greenhouse gases being pumped into the atmosphere. All new homes built after 2025 will have boilers installed with a green alternative to gas.
The IPG welcomes the Intergas statement that was released earlier this month by Managing Director Stephen Zouch. Zouch said, "Intergas is on a mission to reduce the company's carbon footprint and to support households using gas to heat their homes."
In 2019, Intergas had already written about the urgency of taking action to combat climate change and how one 15-year-old schoolgirl was spearheading a youth revolution to shame governments into doing something. I'm not sure any of us realised just how successful Greta Thunberg would be but the rest, as they say, is history.
Following Greta's lead, Extinction Rebellion, a global group of slightly older climate activists, have been protesting to compel the government to reduce greenhouse gas emissions to net zero by 2025 and to declare a climate emergency. On 1st May the UK Parliament declared a climate emergency. Later that month, the sensors at the Mauna Loa observatory in Hawaii detected a concentration of CO2 that equaled the amount in the Earth's atmosphere 3 million years ago, when trees grew at the South Pole. "Climate emergency" sounds like the perfect way to describe the global environmental fix we're in. But there's more and it's closer to home; in December A&E departments reported an increase in patients with acute respiratory infections and in babies with bronchitis. According to research by King's College London, cutting air pollution by a fifth could result in almost 4,500 fewer children developing acute bronchitis every year.
It's been clear to most of us for years that whatever we've been doing to reduce pollution, it's not enough, and if we didn't know it, Greta drew our attention to it. Now more than ever before, households, transport providers, businesses and governments need to be pushing ourselves and our organisations to help negate our own impact on the environment.
The IPG understands that the independent heating and plumbing merchants will need to be at the forefront of this movement, ensuring that they use and are supported by suppliers who fully understand and embrace the changes that will happen in this marketplace, and that manufacture the products with the technology that installers and the end user will demand to meet the government deadlines. David Cairns, Head of Supplier and Commercial for The IPG, said; "This is where being a member of The IPG will benefit the independent, as we will ensure that we partner with companies that have a full understanding of the climate issues that the world and industry faces. And work with the suppliers who are developing their product range to meet government targets."
REBRANDING THE ART OF PLUMBING


Article by Paul M. Onder, Plumbing teacher in the city of Newark, New Jersey
Water as plumbing professionals' life-giving art to give to the world
I started practicing the art of plumbing at the early age of 15 years old in 1978. In 2010, I quit my job as the district plumber for northern New Jersey Board of Education. The change came as a part of my new life as a leukemia survivor.
That fall, my first article for the Memorial Sloan Kettering Cancer Center "Bridges" edition had been published. I wrote about reinventing my life after my cancer experience. After the article became a reality for all to read, I had to put these words into action. I could no longer work in public bathrooms because of the need to protect my health.
When that career door closed, another opened. I had the opportunity to take a nine-month Business Operations Course, complete with a certificate. This course allowed me to study marketing. I gained passion to promote "life." After taking the course, I began work as an instructor. In 2013, and I was offered a position to teach plumbing and heating for a New York City private school of trades.
I continued teaching at other schools, and now I am working for a public school in New Jersey. Because I need to achieve a CTE certification to teach, I must complete a two-year course at an approved college. I am enrolled in school with months to go.
I ponder my life today and my cancer story. I find a need to talk about the rebranding of plumbing as we move into the year of 2020. The questions of "What is plumbing?" and "How can we use this idea of reinvention to move our society forward?" were under consideration as I wrote this article.
To start, I want to revisit the past so to bring us to the present state of plumbing. I also want to bring up what needs to change as we move forward into our future of providing systems for proper human health and tools of cleanliness for all.
The 1926 poster included with this article illustrates, "The Plumber Protects the Health of the Nation." This poster is still being used today. It was created by the Standard Sanitary Manufacturing Company, which later became American Standard Company. There are a few messages in the poster I want to touch on.
The first message is clear: this trade of plumbing was designed to keep and maintain a higher standard of life for the protection of human health and safety. The poster depicts a man standing on a pedestal with coveralls, a hat, and a pipe wrench in his hands. At his feet sit a lead pot, ladle, and a pig of lead. The eyes of the community point upward with faces of humility toward the plumber. The line of people to support the art of plumbing stretches as far as the eye can see.
Another message is that plumbing is global, which is portrayed with the image of the world that sits behind the plumber. Near the top of the poster it states, "The Plumber Protects the Health of the Nation." The words bring the messages together with the fact that plumbing plays a leading role in our human existence.
This poster has been used to promote the art of plumbing for more than 93 years. Do you think this poster correctly portrays plumbing today? Can you pick out what has changed in plumbing that has made this poster obsolete? Has plumbing become less of a human need? Or, has our society changed along with our American values and vision for a higher standard for life?
The plumber is no longer a man in overalls handling a pipe wrench standing next to the lead pot and ladle. It can be seen as a positive change that plumbing has created a new environment that is more accepting of women in the workplace, which is a good start for the rebranding of the art of plumbing.
However, the plumber also is no longer put on a pedestal to rise above all others. Technology in plumbing has developed and the artifacts of the lead pot with ladle have been relegated to plumbing museums. The standards and ethics of plumbing have been diminished to a point where society and even some plumbers now look down at this profession. As illustrated in cartoons, plumbers have become the butt-crack of jokes. The importance of this trade and the life it brings is at an all-time low. The change of attitude from society gives rise for the need to reinvent and rebuild our profession.
This matter of urgency became apparent as we all watched as the state of Texas had talks of dismantling of the State Board of Plumbing Examiners, which is responsible for licensing plumbers and investigating claims of unlicensed work or violations of the plumbing licensing law.
How did we get to this position of degrading ethics and standards? The age of new technologies in the plumbing field has brought about many different changes for installing, maintaining, or replacing plumbing systems. The new materials and the tools have had a direct effect on the profession. This has also placed a change in the education for the trade. New technologies mean teaching new plumbing skills. We no longer value the skills of soldering, brazing, packing oakum, pouring hot lead into soil pipe connections, handling lead water piping, and the need to be able to lift heavy cast-iron fixtures. While these changes have made our profession less labor intensive, they have also opened the door for more people to practice the art of plumbing without significant training or extensive knowledge.
There is a need for a new definition. I propose that plumbing is, "the art of supplying the tools, materials, and systems for a higher quality-of-life standard supported for proper human health." We must build a new bridge between the past and right now! I am on a campaign to reeducate, invest, and develop tools along with systems that will aid in protecting human health and comfort. I am calling for unity. We must stand together for the rising of standards, ethics and values for human cleanliness. And, we must start with education.
In order to maintain a society of health, we need to attack the root causes for sickness. To support complete human health, I'm calling on plumbing professionals to address indoor air quality, which can be two to 10 times more polluted than outside air pollution.
Our outside environment felt the direct effects of 9/11. After that event, we gained a better understanding of and appreciation for air sickness, cancer, quality of life, and health issues. I believe we can use this experience to also understand and control our indoor living environment.
Plumbing professionals are already involved with indoor air quality. Plumbing Principle #12 of the National Standard Plumbing Code addresses exhausting foul air to the outside of the building. The two reasons we exhaust air out of a bathroom are foul odors and humidity. Plumbers also use air when protecting water systems from cross contamination to the potable water supply, the air gap.
There is also a focus on addressing the lack of air quality in hospitals. Aerators are usually prohibited in hospitals because any airborne bacteria or disease in the air may enter into the potable water supply as it passes through the faucet spout opening. When talking about human health and providing an environment of healing, the proper amount of humidity inside of a hospital has certain health benefits. In the 2016 ASHRAE HVAC Systems and Equipment Handbook – Chapter 22, there is a chart that shows the OPTIMUM Zone for Relative Humidity. This zone supports improved healing process, reduced health-care acquired infections, improved hydration, and decreased infections. By controlling the relative humidity, you also create an environment that cannot support static electricity.
ASHRAE Standard 170 section 6.6 deals with humidifiers in hospitals. Before the 2013 addendum to this standard, humidity was created by Isothermal Humidification (steam). Added in the addendum M is Adiabatic humidification system, which is a system of high-pressure water spray. The cost benefit to this system is that it does not require any heating source. Another fact for humidity is the use as a potable water source. Humidity is used for the technology of Atmospheric Water Generators. These water generators produce potable water from the inside or outside humidity.
Human health is supported and plays a great role for life in a clean environment of which we drink and breathe in clean, oxygenic, potable water! If we use the facts, plumbing professionals can move our society forward. I call on the plumbing profession to take up these issues of indoor air quality and humidification. Together, we can tackle the inside environment to mitigate human health dangers of molds, mildews and stagnation of air and humidity.
The industry of plumbing has a history and a future of providing human health systems. Let us come together with a new, 2020 vision to return to the "Art of Protecting Health for All!"
MANAGEMENT OF LEGIONELLA IN WATER SYSTEMS


Legionnaires' disease, a pneumonia caused by the Legionella bacterium, is the leading cause of reported waterborne disease outbreaks in the United States. Legionella occur naturally in water from many different environmental sources, but grow rapidly in the warm, stagnant conditions that can be found in engineered water systems such as cooling towers, building plumbing, and hot tubs. Humans are primarily exposed to Legionella through inhalation of contaminated aerosols into the respiratory system. Legionnaires' disease can be fatal, with between 3 and 33 percent of Legionella infections leading to death, and studies show the incidence of Legionnaires' disease in the United States increased five-fold from 2000 to 2017.
Management of Legionella in Water Systems reviews the state of science on Legionella contamination of water systems, specifically the ecology and diagnosis. This report explores the process of transmission via water systems, quantification, prevention and control, and policy and training issues that affect the incidence of Legionnaires' disease. It also analyzes existing knowledge gaps and recommends research priorities moving forward.
https://www.nap.edu/catalog/25474/management-of-legionella-in-water-systems
PRATHAM EDUCATION FOUNDATION PROVIDES HANDS-ON PLUMBING WORKSHOP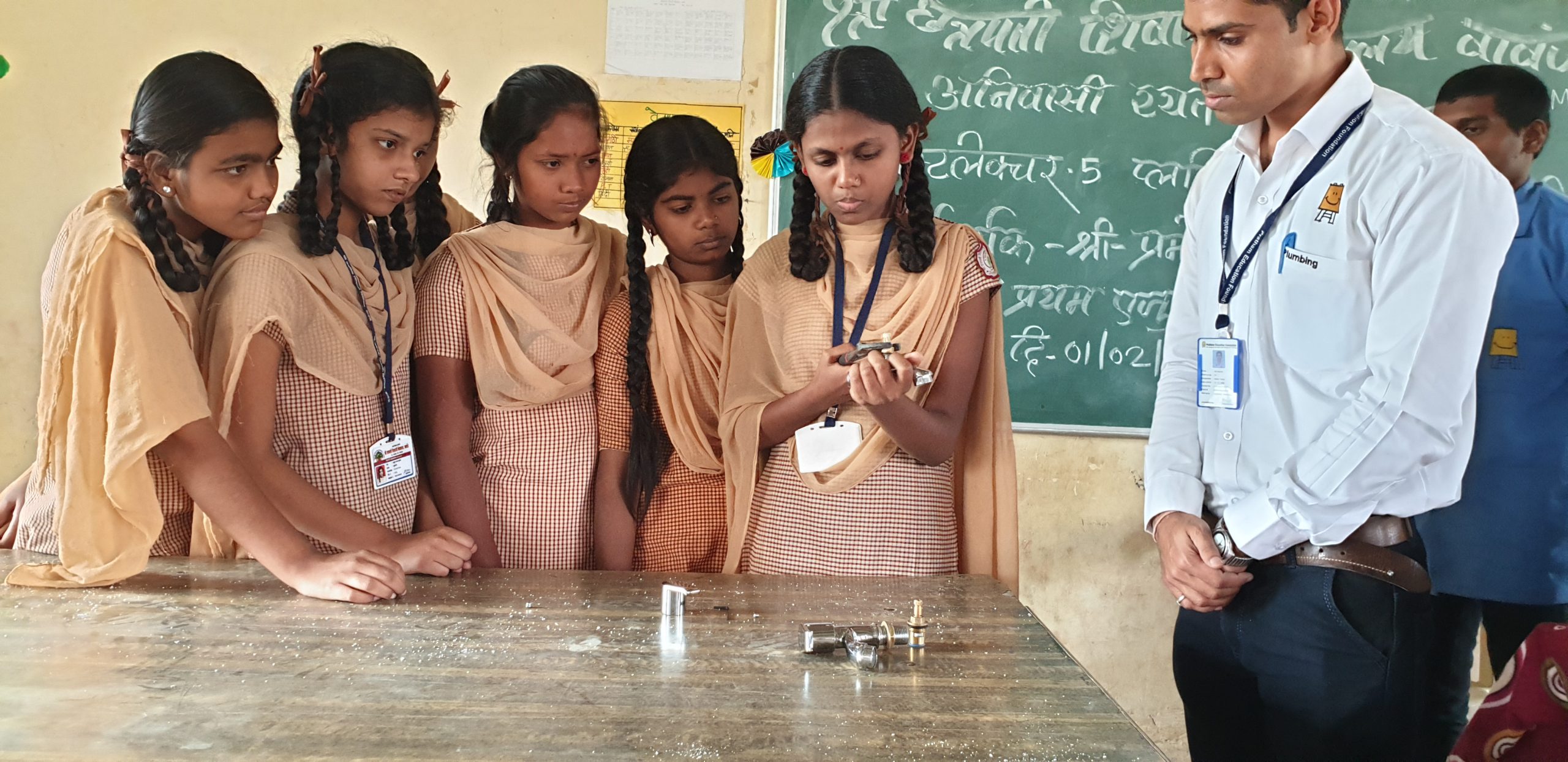 Pratham Education Foundation has been busy conducting "One Day Hands On Plumbing Training" for various categories of society, including self-help groups for women, 8th to 10th std teenage school groups, college youths, and community working women's group.
The 1-day Hands-on Plumbing Workshop is a beginner-friendly workshop requiring no previous knowledge or experience with plumbing systems or plumbing repairs. The workshop covers updates of tools and techniques that are available in plumbing along with various new products and improvements in the plumbing field.
This workshop was designed to provide a comfortable environment for each participant to learn in, and to practice some of the most common plumbing repairs. Participants gain first-hand knowledge about fixing and troubleshooting many common plumbing problems, including repair of broken pipes, leaky faucet repairs, toilet problems, replacement of shower fixtures, installing sinks and other repairs.
DATES FOR DIARY


Kitchen & Bath China
June 2-5, 2020
Shanghai New International Expo Centre(SNIEC), Shanghai, China
kitchenbathchina.co

International Ceramic & Sanitary Ware Exhibition
June 18-20, 2020
Cairo International Convention, Egypt
www.ics-inegypt.com/landingpage/index.php/ics-ceramic-sanitary

IAPMO's 91st annual Education and Business Conference
September 13-17, 2020
Charlotte, North Carolina, USA
www.iapmo.org

Kitchen & Bathroom Indonesia
September 23-26, 2020
Jakarta International Expo, Jakarta, Indonesia
kitchenbathroomindonesia.com

2020 ASSE International Annual Meeting
October 19-22, 2020
San Diego, California, USA
www.asse-plumbing.org/asse/am20

DesignBuild
October 20-27, 2020
Melbourne Convention & Exhibition Centre, Melbourne, Australia
designbuildexpo.com.au/

Montreal Fall Home Expo
October 22-25, 2020
Olympic Stadium, Montreal, Canada
expohabitationautomne.ca/en

World Health Summit 2020
October 25-27, 2020
Berlin, Germany
www.worldhealthsummit.org

27th Indian Plumbing Conference & Exhibition
December 4-5, 2020
Deccan College Grounds, Pune, India
www.indianplumbing.org/27th-IPC-Pune-2020

2021 Trades Industry Conference
September 1-2, 2021
Royal International Convention Centre - Brisbane, Australia
web.cvent.com/event/04a651a4-4f30-4c0c-8b23-955d257df96f/

Contact secretariat@worldplumbing.org to provide an event report or request listing of an upcoming event.






World Plumbing Council
secretariat@worldplumbing.org

C/O PICAC
6/306 Albert St
Brunswick, VIC 3056
Australia