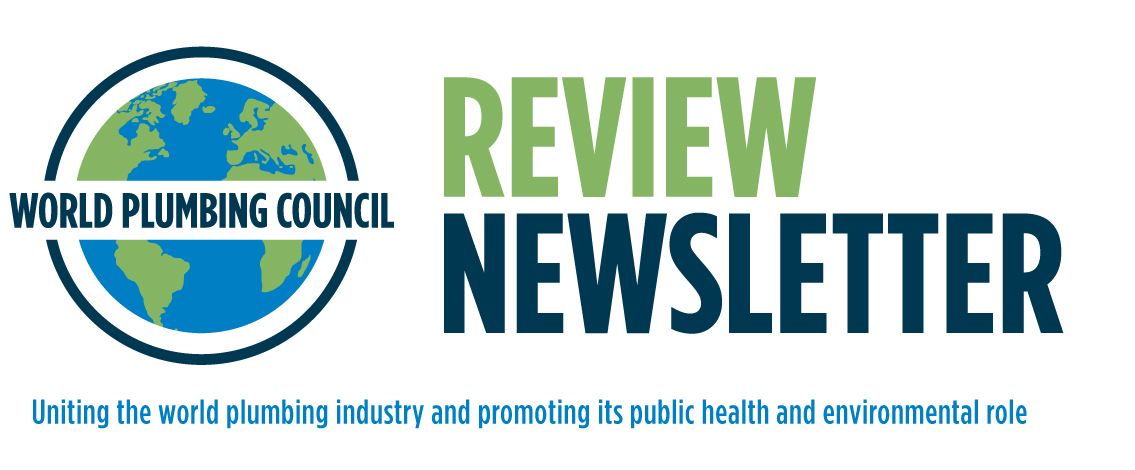 FROM THE CHAIRMAN - THOMAS BIGLEY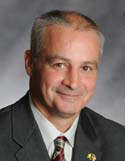 Dear WPC members,
                     
As Americans prepare for their annual Thanksgiving holiday, we are faced with canceling traditional family gatherings because of the never ending COVID-19 pandemic. Like the rest of the world, people are suffering from the worst virus in modern day history.
                     
It now seems that everyone knows somebody who has contacted the virus, and with the Christmas holiday around the corner, many will have to celebrate in a more sober way, via long-distance phone calls or internet video calls. It is recommended that we limit social gatherings, even if it's immediate family. It is better to be safe than sorry.
                     
We all know by now that plumbers have been deemed essential workers in most parts of the world. They have been working countless hours on the front lines, maintaining our water and sanitation systems in hospitals, office buildings, water and sewage treatment plants, and our homes where we live and now work. Plumbers are unknowingly working on live sewer systems, which has always been a health hazard from communal diseases, but now they must face a new threat — COVID-19.
                      
Plumbing, which was commonly a household punchline for jokes or only fit for people not cut out for college, is finally being recognized as an essential job. With so many people working from home, they are using their utilities more than ever, requiring more service for the upkeep of their plumbing systems. It's hard to find a good service plumber today because they are so busy.
                      
Besides the COVID-19 virus, there are other pathogens that are growing in our water systems. Since many people are working from home, office buildings, schools, dormitories and factories are sitting idle. This creates the perfect storm for Legionella to grow in these dormant water systems. These buildings will require extensive flushing and maintaining proper water temperature. These preventive measures will help prevent Legionella and other waterborne pathogens from growing in our water systems.
                          
The pandemic has also required that we review the way we design public toilet rooms. Recent studies have suggested that the virus can spread by aerosols from the flushing of toilets that have open toilet seats. Many public toilet rooms may require that these toilet seats be replaced with closed toilet seats. Bathroom ventilation and touchless fixtures will be reviewed to help stop the spread of this disease as well.
                          
The silver lining in this crisis is if you are a plumber, installing these changes could lead to substantially more work for the plumbing industry, which is good for the economy.
                          
November 19 was World Toilet Day. It is a United Nations observance that celebrates toilets and raises awareness of the 4.2 billion people living without access to safe, clean, reliable water and properly maintained sanitation. The goal is to achieve sustainable clean water and sanitation for everyone in the world by 2030. If we can find a vaccine for COVID-19 in less than a year, surely we can find a way to provide clean water and sanitation as well.
                             
On Dec. 9, the World Plumbing Council will convene a virtual General Meeting for the first time. We are excited to have the World Health Organization (WHO) as a guest speaker, as well as the International Water, Sanitation and Hygiene Foundation (IWSH) and a panel discussion on "Plumbing System Implications" related to the COVID-19 pandemic. The meeting will be recorded so that everyone around the world can watch at their convenience.
                            
If anyone has any information they would like to share in regard to plumbing, please send it to the WPC website and we will be happy to share it with our membership. I would like to wish everyone a joyous holiday season and a Happy New Year. Hopefully next year we celebrate the distribution and efficacy of a vaccine that will be available to people throughout the world. Plumbers protect the health of the world.
Tom Bigley
WPC Chairman
JOIN US 9 DECEMBER FOR THE WPC VIRTUAL GENERAL MEETING


We invite you to join us for the World Plumbing Council General Meeting, to be held virtually on 9 December from 6 to 9 p.m. (U.S. Eastern Standard Time).
The meeting is FREE to all who wish to attend. You must register beforehand; click here to register.
The meeting will begin with the business portion of the WPC, followed by a report highlighting the work WPC has done in partnership with the International Water, Sanitation & Hygiene Foundation (IWSH).
At 7 p.m., the World Health Organization (WHO) will join us to discuss the global progress on WASH and waste in health care facilities.
The meeting will conclude with a panel discussion on plumbing system implications related to the COVID-19 pandemic. Tune in to hear from experts from academia and industry on the latest research, risk management practices and guidance documents. Pete DeMarco of the International Association of Plumbing and Mechanical Officials (IAPMO) will moderate the discussion. Panelists will include Dr. Michael Gormley of Heriot Watt University, Dr. Andy Whelton of Purdue University, and Christoph Lohr of IAPMO.
More details may be found here: www.worldplumbing.org/wpc-general-meeting-2020/
46TH WORLDSKILLS COMPETITION POSTPONED


2021 named the year of innovation
On Nov. 3, WorldSkills International officially announced the postponement of WorldSkills Shanghai 2021 by one year due to the COVID-19 pandemic.
WorldSkills International has communicated and collaborated closely with its members, competition organizers, partners and stakeholders throughout 2020, and recently hosted a series of meetings with all stakeholders to transparently and collaboratively consider all possible scenarios around risk management and risk mitigation.
This decision was made based on facts, educated and informed forecasts, lessons learned from other events and organizations, and strategic perspectives built around what is best for all stakeholders.
WorldSkills International believes an early and clear decision is best for all stakeholders. It provides a much higher degree of certainty for everyone that then allows planning, managing and recalibrating the next 12-24 months (and the future beyond that).
This decision means that all future events will also be moved by one year, so WorldSkills Lyon 2023 will move to 2024.
WorldSkills China and the Municipality of Shanghai fully support the postponement and appreciate the strong partnership with WorldSkills and its members and partners, and are committed to an event that is full of innovation and wide-reaching impact. The rescheduled date has not been finalized, but is expected to be in October/November 2022.
WorldSkills France and the WorldSkills Lyon 2023 Competition Organizer also fully support the postponement and future cycle changes due to their understanding and respect for the investment of a competition host and the benefits and legacy achieved.
Postponing the competitions allows for the selection, training and proper celebration of the achievements of the young, skilled champions. It also allows members to "reboot" their national activities and programs in 2021.
"Our competitors represent the skilled talent that has been essential in the global response to the pandemic, demonstrating without a doubt that skills change lives," said Chris Humphries, president and chair of the board.
"We are grateful for the support of both WorldSkills China and WorldSkills France and their organizing teams, who have worked closely with WorldSkills International to reach what we all believe is the best solution to preserve the integrity and spirit of the competition."
WorldSkills members' local and national competitions were put on hold throughout 2020, delaying the selection and training of teams to participate in WorldSkills Shanghai 2021. Members around the world have already begun planning and hosting alternative competitions and online training programs to continue the work of encouraging young people to take up vocational education and training.
"We believe more than ever that skills and young people will lead us down the road to global economic recovery and prosperity," said David Hoey, CEO of WorldSkills International. "Alongside our members and global partners, we will use the next 12 months to continue connecting with young people through a series of exciting and innovative programs that will embrace a year of innovation and inspire more young people to take up skills."
The 46th WorldSkills Competition will be hosted in Shanghai, China, in 2022, featuring more than 1,400 competitors from more than 60 countries and regions, competing in over 60 skills. WorldSkills Competitions create a global platform to develop help young people who want to change their lives and the fortunes of their communities and societies.
EVERYONE IS TALKING ABOUT HYDROGEN

Submitted by the Plumbing Industry Climate Action Centre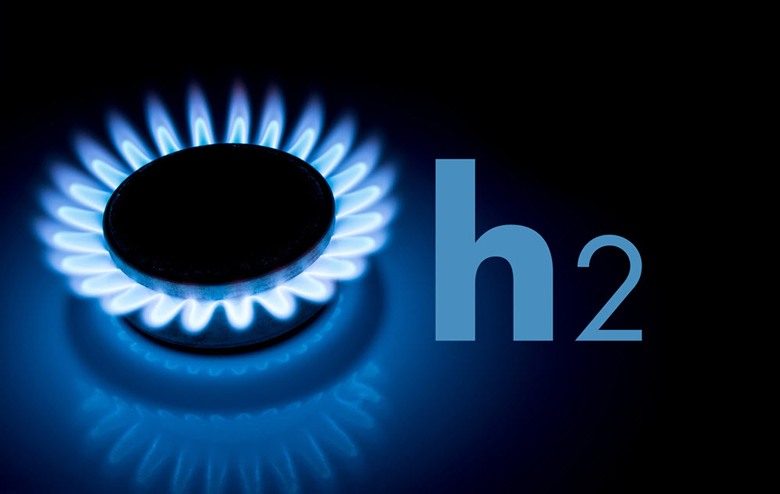 Everyone is talking about hydrogen — in the scientific community, in parliaments worldwide and around board tables. In Australia, there is growing consensus that hydrogen will be a key feature of a low-emissions future. But what do we know about hydrogen energy? How is it created and utilized? What needs to happen to realize the potential of hydrogen and what does all this mean for the plumbing industry?
Hydrogen is the most abundant element in the universe, bound into many common substances including water, which is a compound of oxygen and hydrogen. Like natural gas, hydrogen can be used to heat buildings and power vehicles. Unlike natural gas or petrol, when hydrogen is burned there are no CO2 emissions. The only by-products are water vapour and heat.

A well-functioning hydrogen industry has huge potential to deliver significant economic, jobs, fuel security and environmental benefits to Australia. Some of Australia's most important trading partners, such as Japan and South Korea, are committed to transitioning their economies to clean hydrogen. Hydrogen is potentially both a major new export, with the potential to generate billions for the Australian economy, and a major new domestic energy source.

From transforming transport, to providing secure, affordable and clean energy for industry and households, the potential of an Australian hydrogen industry is massive.

The challenge is to put in place the necessary policy settings, regulatory incentives, infrastructure, and training to enable the potential of hydrogen to be realised.

About hydrogen energy
In broad terms, hydrogen can be produced from water (green hydrogen) or from fossil fuels (brown hydrogen). Clearly, the greener the better from our perspective.

Green hydrogen is produced by splitting water molecules into hydrogen and oxygen through a process called electrolysis. This process uses an electrolyser — a vat of water containing two electrical nodes (one being negative and the other positive), and a separate "exit valve" near each node. Conducting an electric current from one node through the water to the other node causes a chemical reaction in the water.  The water molecules (H2O) split into hydrogen and oxygen (H2 and O2). The hydrogen molecules attract toward the negative node and the oxygen molecules attract toward the positive node, meaning separate exit valves make it possible to collect both the hydrogen and the oxygen. The hydrogen can be used as a fuel, while the oxygen can be utilised for industry and health sector purposes.  

Producing hydrogen this way requires significant amounts of electricity, and so the extent to which this form of hydrogen production is genuinely environmentally friendly is determined by the power source of the electrolysis process. Where it is powered by solar, wind or hydro-electricity, this form of production is 100 percent renewable and non-carbon emitting.  The water required to produce hydrogen can also come from rainwater capture or water reuse facilities.

Carbon capture and storage hydrogen, or brown hydrogen, can be produced from fossil fuels, such as brown coal and natural gas, both abundant in Australia. However, the processes to make hydrogen from fossil fuels all produce unwanted CO2 emissions as a by-product.  


Realising the potential of hydrogen
The key to transitioning from a good idea to real outcomes is developing the industry capability to produce green hydrogen, at scale, in an economically efficient and environmentally sustainable or genuinely "green" way. From there the focus is on developing the systems, infrastructure, and knowledge to safely store, transport, utilise and incorporate hydrogen into the economy.

The industry development phase is well advanced. There are more than a dozen pilot projects around Australia that are considering ways to add hydrogen to the mix of natural gas for domestic use. In South Australia, the state government has installed a large hydrogen electrolyser that will allow hydrogen to be extracted from water using renewable energy and pumped through the natural gas network into hundreds of homes in the southern suburb of Mitchell Park.

If projects like this prove their viability and the demand for hydrogen grows, there will be extensive opportunities for gasfitters to play a critical role in the installation and maintenance of hydrogen alongside or in place of traditional gas such as natural and LPG.

In the Australian domestic market, there are many opportunities to use hydrogen as an alternative to natural gas. Progress in hydrogen technologies will make these opportunities increasingly attractive over time.

Hydrogen can be safely added to natural gas supplies at 10% by volume without changes to pipelines, appliances or regulations. Over time, and with modifications to the existing gas networks and appliances, hydrogen can completely replace natural gas for domestic cooking, heating and hot water. In the longer term, hydrogen can be used in high temperature manufacturing processes such as in steel, fertilizer and cement production that currently have high CO2 emissions.

Hydrogen can be stored as a compressed gas in high-pressure tanks, and in pipelines, or as a liquid at below freezing temperatures. That compressed hydrogen can be used for a variety of applications where gas is not reticulated. In places like the Australian state of Victoria, where there is an extensive reticulated gas network, that network can effectively become a giant battery, storing renewable energy.

Victoria has 1,900km of gas transmission pipes in its Principal Transmission System (PTS), covering Melbourne and central Victoria. Existing infrastructure is expected to be reliable for carrying blends of gas with 10% hydrogen, but moving beyond 10% is expected to require upgrades and retrofitting pipes and other fittings.

Modifications to the existing piped infrastructure would be required; however, undertaking the necessary upgrade work would require relatively low new capital expenditure or disruption to public infrastructure.

Hydrogen molecules are smaller and lighter than natural gas, so preventing leaks in pipes full of hydrogen requires different specifications for most pipes and fittings. Hydrogen pipes must be made from (or lined with) corrosion-resistant material. Steel does not suffice because the hydrogen embrittles the steel, causing breaks and leaks. High-purity stainless steel, or pipes lined with carbon fiber or polymers, are required.
High-quality industry-led training is the key

The plumbing and gasfitting workforce — both current and future — will be key to Australia being able to reach its hydrogen potential. As Australia's Chief Scientist Dr. Alan Finkel AO said in his report to the Council of Australian Governments in December 2018 (A Proposal for a National Hydrogen Strategy) developing a hydrogen sector in Australia will require a range of factors to be working together, including training, which he said was the key.  

The Plumbing Industry Climate Action Centre (PICAC), IAPMO and other industry partners are doing the research to develop the best, most effective training materials to equip existing plumbers and gasfitters, and the next generations, with the skills needed to ride the hydrogen wave.  

PICAC is the natural home for hydrogen training and has already received significant funding support from the Queensland Labor government to develop a Hydrogen Centre of Excellence at their Beenleigh campus. Planning is underway to develop a similar facility in Victoria.  

Hydrogen energy does not come without risk. Hydrogen is highly flammable with different burning properties and a naturally clear flame. Hydrogen will likely need to have color added if it is to be used in domestic settings. Hydrogen can also destroy steel, so household gas fittings and hot water installations may need to be altered to prevent corrosion. The risks and how they can be safely managed are part of what are currently being researched.
Importantly, with this research being conducted now, the plumbing industry will have access to the best hydrogen energy training available in Australia and potentially the world. With safe hydrogen work practices in place, and strategies in place to protect the community from any potential harm, our industry will be at the forefront of working with an energy source that will provide great benefit to us all.
FLIP 'N' FLUSH URGES PUBLIC TO CLOSE THE LID


Submitted by Chartered Plumbing and Heating Engineering Institute of (CIPHE)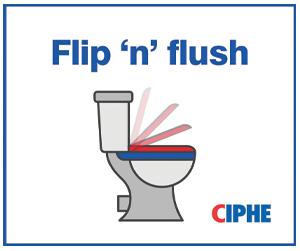 While we've all gotten really good at washing our hands of late, there are some extra precautions we can take to help stop the spread of germs and disease. With our understanding of coronavirus transmission growing, we are now being urged to "flip 'n' flush" when it comes to using the toilet.
The body for the plumbing and heating industry, the Chartered Institute of Plumbing and Heating Engineering (CIPHE), is advising everyone to flip down the toilet seat before flushing to help stop the spread of coronavirus, germs and other nasties spread by "toilet plume."

Toilet plume arises when lavatories are flushed. Turbulence from the toilet bowl can enable tiny droplets and aerosol particles to be released into the air.
It had been generally accepted that while there was a small risk of transmission of illnesses, for the healthy and those with good hygiene, it would pose few problems. Then coronavirus struck.
According to current evidence, coronavirus is primarily transmitted between people through respiratory droplets and contact routes. Airborne transmission is possible via aerosols. With some coronavirus patients experiencing symptoms including diarrhea and vomiting, it's been discovered the virus survives in the digestive tract, making fecal–oral transmission also possible.
Additionally new research by Yun-yun Li, Ji-Xiang Wang and Xi Chen warns that 40-60% of toilet plume particles can reach to a height of 106.5 cm above the ground — well in excess of the height of a toilet seat — enabling the spread of particles on nearby surfaces. During computer simulations, particles could also stay suspended in the air long enough to be breathed in post-flushing.
This has big implications both in the home, where family bathrooms are also used for activities such as teeth brushing, and public lavatories, where multiple users can come into contact with airborne particles and contaminated surfaces.
CEO of the CIPHE, Kevin Wellman said, "While this latest research still needs to be proven in real-life situations, we should take all the measures available to help stop the spread of coronavirus and other illnesses such as staphylococcus and E. coli.
"Simply closing the lid when flushing the toilet can remove any associated danger of toilet plume. Needless to say, this should always be backed up by a vigorous hand washing routine. For those wanting to be ultra careful, cleaning the toilet seat before you use it can also reduce the risk."
Find out more about the flip 'n' flush campaign at www.ciphe.org.uk/flipflush

The International Water, Sanitation and Hygiene Foundation (IWSH) is excited to announce a new partnership with the Plumbers Association of Zambia (PAZA).

The memorandum of understanding (MOU) centers on the Lusaka WASH Academy College (LWAC), the hub for PAZA activities and outreach across the region. LWAC has recently moved premises, relocating to a new site within the African Future College in Lusaka, and upgrading accreditations with the Technical Education, Vocational and Entrepreneurship Training Authority of Zambia (TEVETA). IWSH has provided a donation toward these registrations, plus the purchase of tools and resources for the upcoming academic year.

PAZA and IWSH now aim to collaborate further in the areas of vocational education and training development, women's empowerment, codes and standards development, public health awareness, and other outreach activities that support the sustainable delivery of water, sanitation and hygiene services to underserved populations and communities in Zambia.

"As fellow members of the World Plumbing Council, we are pleased to connect officially with PAZA and support the development of the LWAC for the academic year ahead," said Seán Kearney, IWSH managing director. "Our aim is that by helping bridge the gap between the industry and the classroom — promoting quality skills training, and PAZA's own training institute focusing specifically on water related programs — our organizations can build further capacity together."

Alongside plumbers, LWAC also welcomes individuals across the wider industry, including suppliers, manufacturers and those who may wish to upgrade their credentials. PAZA's operation of LWAC will contribute to the delivery of quality skills training in all parts of Zambia, and at the wider regional level. Engagement with TEVETA will improve the curriculum, specifically for plumbing/water operation and supply and extend from Craft certificate to Diploma level.

"Our partnership with IWSH will help PAZA develop plumbing standards, provide quality services, uphold plumbing professionalism, protect our members, and promote and encourage young people to choose the right careers for a better future," said Moses Chongo, PAZA CEO and president. "We shall continue to engage other stakeholders, government agencies, non-governmental organizations, training providers, and education providers to bring positive ideas to contribute to the growth of the organization."


Lusaka Wash Academy College Students
---
LWAC offers courses in Water Operation and Supply Technology, Plumbing and Water Supply, Environmental Health, Water and Sanitation, Water Supply and Electrical, Wastewater Treatment and Sludge Management Technology, and Water Quality Management. It expects to train 200-300 vulnerable youths each academic year, including community outreach projects that drill boreholes and build public toilets and bathrooms for schools, rural health clinics and community markets.

Creating opportunities and supporting young Zambian women to advance in the plumbing trade is also a key PAZA objective.

"It is very important, as a woman, to join the group of men in the plumbing and water industry," said Violet Siansumo, Women's Plumbing co-coordinator. Explaining how she joined water operation and supply as a student, Siansumo said, "It was a challenge. Some fellow women were discouraging me so that I cannot continue my studies because it's a man's industry. But I am now able to feed myself and my family, and my passion is to extend the same career to other women and support vulnerable young girls seeking a quality education and skills training in plumbing."

She said plumbing and water is the best career in life because she is able to understand the challenges of women in various communities, markets and other places. Many women have no access to safe and running water in their areas, and PAZA will introduce more young women to be trained as plumbers and water operators.

Violet Siansumo in the field.
---
Western Province PAZA provincial Secretary Gloria Mooka said, "PAZA has changed a lot of lives and people's mind set."
When she was young, she used to say, "When I grow up, I want to be a pilot, a nurse, a teacher," but now after acquiring a skill in plumbing, all those dreams have disappeared. She can now do better as a self-employed female and be her own boss through plumbing and water sanitation. She said she plans to further her skills so that she can become a teacher in plumbing and water sanitation, because she really enjoys being a female plumber.

Gloria Mooka
---
PAZA was founded in Lusaka in June 2019 and joined the World Plumbing Council the same year. With more than 80 members and growing — from a variety of backgrounds including plumbing, water operation and supply, HVAC, mechanical plumbing services, pipefitting, and water pump maintenance — the association is on an upward trajectory and well-positioned to continue its growth in the coming years, developing the plumbing industry in Zambia and the surrounding region.

Visit www.iwsh.org for more information on The International Water, Sanitation and Hygiene Foundation.
BUSINESS AS USUAL FOR GILL'S PLUMBING & HEATING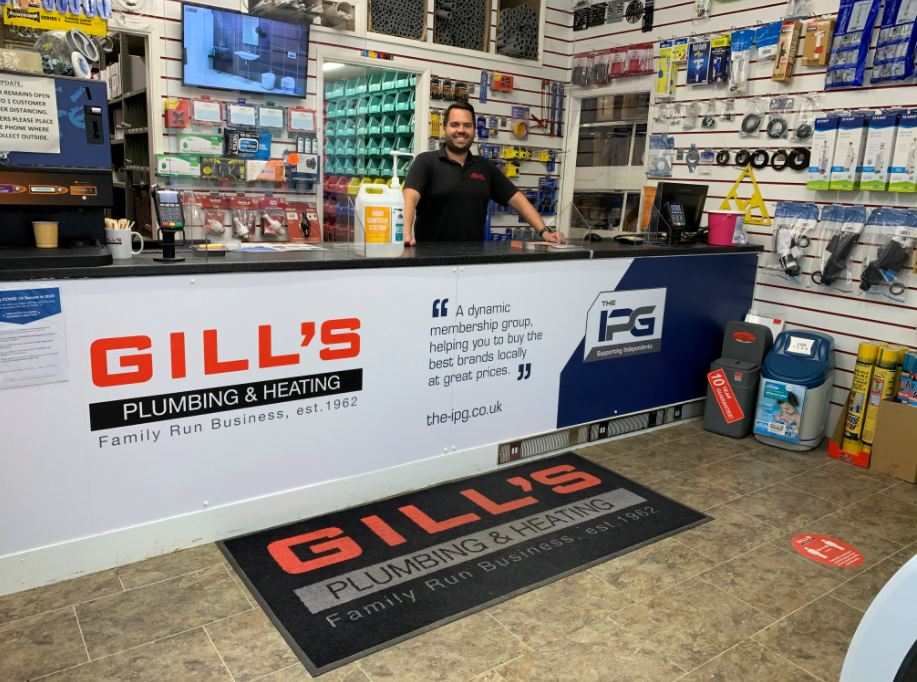 Gill's Plumbing & Heating, an IPG member based in Welwyn Garden City, has continued to respond to the current business landscape.
Gill's began the year by rebranding the store inside and out, with new store signs clearly identifying them as an IPG member. It was looking great in the spring sunshine, and then COVID 19 arrived and dictated what happened next.
Normally, there would have been a celebration and promotion, inviting customers to see the new-look store. However, Gill's found itself in extraordinary times. In early March, whilst the trade counter remained open, footfall dropped dramatically and home installations that were booked in had to be postponed.
When the country went into lockdown at the end of March, it became clear that businesses that could adapt quickly would have a better chance of flourishing again. Gill's adapted to new customer requirements; plumbers and installers were still supporting their customers with emergencies, so it was important that the essential trade counter remained open. In addition, local households required water softener and salt, and Gill's was delivering these essential products to the doorsteps of those who were self-isolating and vulnerable.
It is often the small businesses that will adapt to a quick-changing business environment, and in this case, Gill's modified its service to over-the-phone payment, safe collection, and deliveries, ensuring its customers were able to shop in their local area — which clearly demonstrates the importance of independent stores all over the country.
Chris Kania, Gill's managing director, also made some additional changes to the inside of his store, to keep staff and customers safe. Now a familiar sight in retail outlets, Perspex screens were installed across the counter, hand gel sanitizer was made available on entering the store, the showroom, office and warehouse, and visible social distance stickers were put on display – with only two customers allowed in the shop at any one time.
It has never been so important to support the independent merchant in the heart of your community; many of them (like Gill's) have been part of it for decades. The IPG has played its part in supporting its members. For example, during the early days of the pandemic, the common message published across its marketing channels highlighted those member businesses that remained open, advising opening times and the level of service they were providing.
Chris said: "The IPG are an essential part of our business and during 2020 they offered vital advice and support."
He went on to say: "Throughout more recent weeks, business has picked up; as our customers have returned to work, they are seeing more homeowners about non-emergency work, confidence has grown in the new working conditions and their customers are happy to have tradespeople working in their properties again."
Homeowners are now visiting Gill's for parts and to look at the bathroom showroom, and a booking system has been introduced to maintain social distancing. This part of the business has remained very positive, with many future installations in the pipeline.
So, to coin a phrase, Gill's, like many IPG members, has reached a new type of normal. As autumn falls they remain strong, having adapted their business in this ever-changing landscape, continuing to offer unrivaled service and unbiased and honest advice.
As for the new look? It continues to be well received among the regular Gill's customers. Chris commented: "We are proud to be part of The IPG, and to demonstrate this with our jointly branded store."
LOCAL SHOPS FOR LOCAL PEOPLE….

Submitted by The IPG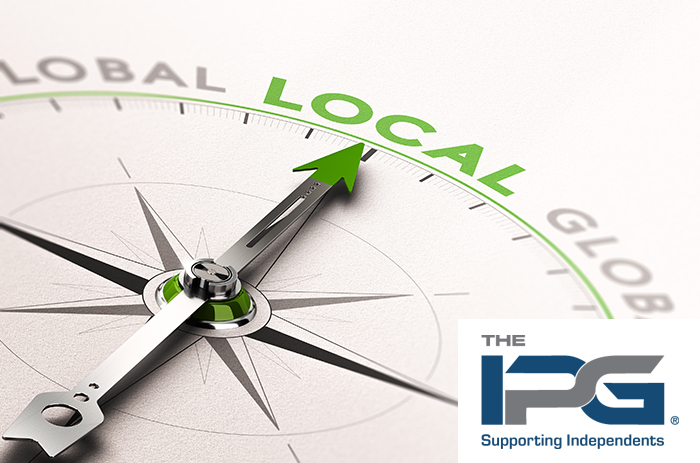 During the current pandemic, now more than ever local retailers (and businesses) need your help to continue to serve the community. Small and independent retailers are important to the economic fabric of our society and are at the heart of our communities. It is important that we get behind them and show our support — we all play a part in their existence.
Why does The IPG support Independents? With a network of more than 200 carefully selected member locations nationwide, The IPG encourages plumbers, installers, and homeowners to shop locally and buy all their plumbing, heating, and bathroom goods from their local independent retailers (online and offline).
 
Why? Because local independents can be like a breath of fresh air, bringing much-needed originality and variety into communities. They are the backbone of our economy, run by local people, and you cannot beat the personal touch of an owner who knows the area. They tend to learn more about their customers and are much more likely to go above and beyond the call of duty — helping when they can, often giving you more choice and variety.

Working with many brands from across the plumbing, heating, and bathroom sector, IPG members can provide the same types of deals, if not better, then many well-known chains. What is more, when spending with local independent retailers, the money tends to stay in your community, which means other businesses and people in the area benefit.

Small independent businesses are much better at acting fast and adapting to a changing market, and IPG members are no exception. They have been able to change their plans or strategy much faster than larger competitors, with many demonstrating some amazing examples of reworking their businesses to offer essential services or goods during these unusual times.

Nike Lovell, IPG's head of Marketing, said: "It is testament to the resolve of our members that they reacted quickly to COVID-19 challenges, adapting their businesses so they could continue to service and support their customers. Many have implemented ingenious new ways to continue trading and to evolve, whilst safeguarding customers and staff."
She went on to say: "We have seen some amazing examples of business acumen; members have been very creative to ensure they have new ways of safely maintaining a high level of support to their neighborhoods."

How can you help? If you have a local store that you support, look them up on social media platforms and follow and share with your friends and family This will help grow their exposure. You can also help your independent to build trust with others by giving a review online.

It takes passion and dedication to run a small independent business, so shop local, buy from an independent and support your community.
IAPMO SUPPORTS ESTABLISHMENT OF WATER SUBCABINET


The International Association of Plumbing and Mechanical Officials (IAPMO), publisher of the Water Efficiency and Sanitation Standard (WE•Stand), an American National Standard since 2017, applauds the U.S. Environmental Protection Agency (EPA) and its federal partners in the creation of a new Water Subcabinet chaired by the secretary of the Interior and EPA administrator.

EPA recently announced designees for the Water Subcabinet established by the "Modernizing America's Water Resource Management and Water Infrastructure" executive order signed on Oct. 13. The Water Subcabinet will be responsible for implementing the strategic direction and specific actions of the executive order to improve federal water infrastructure and prioritize access to essential water supplies for all Americans, goals in line with WE•Stand as well as IAPMO's recent work with the American Water Works Association (AWWA) developing protocols for water infrastructure impacted by the COVID-19 pandemic.

The Water Subcabinet will bring a finer focus and greater efficiency to the federal government's efforts to ensure all Americans have access to safe drinking water, reliable rural and farm water supplies, and clean water for recreation and enjoyment — goals made even more timely by the recent celebration of Imagine a Day Without Water, the national education campaign highlighting water's essential nature. IAPMO supports these efforts and encourages the designees to consider WE•Stand as a means of achieving their goals.

"For many years, the federal government's efforts on water policy have been separated across many agencies," said Dain Hansen, IAPMO executive vice president of Government Relations. "The United States faces a wide variety of challenges in the water sector, from water quality and scarcity to aging infrastructure and affordability. These issues not only threaten public health but are already impacting it. This new cross-agency subcabinet represents a significant step forward in coordinating the federal resources focused on these complex water challenges. We hope this effort will continue to be refined and grow beyond this year's presidential election."

Under the executive order, the Water Subcabinet will improve water infrastructure planning by promoting integrated planning and coordination for drinking water, wastewater, water reuse, water storage and delivery, and water resource management.

As a leader in developing resources designed to meet the unique challenges faced by communities in America, IAPMO applauds this effort. The 2020 WE•Stand contains the most progressive provisions available related to water reuse, and in particular the onsite use of grey and black water. Its updated pipe sizing requirements alone promise to deliver the greatest cost savings of any other provision in decades. Additionally, earlier this month IAPMO and AWWA published Responding to Stagnation in Buildings with Reduced or No Water Use, a guide providing building managers a decision-making framework to design responses to building water stagnation caused by underuse during the pandemic.

For more information, contact Hansen at (202) 445-7514 or dain.hansen@iapmo.org.
PLUMBING INDUSTRY CLIMATE ACTION CENTRE, IAPMO AND NORMAN DISNEY & YOUNG WIN AIRAH 2020 EXCELLENCE IN SUSTAINABILITY AWARD FOR NARRE WARREN CAMPUS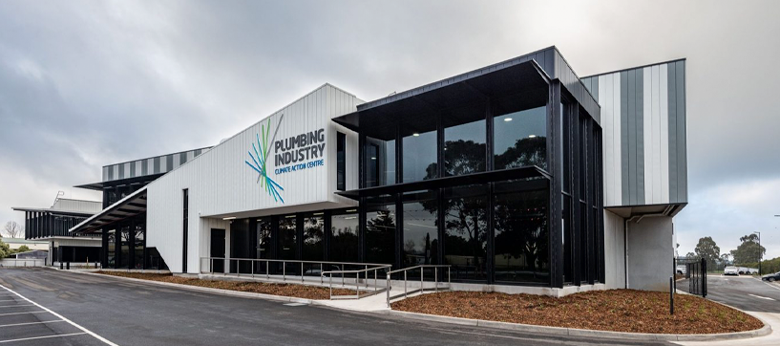 The Plumbing Industry Climate Action Centre (PICAC) and IAPMO are thrilled to announce that our state-of-the-art Narre Warren campus has won the Excellence in Sustainability Award at the AIRAH Awards 2020. PICAC and IAPMO share this Award with Norman Disney & Young (NDY) who oversaw the engineering of the project.


The Australian Institute of Refrigeration, Air Conditioning and Heating (AIRAH) is the peak membership body for heating, ventilation, air conditioning and refrigeration (HVAC&R) professionals and practitioners in Australia. The AIRAH Awards recognize excellence and achievement in Australia's HVAC&R Industry.


The Excellence in Sustainability Award recognizes Australian initiatives that have made clear improvements in the sustainability of HVAC&R systems or the HVAC&R Industry.


IAPMO and PICAC Narre Warren was noted for its "strong passive design, indirect evaporative cooling units, relaxed temperature conditions, in-slab heating, and geothermal energy wells integrated into the structural piles."

From the outset, IAPMO and PICAC envisioned a building that embodies innovation and sustainability and would showcase the latest technological developments in the industry. NDY oversaw an ambitious engineering strategy that has enabled IAPMO and PICAC Narre Warren to become the first Net Zero Energy (NZE) education and research facility in Victoria, Australia.

NEW GUIDE ADDRESSES STAGNANT WATER IN BUILDINGS WITH LOW OCCUPANCY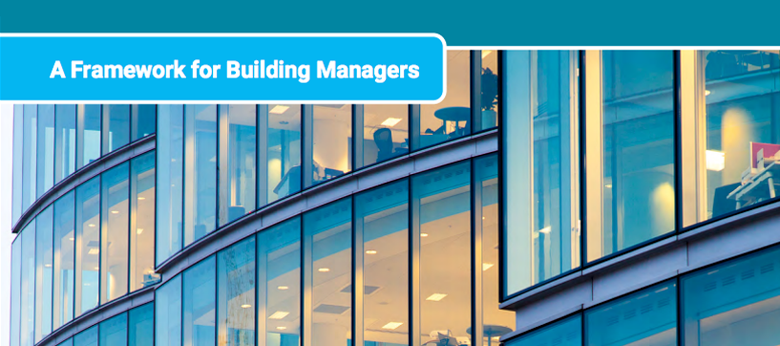 At a time when many buildings are not fully occupied due to COVID-19, the American Water Works Association (AWWA) and IAPMO have developed a guide to help building managers address water system stagnation.

Stagnation within building water systems is a concern in periods of low or no occupancy. When water does not move through the system, water-quality issues may arise at an outlet, a group of outlets or throughout an entire building water system, causing potential health risks.

Titled Responding to Stagnation in Buildings with Reduced or No Water Use, the guide "provides a decision-making framework for building managers to design responses to building water system stagnation," said William Rhoads, a co-author of the guide and a post-doctoral researcher at Virginia Tech.

Peter DeMarco, executive vice president of Advocacy and Research at The IAPMO Group, said the new document provides essential guidance at a crucial time.

"As buildings reopen across the country, it will be critically important for building owners and facility managers to actively address water quality concerns in plumbing systems due to stagnation," he said. "We appreciated the opportunity to work with Dr. Rhoads and the other authors on the development of this important guidance document."

Because of the many differences in building water system operation and design, one set of instructions is not appropriate for all buildings. The guide provides a framework for building managers and a resource that water systems can utilize in supporting the business community in their service areas.
WESTERN AUSTRALIAN GOVERNMENT TAKES ACTION ON COPPER THEFT


Submitted by Master Plumbers and Gasfitters Association of Western Australia
The Western Australian Government is bringing in new regulations to control the problem of copper theft, which has been a huge cost for plumbing contractors and others in the building and construction sector. Copper and copper alloys including brass and bronze will be regulated in a similar way to metals like gold and silver.
The Master Plumbers and Gasfitters Association of Western Australia had been urging the government to tighten up the law. Theft of copper plumbing materials and products from building sites and finished buildings costs the association's members hundreds of thousands of dollars every year.
In many cases, the stolen material finds its way to scrap metal dealers, where it is sold for cash and helps to finance the illegal drug industry.
Under the new regulations that take effect on Dec. 1 2020, anyone selling copper will have to produce identification. Scrap metal dealers will have to record all transaction details, including the personal details of sellers and provide reports to police.
The government says these changes are just the beginning while it investigates a broader reform of legislation.
WA Government media release:
https://www.mediastatements.wa.gov.au/Pages/McGowan/2020/08/Government-taking-action-to-crack-down-on-copper-theft.aspx
WA Police Force news:
https://www.police.wa.gov.au/About-Us/News/New-Copper-Legislation
PLUMBING A PRIORITY AFTER SEVERE STORMS

Submitted by Master Plumbers' Association of Queensland (MPAQ)
In the wake of the recent severe storms, health and safety must remain a key priority for homeowners.
Master Plumbers' Association of Queensland (MPAQ) is warning people not to become complacent and to place plumbing checks at the top of the priority list along with electrical work.

MPAQ President Kent Vickers said, "Checking the property's plumbing, drainage, gas and roofing needs to be a priority after such events if public health is to be safeguarded. I would urge people now facing the daunting task of a post-storm cleanup to pay particular attention to those key plumbing issues that can impact health and safety."
Vickers said residents need to contact a licensed Master Plumber to check on:
Drainage or septic overflows
Silted or blocked drains
Hail damage to gas regulators and/or pipework
Solar water heater or PV panels on roofs may be damaged during hail events
Roof/skylight damage/leaks and hail damage to metal or tiled roofs
Tank water and other alternate water systems should also be checked for debris/contamination
Gutter blockages – leaves/debris
Vickers said residents will also need to be cautious of downpipes that are connected to underground stormwater drains that may be blocked with silt. Any further rain may overflow from the gutters as the water cannot drain away, flooding the house.
In the case of significant damage, where you may need to replace plumbing fixtures and/or fittings, people should be mindful that all plumbing work will need to be done by a licensed person.
Residents and homeowners can contact MPAQ from Monday to Friday on 07 3273 0800 to locate a licensed Master Plumber in their area or visit www.mpaq.com.au/find-a-plumber.
Consumers are also being told to beware of scammers offering repairs or services in the wake of the wild weather and should call a Master Plumber, as they hold the appropriate plumbing QBCC licenses.





World Plumbing Council
secretariat@worldplumbing.org

C/O PICAC
6/306 Albert St
Brunswick, VIC 3056
Australia