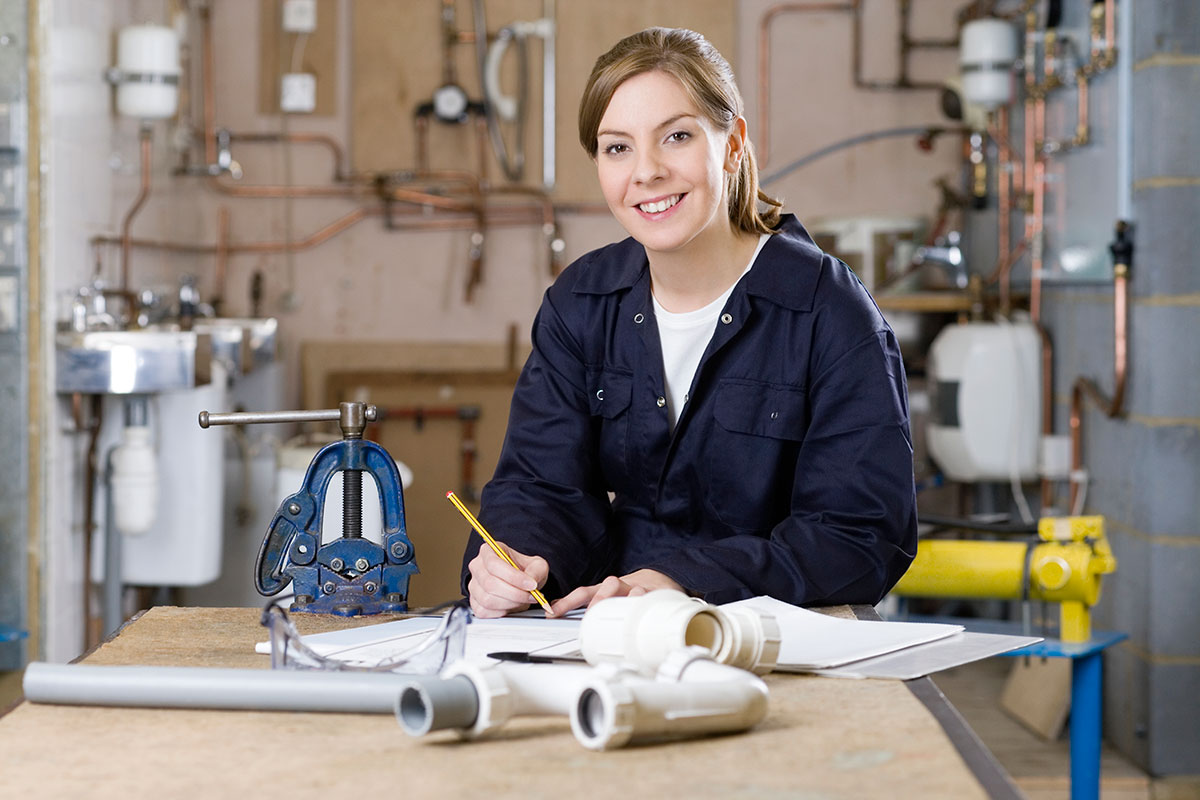 ISTOCK / GETTY IMAGES PLUS
The Riddle: A father and son were in a car accident where the father was killed. The ambulance brought the son to the hospital. He needed immediate surgery. In the operating room, a doctor came in and looked at the little boy and said I can't operate on him he is my son!
How is this possible? Who is the doctor?
The answer is: The little boy's mother is the doctor.
Some of you may be familiar with this riddle, but for those of you who are not and found yourselves struggling to solve the mystery, rest assured, you are not alone.
Replace doctor with plumber and you will find the same bias that exists for women in the medical profession is ten-fold in the plumbing industry. These days we have come to readily accept women doctors but the same does not hold true for women plumbers. Years of social bias and the push to make everyone attend a four-year college, especially women, have resulted in perpetually low numbers of women plumbers. The construction trades have developed a sense of learned helplessness when it comes to the recruitment of women. Despite continued outreach, I still hear trade industry professionals say, "What can I do? Women just don't want to do this type of work!" I'm sure, not too long ago, when women were type cast as nurses you would hear people in the medical industry say, "Women don't want to be doctors, they'd rather be nurses." It is this bias where the problem lies. But what steps can we take, both individually and collectively to encourage more women to enter the plumbing trade? Changing society won't be easy, but we can start by changing the way the world sees women plumbers. We need to interact with and engage young people and sow the idea of women plumbers in their minds as early as possible, so the concept is fully grown and second nature to them by the time they are adults. We need to find ways of mainstreaming the idea of women plumbers through television, movies and other media.  We need to let women see themselves as plumbers, so they know it is possible and as acceptable a profession for women as a doctor.  We need to make sure women know about the benefits of being a plumber and the pride that comes with being a part of this critical sector of the workforce that helps keep our country strong, safe and healthy. We need to create a new paradigm where women plumbers are as ubiquitous as women teachers, nurses, doctors or lawyers.
WOMEN, PLUMBERS AND THE MEDIA
Women have to see it, in order to know they can be it! We must break the mold and create a new way for society to think about women in the trades. The more women enter the trades, the more society will accept women in the trades. And, the more society accepts women in the trades, the more women will enter the trades. To start this cycle women have to see women working in these professions.
I remember when I first began my career as a plumber, older plumbers, upon realizing I was a woman, would say, "Oh, look she's like Josephine the Plumber". A reference to a character in a long running television ad campaign from the 1960s and 70s. In the television commercials Josephine the plumber would endorse Comet sink cleanser. Endorsing the product not as a housewife, but as a professional plumber! She was the first manifestation in the media of a professional woman plumber, even if she was fictional. At the time, I had not seen the commercials, but her presence on television had created a point of reference for the men I worked with. It had created the possibility of a woman plumber. I wasn't the first unicorn they had seen.  Josephine the plumber, in a small way, had blazed the trail and made it a little easier for me to be accepted as a woman plumber. To say the least, I was grateful for Josephine.
Now Josephine the Plumber may have been famous in her own right, but I'm about to tell you about the most famous women plumber that no one has ever heard of. As a matter of fact, the most famous woman plumber that no one has ever heard of was also the embodiment of the 1950s girl-next-door. If you have ever heard Buddy Holly's song Peggy Sue, guess what? You've heard of the most famous woman plumber ever. That's right Peggy Sue was a plumber!  In the 1950s the real Peggy Sue, Peggy Sue Gerron, was dating Buddy Holly's drummer. When Holly was trying to think of musical name that would embody the wholesomeness of the all-American girl, he decided Peggy Sue was it!  A few years after inspiring Holly, Peggy Sue moved to California where she settled down, met a man, fell in love and got married. And when Peggy Sue got married, guess what? She married a plumber, one of the more common male variety.  Eventually, Peggy became a plumber herself. Peggy Sue became the first licensed woman plumber in the state of California.
Her entire life Peggy Sue was admired for being Buddy Holly's muse, imagine if people had known what she did with the rest of her life? How many girls would she have motivated to put on some coveralls instead of a poodle skirt or torque on a pipe wrench instead of a curling iron? The world might have been a very different place had Peggy Sue been known as Peggy the Plumber! Of course, parents, educators, and society as a whole were unaware of Peggy Sue's hidden talents and skills.  But we must not keep these women a secret. We must make sure that the world sees women not just as the girl-next-door but as capable professionals who can do the job of a tradesperson.  Rosie the Riveter can't be the last or only imagine we have of a woman in the building trades.  To this end, the plumbing industry has taken the steps to help promote women by featuring women in printed magazines, on websites, and social media promotions. This depiction of successful women has already helped to change negative stereotypes that either women can't or don't want to do the job of plumber. We must not keep these women a secret!  So, the next time you find yourself singing Holly's famous ditty, consider these lyrics:
I love you, Peggy Sue
But I love your plumbing too…
…I love my plumbing gal,
I want you Peggy Sue
And make sure you let everyone know that Peggy Sue was a plumber!
Jumping forward from the 1950s all the way to the 1990's, in the movie, A League of Their Own, we were confronted once again with another enigma: The idea of professional women's baseball! For many who saw this movie, it was the first time they had seen or heard of professional women's baseball. Although professional women's baseball arose because of the shortages of everything during World War II, including male baseball players, it was a giant step for women. But alas this step could not be taken in a traditional baseball uniform. This giant step had to be taken in uniforms which included short skirts that showed lots of leg! Can you picture Yankee great Derek Jeter running the bases in a short skirt? Let's not. The movie had a profound impact on women both young and old. The movie also had a huge impact on society as a whole. For many women and young girls this movie was the first time that they had seen women playing professional baseball, one of the three major American sports (football and basketball being the other two). The rest of the world had also forgotten about the women's baseball leagues of the 1940s. A League of Their Own made the possibility of women in non-traditional professions a reality.
In the movie, Tom Hanks' character, Jimmy Dugan, famously quipped, "There's no crying in baseball." Well, co-star Geena Davis made sure of that. As a matter of fact she has been instrumental in making sure that there is no crying for women in any profession. Actress Geena Davis  created the Institute on Gender in Media in order to change the way women are portrayed in television and movies. Davis' idea on how to change stereotypes for women in television and movies was simple. Davis suggested to television and film writers that they ask themselves, "What if the plumber or pilot or construction foreman was a woman?" This simple yet powerful idea has helped to mainstream the idea of what is possible for women in every profession including the building trades. Davis tirelessly promotes the positive depiction of women in film and television in non-traditional roles in order to open doors for women into careers that a few years ago would have been considered unthinkable. There may be no crying in baseball, but Davis is working hard to make sure there are strong women in every profession, including plumbing. So, take that Jimmy Dugan!
WHY WOMEN SHOULD CHOOSE A PLUMBING CAREER
In 1996 I saw an ad in the newspaper it read, "Plumbers Wanted – Entry Level".  This caught my eye.  I had no idea what to expect. I didn't know any plumbers, and like the rest of the world I too had never seen or heard of a woman plumber. But I had recently seen an episode of the television show Frazier which piqued my curiosity. In the episode, "Seat of Power" Frazier, a doctor, hires a plumber. And through the course of the show, we come to find out that the plumber is making more money than the good doctor! The idea of earning as much money as a doctor really got my attention. And like a medical career, I knew, that a career in plumbing meant that I would always have a job and never be short of work. I had no idea how right I was!
So I signed up and entered the plumbing apprenticeship program at the United Association's Local 761 in Burbank, California. There I received five years of training, some of which I was eventually able to use as college credits towards my bachelor's and master's degrees. From there I was able to work as an apprentice, journeyworker, foreman, project engineer, estimator, inspector and eventually recruiter. The opportunities to branch out into niche positions in the industry far exceeded my initial thoughts as to what a plumber was and what their day-to-day functions were. I really thought that all plumbers did was unclog drains!
During the economic collapse in 2008, while many industries were under tremendous strain, my reasons for becoming a plumber were validated. I was always able to find work and occasionally barter my skills for the things I needed. I bartered my plumbing skills at a local surf shop for some wetsuits and surf gear. When my car broke down, I did the same at an auto repair shop, exchanging my work for a new fuel pump and alternator. And while most of my friends with college degrees were hard pressed to find a job, I was constantly working.
Most recently, during the Corona Virus outbreak, I was once again reminded of why I became a plumber. When entire industries came to a standstill, the trades did not. A lot of businesses were ordered to shut down by the government as "non-essential", but not the plumbing industry.  Instead, plumbers were called upon to help set up emergency hospitals. Plumbers were busy working in medical facilities installing gas lines to keep the oxygen flowing to gravely ill patients. Plumbers were working on sanitary and water systems to ensure the water kept flowing and unsanitary conditions were mitigated. I am proud to say plumbers were on the front lines, putting themselves in harm's way to protect and save lives. At the same time that plumbers were taking on the national emergency, they still continued to handle the everyday calls for service in people's homes making repairs. They had to continue to work on projects big and small to maintain and build the nation's infrastructure. Like medical professionals and first responders, plumbers could not be asked to stop working. The vital nature of what we do keeps the country moving and keeps everyone safe and healthy. If society, in particular women, understood the job security, economic independence, importance and pride that comes with being a plumber, I am sure more women would start thinking about becoming plumbers in the say way and for the same reasons they think about becoming a medical professional.
MENTOR PROGRAMS AND WOMEN IN PLUMBING TODAY
There are many industries that have mentoring programs. Most industries have a place where young people can learn about a profession or get more information about a job. The agricultural industry has Future Farmers of America, law enforcement has the Explorer Program, the military has JROTC (Junior Reserve Officers Training Corp) and the plumbing industry has Tools and Tiaras. Unlike other mentoring programs, Tools and Tiaras specifically targets girls. Established in 2017 by Judaline Cassidy, a plumber out of UA Local 1 in New York, Tools for Tiaras was established to motivate and inspire girls in inner city communities to become tradesworkers. Cassidy was born in Trinidad and eventually immigrated to the United States. Initially, Cassidy wanted to go to law school, however financial hardship made that dream impossible.  Lucky for Cassidy, Trinidad had lots of training for anyone wanting a career in the building trades. Cassidy shelved her lawbooks, grabbed some tools and turned herself into a Super-Woman-Plumber, a "Shero". Cassidy's efforts have inspired a whole new generation of women plumbers. She is exactly what the plumbing trade has been looking for since Josephine the Plumber and Peggy Sue, a role model, mentor and plumbing super motivator. Through her non-profit, Tools and Tiaras, Cassidy has done what we all must do.  She has changed the way young girls see plumbing. She has changed the way the world sees women plumbers and most importantly she has proven that: Women have to see it, in order to know they can be it!
HOW WE DO IT
We all can do our part to encourage more women in the trades. For years, I have heard, "How did you get into the trade – is your dad a plumber?" For some women this is absolutely true.  Their fathers taught them the trade and played a major part in their decision to become plumbers.  And let's not forget Peggy Sue, whose husband influenced her decision to become a plumber.  But the time has come for women to influence women.  Women have to take the lead and encourage other women to become plumbers and change the way the world sees our profession. Now, more and more, I hear women tell me stories of other women they met in the industry or a strong female role model in their life that changed the way they saw plumbing and encouraged them to become plumbers. I hear more stories of women like Judaline Cassidy who has influenced thousands of girls and helped steer them towards careers in the plumbing trade. These stories must continue to grow. Together we can make it happen.
Below are ways that you can get the word out to girls, young women and all women:
Word of Mouth – Tell women you know about plumbing careers! Women hear about the trades through informal networks – word of mouth and friends. Every single person, especially women, in this industry must be an ambassador and seek potential candidates in their day to day lives.  Offering gift cards or other rewards incentives to employees who help bring more women on board helps get the message out.
Tradeswomen Organizations – Leverage existing organization contacts and resources to find women already interested or women that have attended pre-apprenticeship or orientation courses in the plumbing trade. These non-profits exist throughout North America and include: Chicago Women in Trades, Nontraditional Employment for Women (NEW), Oregon Tradeswomen, Inc., Women in HVACR, Women in Nontraditional Employment Roles, Tradeswomen, Inc.  just to name a few. These vary in each region and have many resources available to help build interest for women in the piping trades.
Partnerships – Get the word out to all community-based organizations in your area. Better yet, create good working relationships with these groups to encourage them to send the best candidates to your program. Examples of organizations to target include, but are not limited to: one-stop job centers, women-focused job placement centers, church, schools, colleges, state agencies, correction facilities, educational industry groups, foster youth groups, Helmets to Hard Hats, Handcuffs to Hard Hats, Girl Scouts of America, Goodwill Industries, Job Corps, Ameri-Corp, Youth Build, Skills USA, Future Farmers of America, etc. In addition, plan and prepare presentations including targeted handouts to deliver and share. The UA also has a Veterans in Piping program for active-duty military to transition into piping careers; many women serving their country have been able to take advantage of this highly sought after military program.
Schoolteachers and counselors – These individuals are unaware of the possibilities for women in the skilled trades – we must reach out to them. Many of these school teachers and counselors are still paying for student loans, telling them about tuition free training and educational opportunities for their students would certainly be of interest.
CONCLUSION
Our world is changing fast but for women in the plumbing industry we seem to be stuck in 1945. While we have made great progress including women into the trades, much more needs to be done. It is up to every tradesperson to spread the word and change the way the world sees us.  You can help by sharing this article with your friends and family, but particularly with a girl or young woman you may know that needs to hear this message. Together we can change the world!