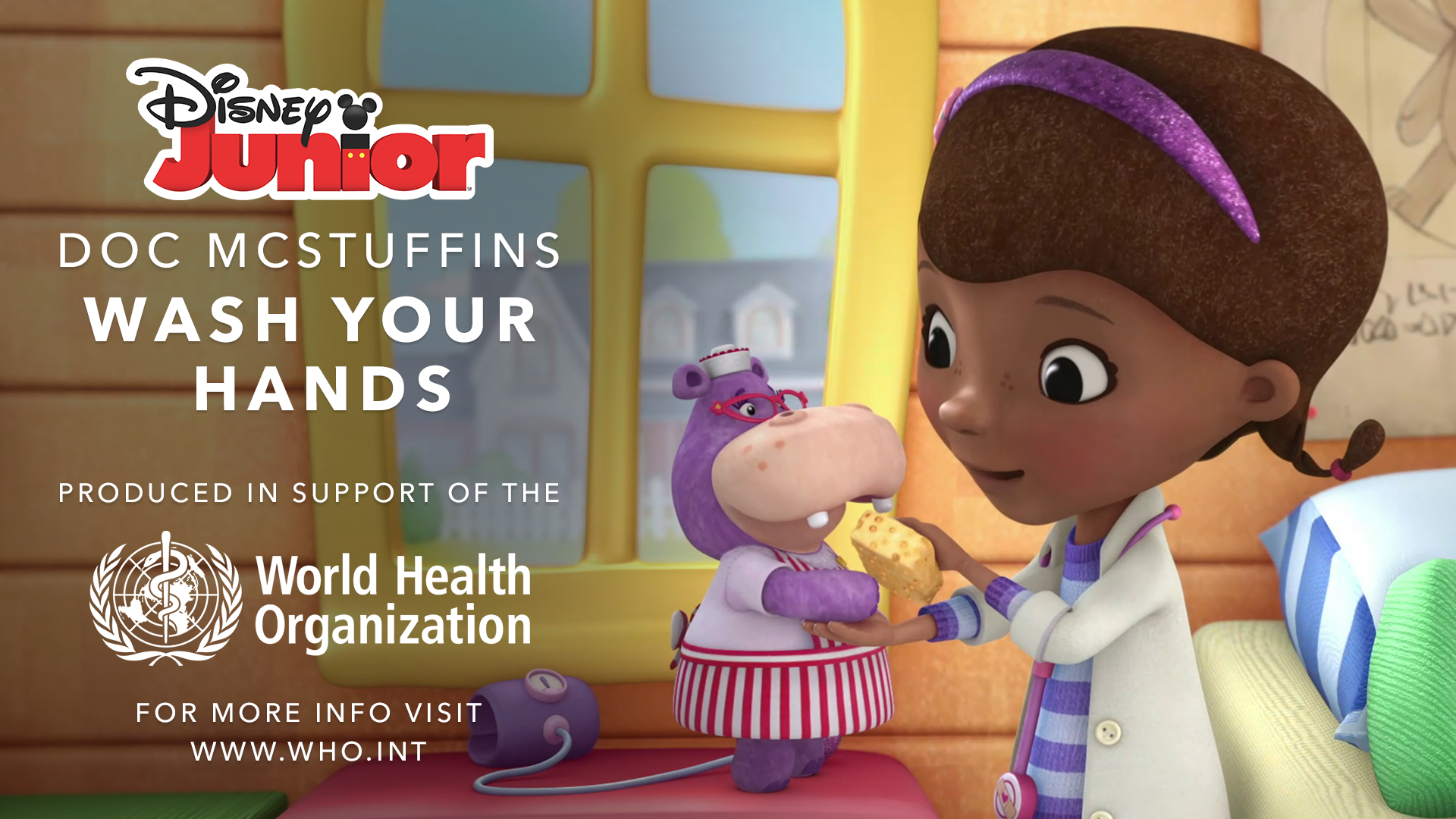 WHO and Disney Junior have joined forces to remind children around the world of the importance of thorough handwashing in preventing the spread of germs and disease.
Disney Junior's Doc McStuffins, a young girl who aspires to follow in her doctor mother's footsteps and practices by treating whatever ails her toys, is joined by her "patients" in a hand washing public service announcement, developed courtesy of Disney Junior, which gently reminds young viewers to wash their hands with soap.
"Washing your hands regularly with soap and water is one of the most important and most basic steps keeping safe from COVID-19 and many other pathogens," said Dr Tedros Adhanom Ghebreyesus, WHO Director-General. "It is also one of the most effective ways to prevent antimicrobial resistant diseases."
"Young children, parents, educators and health care professionals the world over know 'Doc McStuffins' as a role model for taking good care of oneself and others.  We appreciate the opportunity to amplify that most relevant message with the World Health Organization," said Joe D'Ambrosia, senior vice president, Original Programming and general manager, Disney Junior.
Millions of children around the world follow the adventures of Doc McStuffins and her toys, which encourage good personal hygiene habits and health — including thorough handwashing — alongside overarching messages of care, friendship and compassion. The examples they set are more important now than ever, for children as well as their parents and other caregivers.
On this 12th Global Handwashing Day, the argument for strong investment in hand hygiene as a cost-effective preventative measure has never been stronger:
Health systems across the globe are struggling to cope with the demand for treatment during the COVID-19 pandemic; hand washing helps, keep everyone safer as well as healthier.
One in ten patients worldwide is affected by health care-associated infections; which are avoidable infections acquired during care; making sure people can wash their hands or clean them with hand sanitizer plays a major role in bringing this burden down.
Alarming levels of antimicrobial resistance have been reported in countries of all income levels, with the results that common diseases are becoming untreatable and lifesaving medical procedures riskier to perform. Making sure people can keep their hands clean at the right times is one way to stop deadly infections
While progress is tangible, for too many people, the simple act of cleaning their hands is out of their reach: WHO estimates that most people in the least developed countries are at immediate risk of COVID-19 infection because they can't wash their hands.   In the 60 highest-risk countries, a whopping 1 billion people — or 2 out of 3 — lack basic hand washing facilities with soap and water at home. Around half of them are children. But it's not just homes that lack soap and water.
Globally, 1 in 3 health care facilities do not have hand hygiene at points of care, putting health care workers at risk and preventing them from doing their job properly.
Nearly half of all schools world-wide do not have hand washing facilities with water and soap, affecting 900 million school-age children, as well as their teachers and other staff.
Through the Hand Hygiene for All initiative, Disney Junior and WHO are joining hands with international partners, national governments, public and private sectors, and civil society organizations who are raising awareness about the importance of keeping hands clean.